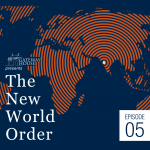 China's strong economic foreign policy has created strong dependency chains around the world. This dependency has often resulted in major geopolitical gains both regionally and internationally. Join us as we discuss the impact that China has had in the South China Sea, Regional Organisations and the International Community. This is the concluding episode to a two-part special on the Rise of China.
(3:15) The geostrategic importance of the South China Sea
(8:05) The implications of an increasing Chinese presence in the Indian Ocean
(12:08) The significance and future of the United Nations Convention on the Law of the Sea (UNCLOS)
(16:55) The economic compulsions behind ASEAN's 'South China Sea policy' paralysis
(23:05) The strategic objectives behind the setup of the Shanghai Cooperation Organization (SCO)
(27:01) China's increasing influence in the United Nations
(33:18) Is China really going to lead the global discourse on climate change?
Recommended:
The Case of the South China Sea – https://www.gatewayhouse.in/the-rule-of-law-and-the-south-china-sea-case/
South China Sea: more trouble – https://www.gatewayhouse.in/south-china-sea-turbulent-waters/
Chinese investments in Sri Lanka – https://www.gatewayhouse.in/chinese-investments-sri-lanka/
ASEAN can survive great-power rivalry in Asia – https://www.gatewayhouse.in/asean-can-survive-great-power-rivalry-in-asia/
India in the SCO: win-win – https://www.gatewayhouse.in/india-in-the-sco-a-win-win-proposition/
A democratic quadrilateral in Asia? – https://www.gatewayhouse.in/a-democratic-quadrilateral-in-asia/
Produced by Virpratap Vikram Singh and Arjun Chawla
Theme Music by Rohan Dalal

Podcast: Play in new window | Download
Subscribe: Apple Podcasts | Email | RSS