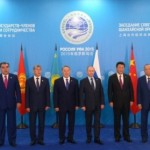 The Shanghai Cooperation Organisation (SCO) will witness its first expansion since its establishment 15 years ago, at the next Summit in Tashkent in June, 2016. It was decided at the 2015 Summit in Russia that India (and Pakistan) will be admitted into the Organisation. Since India became an Observer in 2005, it had subtly indicated its interest in playing a more substantive role in the development of the Organization. This will be a momentous occasion for India as well as for the Organization.
The SCO emerged from the Shanghai Five (China, Russia, Kazakhstan, Kyrgyzstan, Tajikistan) which was founded in 1996 after the demarcation of China's borders with the four newly independent states that appeared after the collapse of the Soviet Union in 1991.
Since its establishment, the SCO has concluded several wide-ranging agreements on security, trade and investment, connectivity, energy club, SCO Bank, culture etc. Their implementation however remains uninspiring. This is partly because the SCO lacks coherence. Having been created at China's behest with Russian support, the SCO is still grappling to evolve as a well-knit entity. Nevertheless, the significance of the SCO cannot be underestimated because of the presence of large territorial and economic powers like Russia and China, and due to the geo-political space it occupies.
India's membership will add further heft and muscle to the Organization, particularly against the backdrop of a weak global economy. India is the fastest expanding global economy with an annual GDP growth of 7.5%. It represents the third largest economy (USD 8 trillion) in PPP terms and 7th largest (USD 2.3 trillion) in nominal dollar terms. It inspires confidence on other indicators like FDI, inward remittances, pace of economic reforms, large market, favourable demographics, technological prowess etc. Its growing energy demand provides an assured market to resource rich Central Asia and Russia.
Terrorism and radicalism are the most formidable challenges confronting the international community today. The threat of terrorism to the region is particularly grave on account of continuing violence in Afghanistan which can embolden regional groups like the Islamic Movement of Uzbekistan, Hizb-ut-Tahrir etc to destabilize governments in Central Asia. The scourges of radicalism and extremism also loom large with the expansion of influence of the Islamic State (IS) and the reported desertion of many cadres of the Taliban, Al Qaeda etc to join the jihadi ranks of the IS. Several hundred young men and women have fled their homes in Central Asia to bolster IS forces who are spreading to Central Asia, Pakistan and Afghanistan.
India has an enviable track record in handling these twin scourges. It has been victim of terrorist attacks for the last 30 years, and battling with terrorism has provided invaluable experience in intelligence gathering, training, foiling terrorist operations etc to the Indian security establishment. India can share this experience with SCO members to mutual benefit.
Central Asia is part of India's extended neighbourhood. However, its relations with these countries have failed to realize the enormous potential because India does not share common land-borders with the region and also because of infrequent visits at the highest level between India and Central Asia. India's membership will provide a welcome opportunity for leaders of India and Central Asia to meet frequently and regularly. India's potential participation in the Eurasian Economic Union (EEU) will be an added advantage.
Central Asia represents the ''near-abroad'' for Russia. Both India and Russia can collaborate to reciprocal benefit in all of the above areas. India's development experience particularly in promoting agriculture, SMEs, pharmaceuticals, IT etc can be of immense benefit to these countries. India has demonstrated its keen interest in strengthening its multi-faceted relations with Central Asia through the historic visit of PM Modi to the 5 Central Asian Republics in July, 2015. The Turkmenistan, Afghanistan, Pakistan, India (TAPI) gas pipeline represents a shining example of a mutually beneficial project.
The development of the Chabahar port in Iran and progress in the International North-South Transport Corridor will promote connectivity between India, Central Asia, Russia and Afghanistan.
Green energy and climate change are other areas where Central Asia and Russia can fruitfully collaborate with India as the world moves away from its dependence on fossil fuels.
The SCO will need to step up to the plate and assume responsibility to provide security in Afghanistan in the aftermath of the withdrawal of United States and NATO ISAF forces. India will get an opportunity to play its due role in stabilizing the ever-worsening situation in Afghanistan.
Some analysts have suggested that India's and Pakistan's membership will provide an opportunity for the SCO to mediate in their boundary dispute. The argument advanced by some Chinese scholars is that the SCO's predecessor was initially established to demarcate boundaries between its member states. It was successful in achieving this. A similar suggestion has been forthcoming in the case of resolving the Sino-Indian boundary dispute. At best this appears to be wishful thinking. India has made it abundantly clear on innumerable occasions that there is no role for third-party mediation in the India-Pakistan conflict. The same would hold true for the Sino-Indian boundary issue.
India's forthcoming membership will be a win-win proposition for the SCO, for Central Asia, for Russia, for China and also for India. All stake-holders will need to play their part with full responsibility and determination to reap maximum benefits from the partnership.
Ashok Sajjanhar is the former Ambassador of India to Kazakhstan, Sweden and Latvia. He is also the former Secretary/Principal Executive Officer to the National Foundation for Communal Harmony, India.
This article was exclusively written for Gateway House: Indian Council on Global Relations. You can read more exclusive content here.
For interview requests with the author, or for permission to republish, please contact outreach@gatewayhouse.in.
© Copyright 2016 Gateway House: Indian Council on Global Relations. All rights reserved. Any unauthorized copying or reproduction is strictly prohibited.