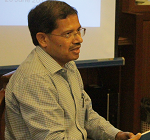 India's relationship with the countries of Central Asia and the Caucasus has potential for greater engagement, especially to develop energy ties. After serving as India's Ambassador to Azerbaijan till May 2012, Ambassador Debnath Shaw shares his insights with Gateway House's Alisha Pinto and Anirudh Menon on how India is positioned in the region and what it should focus on in the future.
Q. How strong is India's presence in Central Asia and the Caucasus?
India's relations with its neighbours are viewed in concentric circles. The immediate circle has the SAARC countries. The second consists of Central Asian countries (Turkmenistan, Kazakhstan, Uzbekistan, Kyrgyzstan, and Tajikistan) and the CIS countries (Commonwealth of Independent States) which are part of our extended neighbourhood. We have cultural and historic relations with this region and realized the importance of this region after the breakup of the USSR. However, due to India's preoccupation with its own internal concerns, we have only recently established firm diplomatic relations with most of the countries in this region.
Q. Russia is a strong player in Central Asia and the Caucasus, but its influence seems to be on the wane. What role can India play here in the future?
Russia will continue to be a dominant player in the region due to its historical ties and its proximity to the CIS countries. Some of the infrastructure is also tied to the Russian system including the Russian train gauge. Russia established its foothold in this region post-1991 through energy security, businesses, tourism, air services and cordial bilateral relations.
Q. What will a shift from observer status to permanent membership of the Shanghai Cooperation Organization (SCO) mean for India's influence in Central Asia?
The SCO is a security organisation representing the CIS, Russia and China. What happens in this region directly affects us in terms of energy supply, terrorism and military conflicts. Initially, the SCO decided not to expand its membership; it is now reconsidering whether the organisation is mature enough to accept new members. India has been sending high-level representatives for these meetings and have formally requested for permanent membership. The delay in the response is not due to Beijing's reluctance but the group is deciding on the criteria for accepting new members.
Q. India signed a bilateral defense agreement with Tajikistan in 2002 and helped refurbish one of the country's airfields, raising speculation about a potential Indian military base. How important is this region from a defense and strategic viewpoint?
Our presence in another country is entirely dependent on what the host country requests. The rehabilitation of an airfield was requested by the Tajikistan government.
Q. What are the prospects of TAPI pipeline and why is it important for India?
The TAPI pipeline has been on the drawing board since the 1980s. The defunct U.S. multinational Unocal first mooted the idea of moving natural gas from Turkmenistan to South Asia. However, the Taliban situation in Afghanistan escalated and the project was dropped at the time. Now, with an improvement in the geo-political situation and with our rising demands for energy, India sees an opportunity. We need to change to cheaper and cleaner alternatives such as natural gas. We cannot continue burning gasoline or diesel for power generation or as a base for fertilizers; we have to plan for an energy mix including more natural gas.
Q. Azerbaijan's government recently spent $100 million on hosting Eurovision 2012. The crackdown on protesters was reminiscent of the Beijing Olympics in 2008. Has Baku benefited from this lavish public display?
This exercise was not just a cultural display; it demonstrated that the Azeris are confident and ready to be recognised. People in Baku were genuinely excited about the contest and it was a big morale boost. Any anti-government protests that occurred were insignificant.
Now more foreigners are aware of Azerbaijan due to investments in its infrastructure. The Government wants foreign investors to take over the mantle. The main investment that comes into Azerbaijan is still in the oil sector. More than $30 billion has been invested since 1994 by oil and gas companies.
This scenario was not reminiscent of the Beijing Olympics, which was another manifestation of China becoming a global power. Azerbaijan is not vying for such a position.
Q. You will take office as the High Commissioner in Tanzania next month. Can you tell us about the involvement of India and China in the African continent?
There has been a very strong political and cultural relationship with Tanzania since the colonial period. Africa is at the 'take-off' stage, just as the Asia-Pacific region was 15 years ago. The fastest growing economies in the world are from Africa. They have a large land area, significant natural resources, and large human resources. These countries want India to play a greater role. India's assistance complements the role of China in Africa. The African Union understands that India has certain strengths in capacity building, sending service-sector experts, and setting up the pan-Africa e-network. The Chinese may be faster in building a hospital but India is able to provide cost-effective medical services.
Debnath Shaw, formerly India's Ambassador to Azerbaijan, was Joint Secretary in the Ministries of Defence and External Affairs from mid-2005 to end 2008 and is to begin his tenure as High Commissioner of India to Dar es Salaam, Tanzania.
This interview was exclusively conducted for Gateway House: Indian Council on Global Relations. You can read more exclusive content here.
For interview requests with the author, or for permission to republish, please contact outreach@gatewayhouse.in.
© Copyright 2012 Gateway House: Indian Council on Global Relations. All rights reserved. Any unauthorized copying or reproduction is strictly prohibited.