Germany announced on July 8 that it will 'temporarily' restart 16 power plants that run on coal and oil and will extend operating permissions for 11 more[1]. This news comes days after the Nord Stream I gas pipeline was closed for a maintenance shutdown, stoking fears of a gas shortage in Europe and continued dependence on Russia for energy[2]. The Continent is clearly preparing for long term gas shortages.
The EU had announced an ambitious plan, post the Ukraine conflict, to end its energy dependence on Russia by 2027[3]. Given the large volume of gas that Europe purchases from Russia, such a cut-off seems unlikely. However, if Europe is serious, it will need to develop other supply sources, like Central Asia.
For that to be viable Turkey will have to become the gas transit hub, connecting suppliers in West and Central Asia to the markets in Europe. Can it? A number of gas pipeline have already been proposed, in the past and the present, connecting gas-rich Qatar, Iran, Turkmenistan and Israel to Europe via Turkey. While some are/were non-starters, others may now get a boost. These projects will provide an economic boost to Turkey, whose economy is floundering with over 70% inflation.
While Russia has the world's largest natural gas reserves, there are other significant reserves in Turkey's proximity (Refer Table 1, Table 2) – Iran, Qatar, Turkmenistan and of late, Israel. Of these, Qatar is a major producer and exporter of liquified natural gas. Iran's natural gas reserves will need investment, being largely undeveloped due to long-standing and stringent sanctions. Turkmenistan's gas reserves are aplenty but too are undeveloped as the country is landlocked and lacks market access. Israel's gas discoveries are recent, in the last decade, and still being developed.
However, none of these options are as straightforward as they seem.  Iran is sanctioned, Turkmenistan is a Russian ally while Qatar seems to have abandoned the idea of pipelines. While these projects are proposals and some have been shelved for some time, the current circumstances in Europe make them more viable than before. European diplomacy may be more willing to negotiate with countries to diversify its natural gas supply.
An analysis of the reserves of these countries is below.
Table 1: Asia's Gas Giants

Proved Gas Reserves (Trillion cubic meters)
Share of Global Gas Reserves (%)
Russia
37.4
19.9
Iran
32.1
17.1
Qatar
24.7
13.1
Turkmenistan
13.6
7.2
Azerbaijan
2.7
1.3
Kazakhstan
2.3
1.2
Israel
0.6
0.3
Source: BP Statistical Review of World Energy, 2022
Persian Pipeline
First proposed in 2008, this pipeline was to supply gas from the South Pars/North Dome gas field (Iranian side) to European buyers[4]. Economically it is the most feasible of the four proposed projects – Iran has a direct border with Turkey, which provides transit to Europe, and already sells natural gas to Turkey via the Tabriz-Ankara pipeline. However, punitive and multi-decade sanctions on Iran by the US make this a near impossibility for Europe. Besides, U.S. LNG exporters have benefitted from the spike in gas prices, and relaxing sanctions on Iran to facilitate gas for Europe will hurt this trade.
Qatar-Turkey Pipeline
Qatar, together with Iran, has the ownership of South Pars/North Dome gas field, the world's largest. However, in contrast to Iran, Qatar is not hindered by sanctions and has been able to develop its gas reserves fully. From 2006-20, it was the world's largest exporter of liquefied natural gas and is now a close second to Australia. It made sense to connect to the large European gas market, but for Qatar, this meant transit via Saudi Arabia, Jordan, Syria and Turkey – making it geopolitically complex. Qatar also competed with Iran's proposed Persian pipeline. In the mid-2000s, when this project was first proposed, Syria was ruled by Bashar Assad, an ally of Iran. Qatar has been accused of funding the anti-Assad rebels to facilitate access for its pipeline[5]. Since then, Qatar has gone the LNG way, using ships and removing the need for pipelines. From 2017-21, Qatar also had a major diplomatic rift with its large neighbour Saudi Arabia, which saw the latter cut all ties with Qatar and seal the border[6]. A pipeline would be hostage to such rifts.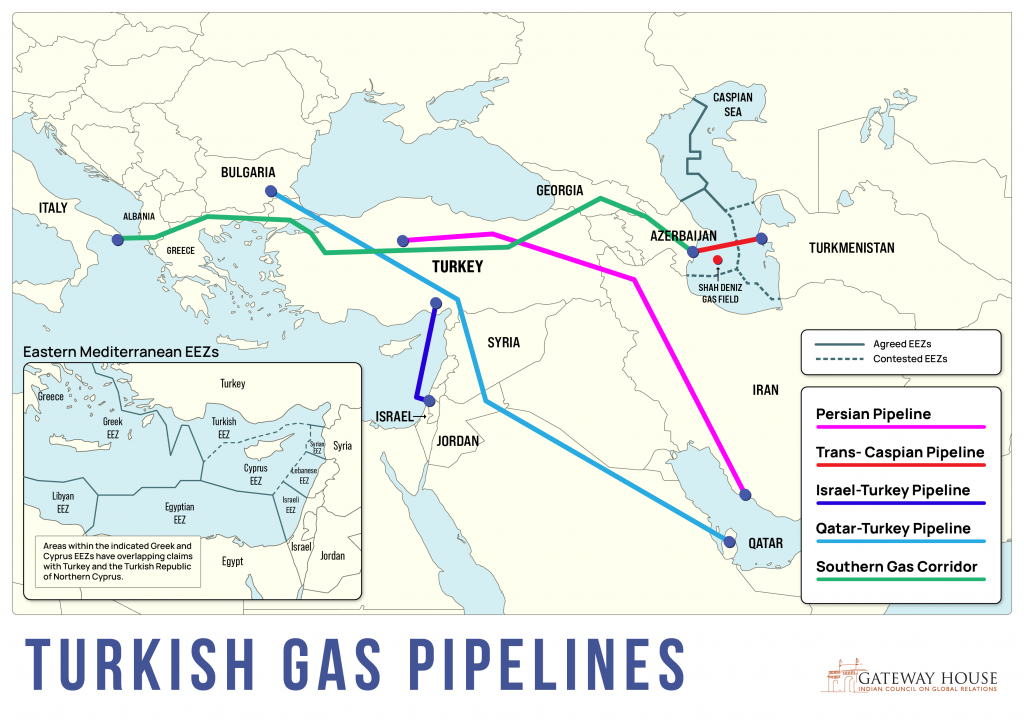 (Note: Lines corresponding to the EEZs are for indicative purposes only)
Southern Gas Corridor
Azerbaijan is a viable source of natural gas for Europe. Southern Gas Corridor in 2020, it has supplied 8.1 billion cubic meter per annum natural gas to Europe in 2021[7], from the Caspian Sea (Azerbaijani side), through the Southern Gas Corridor. This Corridor has three parts: The South Caucasus Pipeline, running from Azerbaijan to Turkey, the Trans-Anatolian Pipeline across Turkey and finally the trans-Adriatic pipeline which terminates in Italy[8]. The pipeline is likely to double its capacity to 20 billion cubic meters with the development of the Shah Deniz 2 gas field in the Caspian Sea[9]. The EU has recently signed an MoU with the Azeri government to increase gas supply via this route [10] but the increased volume will provide for not more than 10% of the gas that Russian currently supplies to the EU.
However, this corridor can also be used by the Trans-Caspian pipeline for bringing gas into Europe.
Trans-Caspian Gas Pipeline
Turkmenistan, which is across the Caspian Sea from Azerbaijan, has rich natural gas reserves that have remained underdeveloped as the landlocked country lacks market access. It currently exports gas to Russia (via Soviet-era networks) and China (via Kazakhstan). Its southern neighbours Iran (sanctioned) and Afghanistan (collapsed) make connectivity to other markets such as India almost impossible.
The proposed Trans-Caspian pipeline would connect Turkmenistan's gas fields to the pipeline network in Azerbaijan and then via Georgia and Turkey to Europe[11]. Such a project could theoretically replace a significant part of present Russian supply.
However, the Caspian Sea is not an international waterway, complicating such an action. The 2018 Caspian Sea Convention permits pipelines to be laid over the seabed, but there may be loopholes like environmental clearance by all littoral states, including Russia, complicating new projects[12]. Turkmenistan's strong ties with Russia – President Putin visited Turkmenistan in June 2022 – could also be a hurdle for this project[13].
Another complication is that the transit will rely on the existing South Caucasus gas pipeline, which passes through Georgia[14]. Following Russia's invasion of Georgia in 2008, large parts of Georgia remain under Russian control[15], making the pipeline vulnerable to Russian interference. In 2008, Russia was accused by Western media outlets of causing an explosion in the BTC (Baku-Tbilisi-Ceyhan) oil pipeline, which follows a parallel route to the South Caucasus pipeline, in 2008[16].
Israel-Turkey-EU Pipeline
Israel made large offshore gas discoveries in the Tamar and the Leviathan gas fields in 2009-10, well beyond its immediate requirements. Israel already exports gas to Jordan and Egypt and can potentially export gas to EU as well. This requires a subsea pipeline first to Turkey and then on to Europe. A potential solution has been complicated by worsening ties between Israel and Turkey in recent years. However, the two sides now seem to be working towards a rapprochement – Israeli President Isaac Herzog visited Turkey in March 2022[17], which subsequently expressed a willingness to proceed with the project[18]. An additional complication: The pipeline passes through the territorial waters of Cyprus and part of that island is controlled by Turkey-backed Northern Cyprus, which exercises control over these waters. The EU (and rest of the world) doesn't recognize Northern Cyprus, and the EU may be unwilling to participate in a project violating territorial sovereignty of a member state.
Table 2: Proposed Gas pipelines to EU
NAME
SOURCE FIELD
STATUS
TERMINAL POINTS
Persian Pipeline
South Pars/North Dome field, Iran
Proposed
Iran to Europe, via Turkey
Trans-Caspian Pipeline
Turkmenistan
Proposed
Turkmenistan to Europe, via Caspian Sea,
Israel-Turkey Pipeline
Leviathan and Tamar
Proposed
Israel to Europe, via Turkey
Qatar-Turkey Pipeline
South Pars/North Dome field, Qatar
Cancelled
Qatar to Europe, via Syria and Turkey
Southern Gas Corridor
Shah Deniz 2
Operational
Azerbaijan to Italy, via Georgia, Turkey, Greece and Albania
Source: Compiled by Gateway House
Conclusion
What then, is in store for Europe? In the near future, the EU is likely to get additional gas from existing supplier Azerbaijan. For the immediate, of the four new projects, the Trans-Caspian pipeline may be the least complicated – but are vulnerable to Russian interference.
As for the other options, they face major hurdles and will require deft European diplomacy. Any project from Iran will require a relaxation of US sanctions. A pipeline from Israel will violate territorial waters of an existing EU member. The Qatar project was scrapped long ago.
Additional gas supply via Turkey can replace only a part of the EU's present Russian supply. This means the global gas market will continue to remain volatile, which will hurt other buyers such as India. Finally, the EU will also have to consider the consequences of Turkey's increased geopolitical leverage as a result of these pipelines.
Europe's Dependence on Russian Gas
Europe uses natural gas for heating, power generation and as an industrial fuel and feedstock for industries such as fertilizer. Natural gas accounts for a quarter of European energy consumption. During 2020, Russia accounted for just under half of EU's natural gas supplies. Following the Ukraine crisis and sanctions on Russia, the EU wants to reduce this dependence to zero. But natural gas requires specialized and dedicated infrastructure, and compared to oil or coal, changing suppliers is difficult, making this a complex challenge even under ideal circumstances. Europe is currently buying more gas from Australia, Qatar and the U.S., but this has upended the global gas market, making the fuel unaffordable for developing countries such as Pakistan and Bangladesh, causing a global crisis.
Amit Bhandari is the Senior Fellow for Energy, Investment and Connectivity, Gateway House.
Saeeduddin Faridi is a Researcher at Gateway House
This article was exclusively written for Gateway House: Indian Council on Global Relations. You can read more exclusive content here.
For permission to republish, please contact outreach@gatewayhouse.in
© Copyright 2022 Gateway House: Indian Council on Global Relations. All rights reserved.
Any unauthorised copying or reproduction is strictly prohibited.
References
[1] https://www.dw.com/en/germanys-scholz-says-switch-back-to-coal-and-oil-temporary/a-62498429
[2]https://www.dw.com/en/russia-shuts-down-nord-stream-gas-pipeline-for-repairs/a-62427679
[3]https://ec.europa.eu/commission/presscorner/detail/en/IP_22_3131
[4]http://www.payvand.com/news/08/sep/1329.html
[5]https://www.news.com.au/world/middle-east/is-the-fight-over-a-gas-pipeline-fuelling-the-worlds-bloodiest-conflict/news-story/74efcba9554c10bd35e280b63a9afb74
[6]https://saudigazette.com.sa/article/179904
[7] https://ec.europa.eu/commission/presscorner/detail/en/IP_22_4550
[8]https://www.bp.com/en/global/corporate/news-and-insights/reimagining-energy/southern-gas-corridor-special-feature.html
[9]https://minenergy.gov.az/en/layiheler/cenub-qaz-dehlizi_2196
[10] https://ec.europa.eu/commission/presscorner/detail/en/STATEMENT_22_4583
[11]https://www.eia.gov/international/analysis/country/TKM
[12]http://en.kremlin.ru/supplement/5328
[13]https://turkmenistan.gov.tm/en/post/64053/turkmenistan-and-russian-federation-confirmed-their-adherence-relations-deep-strategic-partnership
[14] https://www.bp.com/en_ge/georgia/home/who-we-are/scp.html
[15] https://georgiaembassyusa.org/2020/04/20/russias-occupation-of-georgias-territories-intensifies/
[16] https://www.worldpipelines.com/business-news/12122014/cyber-attack-caused-2008-pipeline-explosion/
[17]https://www.timesofisrael.com/herzog-meets-erdogan-in-landmark-visit-as-israel-and-turkey-attempt-detente/
[18]https://www.timesofisrael.com/turkey-dreams-of-far-fetched-gas-pipeline-with-israel/