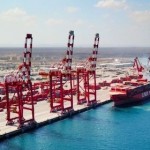 On August 9, with India as president of the United Nations Security Council, Prime Minister Narendra Modi chaired a high-level debate on strengthening maritime security through cooperation. Modi called for maritime connectivity whilst being cognisant of 'the physical sustainability and absorption capacity of the countries' where infrastructure projects are developed.[1]
The reference to China's expansionist maritime role was clear. Especially as it is focused on India's back yard, the Indian Ocean.
The Indian Ocean region (IOR) holds a significant place in China's Maritime Silk Road initiative. The IOR accounts for 80% of China's energy imports and is essential for China's trade activities, making it a strategically and economically significant geography. For the past three decades, Chinese investment and construction activity in the IOR has increased. Ports, in this context, have become important sites of strategic, economic and political investments for China.
The map above shows 17 ports in the IOR, which have some degree of Chinese involvement. This involvement ranges from massive projects like the deep water ports and terminals at Gwadar and Lamu to construction of smaller terminals like the Livestock Terminal at Port Sudan.
China is directly involved in the construction of 13 of them, through Chinese companies, which are contracted to build the ports and its related infrastructure. The project costs are moderate to extravagant –  from $78 million for Djibouti to $1.6 billion for Gwadar in Pakistan.
Besides being port contractors, Chinese companies have direct financial involvement in eight projects, in the form of debt or equity. For instance, Hong Kong-headquartered CMPorts has acquired stakes in the operation of ports like the Doraleh Multipurpose Port in Djibouti, and other Chinese companies have signed concession agreements to lease ports or terminals in Pakistan, Sri Lanka, Australia and the UAE.
The primary actors in the maritime construction and investment domain are Chinese state-owned enterprises (SOEs). All but one of the 17 port projects in the IOR are associated with giant Chinese SOEs like CMPorts and China Communication Construction Company. The CSP Terminal at the Khalifa Port near Abu Dhabi is one such, where Chinese shipping giant COSCO has invested $300 million in the terminal which is now an important trade hub along the Maritime Silk Road.[2]
Many countries in which China is constructing ports, are already indebted to China. Kenya, Pakistan, Myanmar, Sri Lanka and Djibouti have significant Chinese debt – over 27% of all external debt in Pakistan is owed to China.[3] The concerns over their becoming debt traps is well-known. The trade-off for China: debt gives Chinese companies strategic leverage, enabling them to lease the ports, as in the case of Hambantota, where CMPorts has acquired an 85% stake and leased the port for 99 years.
DETAILS OF PORTS
Port
Country
Status
Cost of Project($ millions)
Contractor
Funder
Lamu Port
Kenya
Under Construction
689
China Communications Construction Company
●      World Bank
Mombasa Port
Kenya
Under Construction
400
China Communications Construction Company
●      Kenya Government
Bagamoyo Port
Tanzania
Stalled
10000
–
NA
Dar es Salaam Port
Tanzania
Under Construction
154
China Harbour Engineering Company
●      World Bank
Doraleh Multipurpose Port
Djibouti
Completed
590
China State Construction Engineering Corporation
●      Financed by loan from China Exim Bank●      23.5% stake in port operation
Sudan Port
Sudan
Completed
100
China Harbour Engineering Company
●      49% ownership of port
CSP Terminal, Khalifa Port
U.A.E.
Completed
300
China Ocean Shipping Company (COSCO)
●      $400 million investment from COSCO●      35-year concession agreement
Sokhna Port
Egypt
Completed
520
China Harbour Engineering Company
NA
Gwadar Deepwater Port
Pakistan
Completed
1620
China Overseas Ports Holding Company
●      Investment financing●      40-year concession agreement
Karachi Deepwater Terminal
Pakistan
Completed
550
China Harbour Engineering Company
NA
Hambantota Port
Sri Lanka
Completed
1500
China Merchants Port Holdings
●      99-year concession agreement for $1.12 billion●      85% ownership share
CICT Terminal Colombo
Sri Lanka
Completed
500
China Merchants Port Holdings
●      35-year concession agreement
Chittagong Port
Bangladesh
NA
NA
China Communications Construction Company
NA
Payra Port
Bangladesh
Planned
600
China Harbour Engineering Company
NA
Kyaukpyu Port
Myanmar
Planned
1300
ChinaPower
NA
Malacca Port
Malaysia
Cancelled
10500
NA
NA
Darwin Port
Australia
Completed
390
No
●      99-year lease for $390 million
Sources: Government Documents and Websites, Company Annual Reports and Port Authority Websites.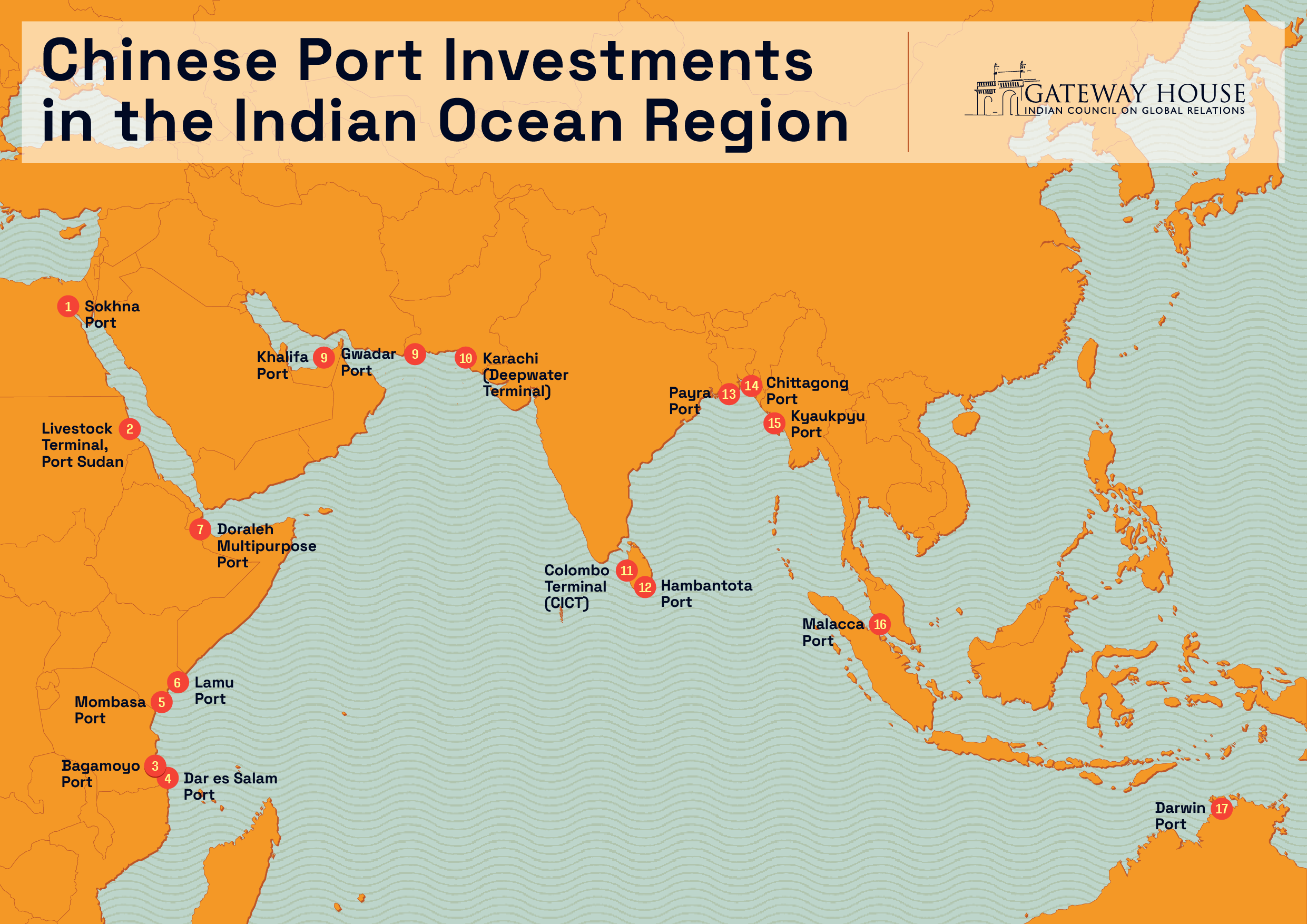 Saeed Faridi is Research Intern, Gateway House.
Designed by Debarpan Das.
This infographic was exclusively developed for Gateway House: Indian Council on Global Relations. You can read more exclusive content here.
For permission to republish, please contact outreach@gatewayhouse.in
© Copyright 2021 Gateway House: Indian Council on Global Relations. All rights reserved. Any unauthorised copying or reproduction is strictly prohibited.
References:
[1]https://www.mea.gov.in/Speeches-Statements.htm?dtl/34151/English_translation_of_Prime_Ministers_remarks_at_the_UNSC_HighLevel_Open_Debate_on_Enhancing_Maritime_Security_A_Case_For_International_Cooperation_A
[2]https://www.adports.ae/wp-content/uploads/2019/01/CSP-FACT-SHEET-dec-2018.pdf
[3]https://www.usip.org/publications/2021/05/pakistans-growing-problem-its-china-economic-corridor