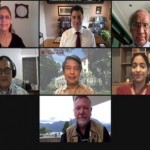 We hosted a Webcast with Konrad-Adenauer-Stiftung (KAS) on 15 July 2021, on 'Countering China's Maritime Grey Zone Activities'. The panel included: James Kraska, Chair and Professor of International MaritimeLaw, U.S. Naval War College and Visiting Professor, Harvard University, Jay Batongbacal, Director, University of Philippines Institute for Maritime Affairs and Law of the Sea, Renato Cruz De Castro, Professor, International Studies Department, De La Salle University, Manila, and Dr. Aurelio Calderon Chair in Philippines-American Relations and Sana Hashmi, Visiting Fellow, Taiwan-Asia Exchange Foundation.
Key Findings
1. A disregard for international law: Nearly a third of the world's shipping trade passes through the South China Sea (SCS). If China had sole authority over these waters, the foreign policy compliance and leverage would be unmatched. Though it assures unhindered access to the SCS, historic evidence suggests China is capable of reneging on promises and commitments, be it the occupation and militarization of islands in the waters of the SCS or border agreements with India.
2. 'Grey Zone' creating policy disorientation: By definition, grey zone activities fall in between peace and war, but there is no such thing as a legal grey zone. The prolific use of the term 'grey zone' is providing China the unintended veneer of acceptability. These activities by China are also creating policy disorientation across global capitals – magnified by a lack of political will in the capable countries and weak capabilities in others.
3. ASEAN – a divided house:
Philippines' win – a broken lighthouse: Filipino President Duterte's soft position on the tribunal award and the differing political and economic interests of other claimant nations, has limited its utility as an example to follow against China's other maritime transgressions. On maritime security issues in the SCS, ASEAN is a divided house – a condition China exploits.
China seeks to monopolize the Code of Conduct: Although ASEAN has been able to produce a single draft negotiating text for its Code of Conduct document, substantial discussions remain outstanding and a final agreement is still not on the horizon. China wants certain provisions added to the Code of Conduct which are contrary to the legitimate economic and navigation rights of third parties whose protection has been demanded by many countries, including India. Some of the problematic provisions demanded by China include: –
Disallowing non-ASEAN countries from economic activities in the SCS.
Providing veto powers for restraining other members from undertaking joint military exercises with their treaty allies and partners in the SCS.
4. China's problematic Coast Guard Law: China's January 2021 Coast Guard Law (CCG) is also considered by many as a threat to security and stability in the region. Some of the problematic provisions include: –
Jurisdiction – China has often deployed Coast Guard vessels to enforce maritime law in the Philippines' EEZ
Use of Force – The law provides provisions for the use of force for eviction and demolition of structures within its 'jurisdiction' and authorizes the CCG to use force against government vessels of other countries – a provision contrary to international law and principles of 'sovereign immunity'.