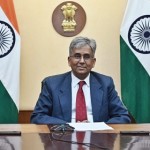 These opening remarks were delivered by Amb. Saurabh Kumar, Secretary (East), Ministry of External Affairs, Government of India, at the panel discussion on 'India in the Indo-Pacific: Pursuing Prosperity and Security', hosted by Gateway House in collaboration with the United States Embassy, New Delhi on 1 February 2022. 
Ms. Manjeet Kripalani, Executive Director, Gateway House
Ms. Patricia Lacina, CDA of the U.S. Embassy
Amb. Rajiv Bhatia, Distinguished Fellow, Gateway House
Amb. Navdeep Suri, Distinguished Fellow, ORF
Ms. Lisa Curtis, Senior Fellow and Director, Centre for a New American Security
Dr. C. Raja Mohan, Visiting Research Professor, Institute for South Asian Studies, NUS
and
Ms. Harsha Bangari, Managing Director, EXIM Bank
Dear Participants,

It is my privilege to address this round table on the Indo-Pacific, jointly organised by Gateway House and the Embassy of the United States of America. The discussion on India's role in pursuing prosperity and seeking security in the Indo-Pacific by the distinguished panel would enrich the ongoing discourse on this maritime space.
2. While the coinage 'Indo-Pacific' in a geo-political sense might be of recent usage, India as an ancient maritime power is all too familiar with the transcendence of ocean boundaries; it historically reached out both to its east and west to mutual benefit. The usage, nevertheless, in a contemporary sense represents India's widening interests. It is for us the next step beyond the Act East.
3. It is estimated that the Indo-Pacific is home to 60% of the world population and 2/3rd of global economic output. Half of the global trade transits the region and 90% of India's own trade travels on its waters. For us this shift in economic trajectory from the Atlantic to the Indo-Pacific is important. In fact the region's security, stability, peace and prosperity is vital for the entire world.
4. India envisages a free, open, inclusive, peaceful and prosperous Indo-Pacific, built on a rules based order and with sustainable and transparent infrastructure investments. It should have freedom of navigation and over-flight, unimpeded lawful commerce, mutual respect for sovereignty, peaceful resolution of disputes, and equality amongst nations. India's vision of the Indo-Pacific is positive, and inclusive of all nations in its geography and beyond who have a stake in it. ASEAN centrality and unity is an important element of the vision.
5. The vision was laid out by the Prime Minister in his speech in Singapore in 2018. He had subsequently in the East Asia Summit in Thailand in 2019 enunciated the 'Indo-Pacific Oceans Initiative' listing its seven pillars, that are, maritime security ecology and resources; capacity building; disaster risk reduction and management; S&T and academic cooperation; trade, connectivity and maritime transport. I am glad that some of these topics are on the agenda of the round-table.
6. Earlier in 2015, the Prime Minister had in the context of Indian Ocean spoken of SAGAR – which means ocean in Hindi – and is also an acronym for 'security and growth for all in the region'. This aspiration, inter alia, in the economic domain depends on securing supply chains in the region; avoiding disproportionate dependence on a single country; and ensuring prosperity for all stakeholders. Greater collaboration in trade, tourism and investment; infrastructure development; marine science and technology; sustainable fisheries; protection of marine environment; and, overall development of the Ocean or Blue Economy has been a part of our strategy. IORA has an important role to play in this. It goes without saying that India's Indian Ocean strategy remains important to its Indo-Pacific approach.
7. India has sought to strengthen security and freedom of navigation in the Indo-Pacific by becoming a net security provider. It has built relations with partner countries across the region. It has provided defence training courses and deputed mobile training teams. Indian Navy's Information Fusion Centre for the Indian Ocean region has enhanced maritime domain awareness among partner countries. Indian Ocean Naval Symposium, which brings together 35 navies of the region, contributes to deepening mutual understanding on maritime challenges and encourages a collective approach.
8. In the area of humanitarian assistance and disaster relief, India has established itself as an early responder. Coalition for Disaster Resilient Infrastructure augments such efforts along with International Solar Alliance targeted towards renewable energy. India has collaborated with its partners in the Indo-Pacific and beyond, including in the Quad format, in efforts to fight the pandemic and there is potential to further strengthen this cooperation.
9. Let me conclude by congratulating Gateway House for the initiative. The Round-Table has a topical and focused agenda, and a brilliant panel. Its output, I am sure, will contribute to strengthen cooperation.
Thank you.
This speech was first published by the Ministry of External Affairs.