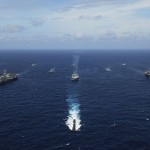 This feature was originally written for Where Geopolitics Meets Business, Vol. 2, the compendium for The Gateway of India Geoeconomic Dialogue. 
The idea of a strategic grouping of the United States, Japan, Australia, and India has been doing the diplomatic rounds for at least a decade. Originally inspired by the successful coordination between their navies in the aftermath of the tsunami that struck the Indian Ocean in 2004, the so-called "democratic quad" came closest to being realised in 2007, with U.S. and Japanese backing. However, pointed Chinese demarches seeking to know the purpose of the four-country initiative caused India and Australia to roll back their involvement, and subsequent changes of government in Tokyo and Washington appeared to seal the quad's fate. [1]
Nonetheless, the four countries in question have continued pursuing stronger bilateral (and trilateral) relations, in a sense, forming a "Quad without the Quad". [2] For India, the most recent major steps in this process include a Special Strategic and Global Partnership agreement with Japan, [3] a landmark framework for security cooperation with Australia, [4] and the U.S.'s designation of India as a Major Defense Partner. [5] It appears that the spirit of the democratic quad remains alive, though its current form does not match the original intent.
It is worth examining, therefore, the merits of India joining such a quad in the future.
There are three major benefits. First and most obviously, the quad is part of a broader U.S. strategy to both constrain and transform China's growing power by altering the political landscape of East Asia. If democracy can form the bedrock of partnerships in the region, and if more countries are encouraged to democratise, then the U.S. will have a ready geopolitical bulwark against a rising, authoritarian China, which, in turn, may experience domestic pressures to democratise. [6] India stands to gain from developments that curb Chinese power. Joining the quad would also signal to Beijing that Delhi is willing and able to respond to potential Chinese efforts to strategically encircle, contain, or diminish India's geopolitical position.
The second benefit is the multiplier effect that quad membership will have on India's bilateral relationships with the U.S., Japan, and Australia. As allies of the U.S., Japan and Australia enjoy a level of economic and security cooperation, with assurances from the world's pre-eminent superpower, to which India does not have access. Even if Delhi does not seek such closeness with Washington, joining the quad would allow India to engage in an unprecedented level of policy coordination with three major democratic powers in Asia. This type of relationship could have spillover effects in a number of areas, ranging from economic cooperation to defence deals and military modernisation.
Third, and finally, democracy can be a significant source of influence or soft power for India. India's democratic political system makes it a far less threatening emerging power in the eyes of the world compared to China. Democratic principles tend to enjoy wider appeal, particularly in an international order dominated by the West. So long as the U.S. is prepared to underwrite a democratic quad, India can piggyback on IT to enhance its bilateral leverage with democratic Asian countries, such as Indonesia and Singapore, as also those gradually transitioning to democracy, such as Myanmar.
In contrast to the benefits, there are downsides to joining a democratic quad in Asia. As earlier mentioned, it provoked China into a stern diplomatic response in 2007. [7] Since that time, China has grown considerably more powerful and more assertive in its region. A future attempt at quad-building is therefore likely to evoke a stronger response. Accounting for 11% of India's total trade and a trade deficit of $52 billion, [8] China holds the ability to inflict economic punishment on India. In addition, Beijing has demonstrated its ability to thwart Delhi's objectives in international organisations, ranging from the UN Security Council to the Nuclear Suppliers Group. Thus, as the Narendra Modi government has already made clear, India can be firm with China, but must also acknowledge the latter's importance as a global power and major trading partner. A democratic quad in Asia will break this prudent rule of thumb.
Contrary to the expectations of U.S. strategists, a democratic quad is likely to alienate a number of Asian countries. [9] Southeast Asian countries, in particular, have expended considerable energy and resources in building a regional organisation (ASEAN), designed to manage political differences through consensus-building with an eye to collective prosperity. A democratic quad, cobbled together by extra-regional powers, would disrupt this carefully-calibrated equilibrium and cause considerable upheaval, particularly in the context of an adverse Chinese response. Joining the quad will, therefore, negatively impact India's long standing Look East (now Act East) policy, which is predicated on developing strong economic and security linkages with Southeast Asian countries, among other factors.
Finally, a democratic quad by itself is a potentially lucrative proposition, but when coupled with larger U.S. and Japanese goals to create an "arc of freedom and prosperity" in Asia, [10] the idea takes on problematic overtones of democracy promotion and regime change. It is in India's interest to ensure that territorial boundaries and national sovereignty are upheld as cornerstones of the global order, at least when it comes to states that have not completely failed in their basic duties to their citizens. Neither India's capabilities nor its interests are sufficiently expansive to support a foreign policy of transforming the political systems of countries that lie beyond its immediate neighbourhood. Therefore, a quad that seeks to exceed the parameters of strategic partnership is likely to produce negative returns for Indian foreign policy in Asia.
On balance, the costs to India of joining a democratic quad in Asia outweigh the benefits. Put simply, India can pursue its goals of containing China, enhancing cooperation with the U.S. and its allies, and growing its influence among Asian countries without having to join a democratic quad. Indian policymakers have understood this basic calculus and are engaged in seeking the benefits without incurring the costs, mainly by deepening bilateral co-operation with Asian countries, big and small. Eventually, however, the big partnerships will grow to a point where a democratic alliance might seem like the natural next step. Delhi will need to remember the costs of joining such an arrangement at that point in time.
Rohan Mukherjee is an assistant professor of political science at Yale-NUS College, Singapore. Previously, he was a Stanton Nuclear Security Fellow at the Massachusetts Institute of Technology (MIT) and a non-resident visiting fellow at the United Nations University (UNU) in Tokyo.
The Gateway of India Geoeconomic Dialogue was co-hosted by Gateway House and the Ministry of External Affairs on 13-14 of February 2017. For more details on the event please click here. 
This article was exclusively written for Gateway House: Indian Council on Global Relations. You can read more exclusive content here.
For interview requests with the author, or for permission to republish, please contact outreach@gatewayhouse.in.
© Copyright 2017 Gateway House: Indian Council on Global Relations. All rights reserved. Any unauthorized copying or reproduction is strictly prohibited
References
[1] Medcalf, Rory, 'Chinese Ghost Story', The Diplomat, 14 February 2008, <http://thediplomat.com/2008/02/chinese-ghost-story/>
[2] Brewster, David, 'The Australia-India Security Declaration: The Quadrilateral Redux?', Security Challenges, 6:1, pp. 6, 2010, < https://www.regionalsecurity.org.au/Resources/Documents/vol6no1Brewster.pdf>
[3] Ministry of External Affairs, Government of India, Tokyo Declaration for India – Japan Special Strategic and Global Partnership, 1 September 2014, <http://www.mea.gov.in/bilateral-documents.htm?dtl/23965/ Tokyo+Declaration+for+India++Japan+Special+Strategic+and+Global+ Partnership>
[4] Ministry of External Affairs, Government of India, Framework for Security Cooperation between India and Australia, 18 November 2014, <http://mea.gov.in/bilateral-documents.htm?dtl/24268/Framework_for_Security_Cooperation_between_India_and_Australia>
[5] Office of the Press Secretary, The White House, Government of the United States of America, The United States and India: Enduring Global Partners in the 21st Century, 7 June 2016, <https://obamawhitehouse.archives.gov/the-press-office/2016/06/07/joint-statement-united-states-and-india-enduring-global-partners-21st>
[6] Green, Michael J., and Daniel Twining, 'Democracy and American Grand Strategy in Asia: The Realist Principles Behind an Enduring Idealism', Contemporary Southeast Asia, 30:1, pp. 1-28, April 2008, <https://www.jstor.org/stable/41220489>
[7] Acharya, Amitav, 'Asia should be wary of alliance of democracies', The Jakarta Post, 26 June 2007, <https://books.google.co.in/books?id=5xxpDQAAQBAJ&lpg=PA159&ots=y4-CPEbCxg&dq=%E2%80%9CAsia%20should%20be%20wary%20of%20alliance%20of%20democracies.%E2%80%9D%20Jakarta%20Post.&pg=PA159#v=onepage&q=%E2%80%9CAsia%20should%20be%20wary%20of%20alliance%20of%20democracies.%E2%80%9D%20Jakarta%20Post.&f=false>
[8] Authors' own calculation from the UN COMTRADE database: <https://comtrade.un.org/data/>
[9] Dupont, Alan, 'Not the time to deal out Beijing', The Australian, 26 March 2007.
[10] Ministry of Foreign Affairs, Government of Japan, Speech by Mr. Taro Aso, Minister for Foreign Affairs on the Occasion of the Japan Institute of International Affairs Seminar "Arc of Freedom and Prosperity: Japan's Expanding Diplomatic Horizons", 30 November 2006, <http://www.mofa.go.jp/announce/fm/aso/speech0611.html>