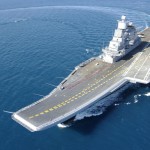 East Asia—the vast region stretching from India to Japan and Australia, which, at times, is also known as the Indo-Pacific[1]—has changed noticeably in the past 12 months. Of the four powers that matter, three—U.S., India and Japan—came closer. But uncertainty governed U.S.-China relations, the equation that matters most. They took a conciliatory path, contrary to what many scholars predicted in January 2017. We can therefore expect a mix of uncertainty and instability in 2018.
The Big Four
India and Japan continued to impart substance and momentum to their strategic, political and economic cooperation with notable consistency.
The year 2017 opened on a note of anxiety about U.S.-Japan relations in the backdrop of candidate Trump's calls on Japan to spend more on its defence and even consider having its own nuclear weapons. Tokyo's fleet-footed diplomacy brought the relationship back to one of traditional cordiality and warmth: the Tokyo leg of Trump's Asia tour was rated quite a success.
In a similar manner, India-U.S. ties showed progressive strengthening as the year unfolded, especially since Prime Minister Modi's June visit to Washington. By the year's end, the U.S. was hailing "India's emergence as a leading global power and stronger strategic and defence partner."[2]
In contrast, despite his reputation as a tough-talking leader, sworn to his "America First" policy, and consistent criticism of China during the election campaign, Trump chose to stress cooperation rather than contestation or confrontation with Beijing. It counted most for him to get China on board to put pressure on North Korea for restraining its nuclear and missile programmes and obtain Beijing's help in addressing the massive deficit in U.S.-China trade. Neither goal seems closer to fruition yet.
In global politics, particularly in East Asia, 2017 was unmistakably China's year—as reflected in a successful 'Belt and Road Initiative' (BRI) Summit, the Doklam standoff with India (despite the Chinese blinking first), and anointing of Xi Jinping as the supreme leader—or "Chairman of everything"[3]– of an exceptionally assertive nation, armed with a blend of hubris, military muscle and money power. Ignoring China's destabilising strategy in the South China Sea, South Asia and elsewhere, the U.S. president saw in Xi "a very special man", adding that "my feeling toward you is incredibly warm" and: "We have great chemistry."[4] Susan Rice, former U.S. national security adviser, wrote bluntly: "The Chinese leadership played President Trump like a fiddle, catering to his insatiable ego and substituting pomp and circumstance for substance."[5]
The American president's actions ran counter to the letter and spirit of America's National Security Strategy, which he released in mid-December 2017. This important policy document identified China as "antithetical to U.S. values and interests".[6] It stated in a straightforward manner: "China seeks to displace U.S. in the Indo-Pacific region, expand the reaches of its state-driven economic model, and re-order the region in its favour."[7] To tackle such a serious challenge, all that Trump could muster was the abandonment of the Obama era's pivot/rebalancing strategy, the U.S.' exit from the Trans-Pacific Partnership (TPP), the constant refrain on his readiness to sell arms to China-wary nations, and the bizarre offer he made to ASEAN nations to serve as a mediator or arbitrator on the most vexed issue in the region: the South China Sea.[8]
China gains but…
It was thus no surprise that China got its way. Under a pro-Beijing chair—the Philippines—ASEAN yielded to accept an ambivalent framework agreement on starting negotiations with China for a Code of Conduct (COC) on the South China Sea. These negotiations may go on for years, even as China has completed the task of building artificial islands, intensified militarisation in violation of its own assurances, and gone about enhancing close surveillance of international maritime traffic across the area.
One positive feature, though, was the U.S. continuing to conduct Freedom-of-Navigation Operations (FONOPS). Five operations were carried out, for example, in a four-month period during May-October 2017. They amount to drawing a line in the water.[9] "Chess in the Sea" is how an analyst described it.[10]
The U.S. and its allies and partners still care to insist that the freedom of navigation, over flights and commerce in the South China Sea ought to be governed by international law rather than China's arbitrary claims and whims. This issue will continue to simmer and may receive greater attention when the U.S. and the rest of the world decide to shift their laser-like gaze from the Korean Peninsula.
The Quad
The most interesting development concerning inter-state equations in Asia was the re-appearance of the Quad, the quadrilateral dialogue and budding partnership among the four democratic nations—U.S., India, Japan and Australia. A meeting of mid-level officials in Manila on 12 November 2017, in the broad context of their leaders' meetings in ASEAN-related summits, and bilaterally, assumed considerable significance. The purpose of the officials' meeting was to hold consultations "on issues of common interest in the Indo-Pacific region".[11]
In the decade since the idea of the Quad was first mooted, East Asia has changed beyond recognition. China's military and economic strength has gone up—and so has its will to deploy it openly for advancing its interests. This has been noticeable in all theatres: the eastern rim, Southeast Asia, Central Asia and South Asia. It is China's assertive, if not aggressive, behaviour that compelled the four nations to gather together to initiate a conversation on vital strategic issues and thus send a signal to Beijing.
"The quadrilateral is not a silver bullet,"[12] as Tanvi Madan wrote aptly. Besides, these are early days for the Quad. It does not have to turn itself into "an Asian NATO".[13] Its trajectory will be shaped largely by China's future actions. If China's rise is not going to be peaceful—as many suspect and a few state openly—the member-nations of the Quad will have to overcome their internal divergences and craft a strong, collective approach. It will be interesting to watch if 2018 produces a meeting of the four foreign ministers or even the highest leaders of the Quad.
More importantly, the Quad needs to engage proactively with key ASEAN nations and others–Indonesia, Vietnam, Myanmar, Singapore, Malaysia, Thailand and South Korea—to root itself strongly in the region. Otherwise, the Quad may be viewed as a table without legs. Finally, the role of European Union (EU) nations, such as France, UK, and Germany, in contributing to a smooth balance of power in Asia too needs to be considered.
Barring an accident, East Asia is expected to remain peaceful in 2018 amidst calibrated tension and turbulence.
Rajiv Bhatia is Distinguished Fellow, Gateway House. A former ambassador to Myanmar, he writes regularly on East Asian developments
This article was exclusively written for Gateway House: Indian Council on Global Relations. You can read more exclusive content here.
For interview requests with the author, or for permission to republish, please contact outreach@gatewayhouse.in.
© Copyright 2018 Gateway House: Indian Council on Global Relations. All rights reserved. Any unauthorized copying or reproduction is strictly prohibited
References
[1] Singh, Abhijit, 'The 'Indo-Pacific' has always been about containing the rise of China', South China Morning Post, 28 November 2017, <http://www.scmp.com/comment/insight-opinion/article/2121907/indo-pacific-has-always-been-about-containing-rise-china>
[2] White House, Government of the United States of America, National Security Strategy of the United States of America, December 2017, <https://www.whitehouse.gov/wp-content/uploads/2017/12/NSS-Final-12-18-2017-0905.pdf>
[3] Krishnan, Ananth, 'Chairman of everything: Xi Jinping, with constitution change, proves he is here to stay', India Today, 28 December 2017 , <http://indiatoday.intoday.in/story/china-cpc-communist-party-of-china-leaders-xi-jinping/1/1119634.html>
[4] Nakamura, David & Ashley Parker, 'Trump nurtures relationship with China's Xi: 'My feeling toward you is an incredibly warm one'', National Post, 9 November 2017, <http://nationalpost.com/news/world/trump-nurtures-bromance-with-chinas-xi-my-feeling-toward-you-is-an-incredibly-warm-one>
[5] Rice, Susan E., 'Trump Is Making China Great Again', New York Times, 13 November 2017, <https://www.nytimes.com/2017/11/13/opinion/susan-rice-trump-china-trip.html>
[6] White House, p. 25
[7] Ibid
[8] Banerjee, Dr. Stuti, Dr. Jojin V. John, Dr. Avinash Godbole, Dr. Dhrubajyoti Bhattacharjee, Dr. Temjenmeren Ao and Ms. Asmita Chandra, 'President Trump's First Visit to Asia: Explaining his Asia Foreign Policy', Indian Council on World Affairs, 28 December 2017, <http://icwa.in/pdfs/IB/2014/TrumpFirstVisitAsiaIB28122017.pdf>
[9] Keck, Zachary, 'China Is Gaining Control of the South China Sea (Thanks to North Korea)', The National Interest, 21 December 2017, <http://nationalinterest.org/blog/the-buzz/china-gaining-control-the-south-china-sea-thanks-north-korea-23756?page=show>
[10] Pham, Peter, 'Why Is Tension Rising In The South China Sea?', Forbes, 19 December 2017, <https://www.forbes.com/sites/peterpham/2017/12/19/why-is-tension-rising-in-the-south-china-sea/#7bb1ac001fa4>
[11] Press Release, Ministry of External Affairs, India-Australia-Japan-U.S. Consultations on Indo-Pacific, 12 November 2017, <http://www.mea.gov.in/press-releases.htm?dtl/29110/IndiaAustraliaJapanUS_Consultations_on_IndoPacific_November_12_2017>
[12] Madan, Tanvi, 'The rise, fall, and rebirth of the 'quad', War on the rocks, 16 November 2017, <https://warontherocks.com/2017/11/rise-fall-rebirth-quad/>
[13] Huang, Cary, 'US, Japan, India, Australia… Is Quad The First Step To An Asian NATO?' South China Morning Post, 25 November 2017, <http://www.scmp.com/week-asia/opinion/article/2121474/us-japan-india-australia-quad-first-step-asian-nato>420