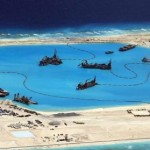 Good afternoon,
Many thanks for the invitation to speak. Today I will talk about the difficulty of implementing the award of the Permanent Court of Arbitration (PCA) in the Hague on the interpretation of the United Nations Conventions on the Law of the Sea (UNCLOS) in the recent case started by the Philippines against China.
This case is a vital test for the primacy of international law, but as part of the wider South China Sea dispute, it is also a test of whether it will be possible to integrate China into the international order. It is unlikely that the judgement, as such, will be fully implemented. This does not mean the ruling does not affect China. I believe that in the long run the rising costs for China's international reputation might help to convince it to moderate its stance and find bilateral compromises with other claimants, such as the Philippines, on the joint development of resources.
Why disputed territory?
I will focus today on the case between China and the Philippines, but, of course, the South China Sea dispute is much bigger than that. There are overlapping claims to sovereignty and resources between the People's Republic of China (PRC), Taiwan, Malaysia, the Philippines, Vietnam and Brunei, and incidents at sea, such as the seizure of fishing boats or the interception of military airplanes, have also included Indonesia and the U.S..
Other actors such as Japan, India and the EU have a major stake in the stability of the area, because important shipping lanes go through the South China Sea and disruption of these would severely affect global trade. Around 55% of India's trade goes through the South China Sea, and for the U.S. and China these figures are even higher.
The South China Sea is thus an area of economic and strategic importance for all countries involved. Some experts have estimated that its oil and gas reserves could account for 33% of China's total energy reserves, and 10% of the world's annual fishing catch too. China views the area as crucial for its maritime strategy because its maritime access to the East China Sea is restricted by several island chains. As military outposts, the South China Sea islands can be useful in case of a conflict with Taiwan. For India, China's maritime expansion is a worrying development that could lead to a growing Chinese presence in the Indian Ocean in the long term.
History of Chinese claims
The dispute is, of course, not new. The first Chinese claims in the South China Sea were made in the late 1940s by the then nationalist government, but the issue was a low priority until China became more assertive in the 1970s after the discovery of oil and gas reserves, most visibly during a skirmish over the Paracel islands with Vietnam in 1974.
Various other incidents followed in the 1980s and early 1990s. During the second half of the 1990s, China adopted a more moderate approach. This was in an attempt to achieve better relationships with its neighbours as part of its so-called "omnidirectional diplomacy" to break out of its international isolation after the Tiananmen crisis, normalising relations with many countries in the region. In this period, China tended to support multilateralism over bilateralism. This resulted, among others, in the Declaration on Conduct of Parties in the South China Sea in 2002 and significant cooperation with ASEAN on non-traditional security issues, including attempts to preserve the fishing stock, encourage scientific research and protect biodiversity — but crucially excluding sovereignty issues.
In the last decade, with its global rise, China has become much more assertive regarding its maritime claims. In the South China Sea, China has started regular patrols in 2009. A New York Times article in 2010 reported that Chinese officials had called the South China Sea a "core interest, on par with Taiwan and Tibet" in meetings with U.S. officials. (This term is usually used for issues that are in essence non-negotiable for China and could lead to the use of force). Later such statements were denied. In 2012, China created Sansha city to administer the islands and introduced a new version of the Chinese passport with a map that includes the nine-dash line (which indicates China's claims in the area).
The most significant development was a standoff with the Philippines in 2012 around the Scarborough Shoal (which is north of the Spratly Islands, relatively close to the coast of the Philippines). The Philippines had tried to arrest a group of Chinese fishermen, but were blocked by Chinese ships. China started economic sanctions by reducing tourism and imposing restrictions on banana imports. China is the Philippines' third largest source of tourists, and bananas are the Philippines' second largest agricultural export, so these actions put significant economic pressure on the Philippines. Philippine fishermen were no longer allowed access to the Scarborough Shoal by China, which also allowed hawkish commentators in the media to talk about military action.
The PCA ruling
It was in this context that in 2013 the Philippines launched its case against China. The Philippines does not possess the economic, political or military power to match China and China demanded that the Philippines recognise Chinese sovereignty as a precondition for talks. Therefore, the legal route was the only way out. Since the PCA does not have jurisdiction over sovereignty issues, the Philippines focused its case on the interpretation of UNCLOS regarding three main issues:
China's nine-dash line, based on 'historic rights';
the status of maritime features (such as islands, rocks or low-tide elevations); and
lawfulness of Chinese actions and damage to the environment.
The Tribunal has supported almost all the claims the Philippines had raised in its case. It was expected that the Philippines would win the most part of the case, given the legal underpinnings of some of China's claims, but the ruling was more wide-ranging and negative for China than was assumed.
The Tribunal concluded that:
there was no legal basis for China's claim of historic rights to the maritime resources within its nine-dash line. It argued that even if China would have had any such rights in the past, these were extinguished by the entry into force of UNCLOS and its system of allocating maritime zones;
it gave a clearer legal definition of what constitutes an island according to UNCLOS: an island has to be able to sustain human habitation or economic life on its own and in its natural condition (not dependent on outside resources, or purely extractive in nature). It concluded that none of the Spratly Islands met these conditions and so none had the legal status of an island, which meant that none of the features could generate an exclusive economic zone (EEZ) of 200 nautical miles which could overlap with that of the Philippines. Even if China would indeed have sovereignty over some of these features (the Tribunal did not rule on this issue), they would now only generate a small economic zone of 12 nautical miles;
significantly, the Tribunal additionally ruled that Itu Aba, the largest (natural) island in the area, which is occupied by Taiwan but also claimed by Beijing, is legally only a rock, and therefore also does not give China the right to a large EEZ. The Philippines had not included this island originally, but this was taken up by the court later after it was mentioned by the Philippines in oral argument;
the Tribunal also found that China's land reclamation activities severely harmed the environment and that China has violated the Philippines' sovereign rights in its EEZ.
The judgement thus represents a clear, unambiguous refutation of several of China's claims in the region. In fact, there is no ambiguity or positive aspect in the ruling that Beijing can hold on to. Some analysts had hoped for this, as this would have made it easier for Beijing to accept parts of the judgement or use it as a basis for further negotiations.
Explaining China's response
China has refused to participate in the proceedings and denies the jurisdiction of the PCA. This is unfortunate. Other nations have adhered to the Tribunal's decisions, even when it was not in their favour. For instance in 2014, when the same Court ruled largely in favour of Bangladesh in 2014 over overlapping maritime claims with India, New Delhi had accepted the judgement. This boosted India's reputation as a country that abides by international law. It also improved ties between the two countries. In a comprehensive study of China's 23 border disputes, Taylor Fravel, a Professor at the Massachusetts Institute of Technology, found that since 1949, China had managed to settle 17 of these, often by making substantial compromises. These settlements concerned land border disputes. What then explains China's recent assertiveness in these maritime disputes in the South China Sea?
Firstly, as previously mentioned, these islands and the surrounding resources are much more strategically valuable than the land areas over which China made compromises.
Secondly, and perhaps most importantly, since the 1990s China's leadership has partially based its political legitimacy on nationalism. It has instilled the narrative that the Communist Party of China (CCP) is the only party able to stand up for China's national interest against foreign powers.
This narrative has a strong resonance in China given the history of what, in China, is called "the century of humiliation", in which foreign powers profited from a weak China and China lost various territories (such as Taiwan and Hong Kong). With China becoming a great power, expectations regarding protecting what Chinese people see as their sovereign territory have been raised.
In China some have argued that other claimants had been provoking it by exploiting the resources of the seas, and that China had to become more assertive in responding to this. Chinese media usually blame the U.S. for stoking up unrest in the South China Sea, and claim that the U.S. pivot has emboldened smaller countries in the region to provoke China.
Nationalism boosts the CCP's legitimacy, but it also makes the leadership vulnerable to claims from grassroots nationalists that it does not sufficiently stand up for China's territorial sovereignty. It is the one factor that is capable of uniting different social groups against the regime, and is thus a double-edged sword.
Previous national protests, for example the anti-Japanese protests in 2012, have shown that they had the potential to turn into calls against the regime. This explains why Beijing, despite using nationalist rhetoric in a sustained media campaign for domestic consumption, chose to censor online calls for protests after the ruling and deployed high numbers of police agents to the Philippine embassy to prevent any protests from taking place there.
Thirdly, public opinion plays a much bigger role in Chinese foreign policymaking today than when China settled those land border disputes in the past. Today, people can use social media to put pressure on the government while traditional media have a commercial interest in writing nationalist stories. This gives Chinese leaders less room to make compromises than was possible earlier.
And finally, after a long programme of military modernisation China has many more resources available now to be able to press its claims. This was different in the past.
Nevertheless, I would argue that despite the fierce rhetoric, China's response so far has been restrained. There has not been a serious escalation in the South China Sea, such as China establishing an Air Defense Identification Zone, starting new land reclamations around Scarborough Shoal or even the possibility of China abandoning UNCLOS, an extreme scenario which some Chinese scholars had suggested. Beijing could adopt these measures in order to press its case more forcefully after the ruling.
That none of these scenarios materialised is partly due to the fact that China is hosting the G20 next month and is attending several other important summits. It does not want those summits to be dominated by discussions about its assertive behaviour in the South China Sea. China's Foreign Minister Wang Yi, during his recent visit to India, asked India not to bring up this issue and offered to set up talks about India's accession to the Nuclear Suppliers Group in return. China's response to the ruling will not be known until  after the G20. There is a chance that China will then adopt more assertive measures, also because Obama will approach the end of his term in office and the U.S. elections are likely to focus more on domestic issues.
Rising reputational costs for China
Some realist scholars argue that states only adhere to international law when it is convenient for them to do so. This is because there is no direct penalty for not adhering, as there is no enforcement mechanism.
It is true that many great powers in the past have refused to adhere to international judgements when they went against their direct interests, most famously when the U.S. in 1986 lost a case against Nicaragua at the International Court of Justice and subsequently used its veto in the Security Council to prevent enforcement.
Yet, there are still some costs attached to this. In this case, such a stance reflects very badly on China's international reputation. It will fuel already existing concerns in the region over China's rise. It plays into the hands of those who argue that China's rise is a threat to regional stability and prosperity, and hurts Chinese efforts to increase its soft power and reassure other countries that its rise brings benefits for them too. As a result, other states are more likely to balance against China, and today's announcement of increased security cooperation between Japan and Australia is an example of that.
All this takes place at a time when China is launching big initiatives, such as One Belt, One Road and the Asian Infrastructure Investment Bank which Beijing argues will bring significant economic benefits to the region. Countries will be less willing to participate in those initiatives if they begin to feel that increasing Chinese influence will hurt their own national interests and that China is an unreliable partner.
Those costs are higher because China was actively involved in the negotiations around UNCLOS from 1973 till 1982. These were the first multilateral negotiations in which China participated after it had joined the UN. UNCLOS is not being imposed on China, but it voluntarily ratified it in 1996.
Even if the ruling cannot be enforced, it has made a difference because the issue has now become internationalised: it is no more a bilateral or regional dispute. Other international actors have launched statements, with various degrees of strength, calling for respect for international law in this dispute. For many countries this issue has become a key case in upholding the international legal order. China has been widely condemned in the international media and this negatively affects China's global image.
China has effectively contributed to this development. It has tried to win over international public opinion through its international media campaign, amongst others, by numerous interventions from Chinese ambassadors abroad and English-language videos. It has asked other countries to publicly voice their support for China's case in an attempt to win the political battle, rather than the legal one.
However, China's international support has been much more limited than it has claimed in the domestic media. For example, ASEAN was unable to launch a strong statement due to opposition from Cambodia, but this does not erase the fact that most ASEAN members are very worried about China's assertiveness.
Possible progress through talks
Some might argue that China does not care about what the world thinks and will proceed regardless. I would argue that whilst it is very unlikely that China (or the Philippines) will give away their claims to  sovereignty because of the reasons I mentioned earlier, it is still possible that these rising costs will, in the longer term, lead to a slight moderation of China's stance. China's vast efforts to rally international support show that it is aware that its global image does affect its interests.
There have been encouraging signs in the last few weeks that some progress is possible. China has responded positively to the new president of the Philippines, Rodrigo Duterte, who has frequently stated that he wants to repair ties with China. He was meeting the Chinese ambassador in Manila prior to the ruling, and announced that he would send a special envoy to China afterwards.
Duterte decided to send former president Ramos, who enjoyed good ties with China during his term, to Hong Kong for informal talks with his so-called "old friends". These were Fu Ying, an experienced diplomat and former ambassador to the Philippines, and Wu Shicun, a veteran in the South China Sea debate as president of the National Institute for South China Sea Studies in Hainan. Wu stated that both countries should explore ways to jointly develop fish farms in disputed waters and to allow fishermen from both countries near the Scarborough Shoal.
Their statement at the end of the talks mentioned possibilities for cooperation regarding tourism, investment, anti-crime and anti-drug policies. Further talks seem likely in the near future. Another positive development was the announcement last week that China and ASEAN have finally reached an agreement on a framework to sign a binding Code of Conduct in the South China Sea within a year.
For now, it will be impossible to find a compromise on the sovereignty issue, and there remain serious obstacles for a deal on the joint development of resources. Duterte will face domestic pressure to refuse to give anything away after such a strong legal win for his country.
There has been a report that China wants the Philippines to recognise Chinese sovereignty over the Scarborough Shoal, but Duterte last Wednesday stated that there could be "bloody war if China insists on trampling on the sovereign rights of the Philippines". It will not be easy, but if both China and the Philippines remain restrained in their responses to the ruling some progress and improvement of regional stability should be possible and this would be a very positive outcome of the ruling of the PCA.
Joost van Deutekom is a Summer Researcher at Gateway House.
This speech was delivered at Christ University, Bengaluru as part of the National Seminar on the Formulation of Treaties.
You can read exclusive content from Gateway House: Indian Council on Global Relations, here.
For interview requests with the author, or for permission to republish, please contact outreach@gatewayhouse.in.
© Copyright 2016 Gateway House: Indian Council on Global Relations. All rights reserved. Any unauthorized copying or reproduction is strictly prohibited