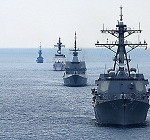 The imminent operationalisation of an aircraft carrier is China's fulfillment of a long-held dream. It appeases popular nationalist sentiment and places China on par with other major world powers. The ability to strike at land-based targets from distant platforms provides Beijing with power projection capability.
The primary task of the People's Liberation Army Navy (PLAN) is to 'recover' China's maritime territorial sovereignty. Its first aircraft carrier will further that objective in the South China Sea. China and five other countries have been locked in a tussle over the Xisha (Paracels) and Nansha (Spratlys) archipelagos, off the coasts of Malaysia and the Philippines – all eyeing the abundant natural resources and minerals. Once the aircraft carrier is operational, Chinese strategists will be eager to see their country active in strategic hotspots, from the Straits of Malacca to the more distant waters of the Indian Ocean.
On August 10, 2011, Beijing took a major step towards inducting the aircraft carrier into the People's Liberation Army Navy. That day, the 70,500-tonne, 990-foot aircraft carrier – formerly named the Varyag and purchased for US$ 20 million as scrap from Russia in 1998 – was launched for five-day-long sea trials at the newly constructed Dalian naval ship-building yard. It will be years, and cost considerable sums of money, before an aircraft carrier group becomes fully operational. China, which already has the vessels necessary to form a carrier task group, however, plans to build two more aircraft carriers by 2015, so that each of its three PLAN fleets has a carrier group.
Photographs of the unfinished aircraft carrier were posted on Chinese websites, on April 6, 2011. They depicted several armaments fitted on board: Type 1030 30mm CIWS guns and FL-3000N missiles systems (all 18 cell varieties) for defensive weapons, APAR and Sea Eagle Radar sensors fitted with an Optical Landing System. They revealed that the carrier, possibly to be named 'Shi Lang' after an ancient Chinese Admiral who conquered Taiwan, had a catamaran-type hull and was seventy percent complete. The completed aircraft carrier will demonstrate China's technological advances in ship construction and weapons. As a Chinese military expert told the Hong Kong-based, Chinese-owned daily, Ta Kung Pao (July 29): "to rebuild an aircraft carrier is no easier than building a new one".
Beijing's intentions were made clear about four years ago from hints dropped by officials that reinforced ongoing speculation of China's effort to build an aircraft carrier. In January 2007, Huang Qiang, spokesman for the Commission of Science, Technology, and Industry for National Defense, reported that China possessed the capability to build an aircraft carrier. By then reports indicated that China had built at least two new shipyards – including one at Dalian, probably for a secret project to construct an aircraft carrier. Then, in November 2008, General Qian Lihua, Director of the Foreign Affairs Office of the Ministry of National Defense, declared that the world should not be surprised if China built an aircraft carrier. After the deployment of two Chinese destroyers off the Somali coast for anti-piracy operations in December 2008, China's Ministry of Defence spokesman, Huang Xueping, reported that China would now "seriously consider" the construction of an aircraft carrier.
China has long cherished ambitions of a presence in the Indian Ocean. Since the late 1960s, authoritative mainland Chinese official publications expressed resentment at the Indian Ocean being named as such. They warned that India should not be allowed to convert it into an 'Indian lake.'
Once Beijing adopted the Four Modernisations programme in December 1979, it began to develop a 'blue water' Navy. Apart from safeguarding maritime territorial interests, the programme would eventually help secure China's anticipated extended energy and commercial sea-borne supply lines. The 'recovery' of maritime territories in the South China Sea and East China Sea are other equally important objectives of the programme.
Planning for a modern 'blue water' navy actively commenced with the appointment of Admiral Liu Huaqing –  then the only senior PLA officer with Navy rank – as Vice Chairman of the Central Military Commission. Liu Huaqing drew the contours of the PLAN doctrine and the '1982 Naval Maritime Plan,' which dovetailed neatly into China's overall 'active defence strategy.' This naval strategy had three phases. In the first, from 2000 to 2010, China was to establish control of waters within the first island chain that links Okinawa Prefecture, Taiwan and the Philippines. In the second, from 2010 to 2020, China would seek to establish control within the second island chain that links the Ogasawara island chain, Guam and Indonesia. The final stage, from 2020 until 2040, envisages China putting an end to U.S. military dominance in the Pacific and Indian Oceans, using aircraft carriers as a key component of Chinese military force.
Recent military developments confirm that China's leadership has generally adhered to this time schedule. The first sign that the Chinese Navy is able and willing to break through the 'first island chain' and operate in waters beyond, was visible in June 2011. That month the PLAN, for the first time, conducted exercises in the West Pacific Ocean. More exercises were held in the South and East China Seas, and were commended by Chinese military officials and commentators.
The public unveiling of China's aircraft carrier prompted a spate of articles in the official Chinese media. Jiefangjun Bao (July 30) justified the acquisition arguing that China is the sole UN Security Council Permanent Member not to have an aircraft carrier. It added that China has an 18,000 kilometer coastline and jurisdiction over a 'vast sea area of some 3 million square kilometers'. It declared: "Without aircraft carriers or without mobile sea platforms with efficacy equal to aircraft carriers, we will not be able to effectively safeguard sovereignty over our territorial land and sea. Nor safeguard our maritime rights and interests. We will not be able to provide robust power guarantees for China's legitimate overseas rights and interests, and will find it hard to guarantee our 'core interests' and perform our international duties in major international affairs." Ta Kung Pao (July 29) said an aircraft carrier "will form the core of PLAN's water-surface battle group."
The addition of an aircraft carrier to the PLAN will alter the power balance in the region, with implications for India. It will augment PLAN's presence in the Indian Ocean, which will expand once China begins exploiting the block in the Indian Ocean sea-bed, off Madagascar, allotted to it by the Jamaica-based International Seabed Authority. The presence of a Chinese aircraft carrier in the Indian Ocean implies that Beijing will pay courtesy port calls to countries in the littoral.
The demand by Chinese officers and strategists for bases abroad now assumes added significance. India's military and security establishment will need to heighten surveillance and other maritime defence capabilities. Major lapses, like those which saw three ships—two large vessels and one carrying over 25 persons—sail undetected and unchallenged a few weeks ago, from Somalia to India's western shores off Mumbai, can no longer be allowed.
Jayadeva Ranade is a former Additional Secretary in the Cabinet Secretariat, Government of India.
This article was exclusively written for Gateway House: Indian Council on Global Relations. You can read more exclusive content here.
For interview requests with the author, or for permission to republish, please contact outreach@gatewayhouse.in.
© Copyright 2011 Gateway House: Indian Council on Global Relations. All rights reserved. Any unauthorized copying or reproduction is strictly prohibited.