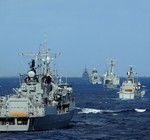 Vice Admiral (Retired) Venkat Bharathan, presented his paper on 'Maritime Governance Authority' to a select group of naval officers, Mumbai police, Mumbai University and commercial shipping companies. He discusses the challenges the Indian navy faces in management and at sea with Gateway House's Samyukta Lakshman.
Q: What does the Indian Navy see as its core mission within its theatre of operations and in the context of security interests of Pakistan and China? What are the major challenges at sea which you need to tackle in co-operation with the neighbouring navies?
The main maritime role of the Government of India is to ensure the security of the country in terms of trade, commerce and military so that the way of life of this country is not affected. The Indo-Chinese relationship has been incipient. We have common interests despite the geopolitical differences which are on two levels –geographic and national interest. The national interest of India is to ensure its own sovereignty. However, the creation of three nations from a single subcontinent called South Asia is an unworkable equity. The commonalities of South Asia are much more than its differences –a lack of governance, poor trade, and poor functioning of the SAARC.
Since Independence, we have kept security as a distinct component from national growth, management and governance.  The military entity that was created not ever integral to the rest of the components of national management.
The Navy has embarked on a policy of Cooperative Security Engagement with all neighbouring navies, including the Chinese navy, except that of Pakistan. We do exercises every year with Russia, UK, US and France. Bilaterally we do exercises with Indonesia, Malaysia, Sri Lanka, and Singapore. Every two years we conduct a Milan where all South East navies come to India. We do joint patrols against piracy in the Mallaca Strait. Cooperative engagement is to try and lessen tensions and improve greater understanding of non military issues like search and rescue, and even natural disasters like the tsunami. Today the concern is to keep the Sea Lines of Communication (SLOC) open. We undertake policing, flag showing and training. We also train 1100 officers of the Bangladesh, Sri Lanka, South Africa, Burmese navy.
Q: As far as India's defense budget is concerned, are you satisfied with the force development plan of the navy to be a balanced force?
Personally I think I'm satisfied. Where I'm not satisfied is the process which needs optimizing. We have come a long way and we are mastering the maintenance of an aging fleet, more importantly the induction of new ships. We created Defence Public Sector Undertakings –we have reached the turning point now. Just like there is a Directorate General of Civil Aviation, there should be a maritime governance authority or adviser to bring in all players together otherwise it will continue to be ineffective.
Q: Why is the number of personnel in the Indian Navy drastically lower than the other armed forces? Does the inauguration of the Naval Academy Ezhimala in Kerala reflect a policy of better quality academic education for naval officers?
We are a capital intensive service. All our ships are very expensive. Typically the way the Indian Navy has structured itself, is half civilian, half security personnel. Maintaining 100% of security would be too costly. Our naval academy is going to be the best and biggest naval academy in Asia very soon. We get 2 lakh applications each year and are going to train 2000 people including foreign officers every six months. The Indian navy is getting everyone to be a Bachelor in Technology to become better trained officers. We believe in a civilian combination with men in uniform. But where we need to improve is we must make civilians subject to military rule instead of civil labour laws; that's the struggle we are facing. We in turn have to concentrate on better career aspirations for naval officers. Because service guys are required to go to sea and lay down their lives, the capitation maintenance of a serving officer is higher than a civilian, about 25 per cent more.
Q: How has maritime diplomacy helped in expanding India's traditional diplomatic forays?
Every Indian ship is a microcosm of India. First of all, the navy recruitment policy has always been pan-India. Don't focus of one state and if you see the distribution it is equitable. When we visit Indonesia, our ships are virtually like the United Nations. There are Russian made ships with Indian equipment, Indian ships with Italian equipment. We are multilingual. It is fascinating. We worship one god and don't distinguish between religions.  We are a unique system. We have tried to evolve a detached secular function in a confined surrounding. We are changing with the times. When an Indian ship goes abroad, we are the most popular. The military by and large is not socially intrusive.
Q: Indian Navy frigates and destroyers have operated extensively in the Arabian Sea in recent years, on anti-piracy patrols. How successful have these patrols been? What lessons have you learned from these deployments?
All successes are highly circumstantial. There are no statistics available because international maritime laws are complex. Piracy as defined by the United Nations is complex –who is a pirate and who is not a pirate, who is a hijacker? We are trying to create maritime domain awareness in Somalia to ensure that all Indian flag ships will keep us posted on their movement. It is a policing initiative. It is like dealing with terrorist, you cannot shoot them. The Indian navy cannot keep monitoring pirate movements because we don't have the bandwidth.
Q: What kind of support can the Indian corporate sector provide the navy in Maritime Governance?
The biggest challenge is the Indian Navy and the Government of India (GOI) itself. We have not created an instrument where both sides are comfortable dealing with each other. Everything military is taboo. We must get over this syndrome. The GOI must change and integrate corporate into maritime practices. We must adopt a lot of sensible corporate maritime practices. Our profit is in terms of security not hard money. How do you define security? The government is investing in us for profit in terms of security and safety of the nation. We are not able to deliver because the concept of all inclusiveness is not being created. We are a developing country. It will take time. The police must set up to monitor every station; you must have information and communication systems. You must know the sensitive areas which can cause danger. Everyone wants the navy to do this; but we are unable to do this. We don't have authority. Governance is a major challenge that is why a Maritime Governance Authority (MGA) is necessary.
Admiral Venkat Bharatan is a retired Admiral of the Indian Navy.
This interview was exclusively conducted for Gateway House: Indian Council on Global Relations. You can read more exclusive content here.
For interview requests with the author, or for permission to republish, please contact outreach@gatewayhouse.in.
© Copyright 2011 Gateway House: Indian Council on Global Relations. All rights reserved. Any unauthorized copying or reproduction is strictly prohibited.