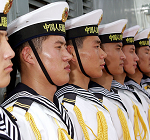 Warships, whatever type they are, carry ammunition, along with testosterone, tension and, some macho behaviour. This is nothing new at all. It is inherent, needed in the military to keep things going. In the cold war it was not uncommon for the U.S. Navy and then the Soviet Navy to "shadow" each other virtually at a stone's throw. There have been submarine and surface ship collisions, and hindering flying operations at close quarters.
Closer home, the Indian Navy overtly monitors Chinese warships visiting Pakistan. Pakistan and Indian navy ships have also had their fair share of muscling each other in ship maneuvers and movements. Pakistani Maritime aircrafts have over flown our warships and have even been fired at or kept at bay by our carrier borne aircraft. The recent Piracy rescue off Somalia involving both Indian and Pakistani navies is another example of the nature of military maritime business. There are also International rules of behaviour and recognized rules of business that are mostly paid heed to. Rites of passage, suzerainty in territorial waters, contiguous zones, and Exclusive Economic Zones (EEZ) have evolved, and are evolving.
In the case of the INS Airavat – the Indian warship that was headed to the Hai Phong port in Vietnam for a goodwill call in July and was warned by the Chinese navy that it had strayed into Chinese waters – the fact that it continued on its course, and the absence of any proactive follow up after the Chinese radio transmission, clearly highlights that it is most likely a repeat of what has been stated above. Oftentimes the genesis of this originates from an excitable character well down the food chain and is often treated as such by the Navy and the political leadership.
An "America Conscious" world is now "China Phobic," with a view of India and its future potential as the largest democracy. There is also a sense about India's benign role in the comity of Nations. Given the current state of tension in the South China Sea, especially after the May 2010 sinking of a South Korean war ship allegedly by North Korea, with China's tacit support, it is understandable for the media as well as political strategists to whip up attention to any Chinese action.
So, should India be overly concerned about the Airavat incident in Vietnam? South Asia is centered on the Indo-Pak impasse. India is a miracle despite its many failings as a muddle-through but united democracy. Pakistan is bordering on becoming a failed state. Bangladesh is slowly coming round. In the context of security and sovereignty, we are involuntarily Pakistan-centric and Sino-deferential. Memories of the 1962 Sino-Indian conflict are indelibly seared in our psyche today. But there is also wisdom in our polity that understands India's interests, needs and threats, no matter what the public lament. Right now, the country is focused on domestic livelihood issues. Understandably, but ironically, security and defense is far from the national debate.
The Border Peace & Tranquility Accord signed between India and China in 2008 has paid us good dividends, despite on-going border issues. Certainly there is awareness of China's String of Pearls strategy through collusion with Pakistan and influence in Bangladesh, Myanmar, Sri Lanka, Malaysia, Singapore and other South East Asian nations. But India is also realistic about itself and its overall strengths and limitations as a military power. So the country uses a combination of realism and diplomatic initiative that has successfully kept China away from aggravating it.
However, all Indians must realize what China is all about without being paranoid. China envisions a Navy that is both shallow and deep water-capable on a principle of 'offensive defense.' The People's Liberation Army Navy doctrine now speaks of a 'strike-first' policy as opposed to its previous approach of wearing down the enemy. Its agenda is as follows: Ensuring sea lanes for its commerce, resources and influences, denial of access to the U.S. Navy in the South China Sea, strengthening its String of Pearls strategy in the Indian ocean, using Iran to counter American influence in the Persian Gulf and increasing its circle of influence in the Middle East and Africa – these are integral to its short term, 40-year plans. The newly refurbished Shi Lang, China's first aircraft carrier now set to sail, is part of these ambitions.
Quietly and unobtrusively, both Indian and Chinese navies are trying to awaken to the possibility of following a common wake at sea. Exchange visits and goodwill port calls are slowly increasing. The South China Sea, the Bay of Bengal, and the Arabian Sea are frequented by both Navies. India's "Look East" views are welcomed by the Far East. The Chinese may frown on the inside but for now are quiescent.
Oceans are the maritime common that makes distant nations neighbours. Equity of maritime understanding, without being at sea, is a key necessity. India must be aware without having any complexes about China now being a power it must reckon with. We can take a lesson in this from the Chinese.
"Be extremely subtle to the point of being formless. Be extremely mysterious, to the point of being soundless. Thereby you can be the director of the opponent's fate!" said Sun Tzu, the ancient Chinese military strategist and author of Art of War.
India must deal with China with deference without degradation, firmness without confrontation, and raise the threshold of its defense posture in physical and policy measures without upping the ante.
Vice Admiral Venkat Bharatan is a retired Admiral of the Indian Navy.
This article was exclusively written for Gateway House: Indian Council on Global Relations. You can read more exclusive content here.
For interview requests with the author, or for permission to republish, please contact outreach@gatewayhouse.in.
© Copyright 2011 Gateway House: Indian Council on Global Relations. All rights reserved. Any unauthorized copying or reproduction is strictly prohibited.