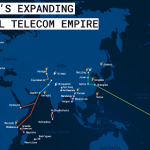 This map updates information provided in an earlier version. Click here to view it.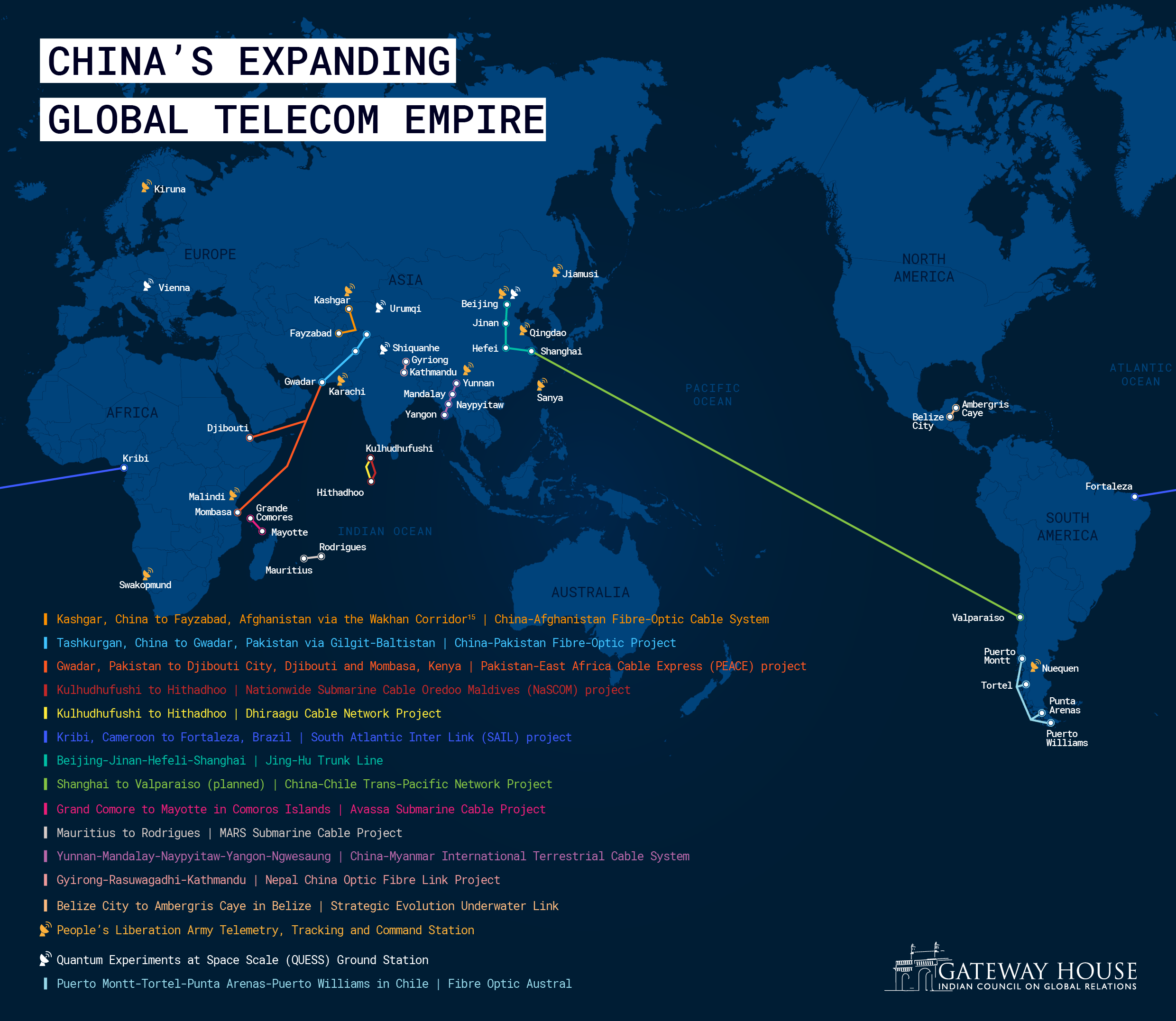 Satellite and Spacecraft Telemetry, Tracking, and Command (TTC) Stations: These world-wide TTC stations are operated by the Chinese Academy of Sciences and the People's Liberation Army General Armament Department
Apart from the TTC at Beijing, the others on the mainland are located close to China's international border: Kashgar (Kyrgyzstan and Tajikistan), Yunnan (Myanmar), Qingdao (South Korea and Japan), Jiamusi (Russia) and Sanya (Vietnam and Philippines) [1] [2].
All the overseas TTC stations are in Belt and Road Initiative (BRI) countries: Karachi (Pakistan), Malindi (Kenya), Swakopmund (Namibia), and Neuquén (Argentina). The one in Karachi is close to Gwadar port and the one in Malindi to Mombasa and Lamu ports. Swakopmund is close to Walvis Bay port in Namibia and Porto de Caio is in Angola, both of which are upcoming BRI ports [3] [4] [5] [6]. Neuquén is situated close to numerous infrastructure assets constructed by China in South America, the Fibre Optic Austral in Chile and the China-funded multi-billion dollar turnkey railway and infrastructure projects in Argentina [7].
TTC stations in countries that have lower military technology capabilities and are unable to control or monitor their own daily operations may be used for covert military communications.
Fibre Optic Austral: Huawei Marine is laying the southernmost submarine optic-fibre cable in the world in Chile, the Fibre Optic Austral (FOA). Collaborating with the Chilean telecom service provider, Comunicación y Telefonía Rural S.A. (CTR), the cable will land on the cities of Puerto Montt, Tortel, Punta Arenas and Puerto Williams. Beijing is providing end-to-end submarine cable solutions and architecture for networking submarine and terrestrial cables [8].
Southern Chile, being a strategic location, FOA can enable Beijing to now survey the jagged terrain of the Chilean coast. The land-based FOA passes through two of the largest extrapolar (outside the Poles) ice fields in the world – the North Patagonian and the South Patagonian. The port cities of Punta Arenas and Puerto Williams are the logistics gateway to the Antarctic Peninsula, located as they are on the Strait of Magellan, and approximately 1,500 km from China's Great Wall Research Station in Antarctica.
China can put to tactical use its familiarity with the extreme south of the Americas to patrol the interface of the Atlantic and Pacific Oceans both in the Strait of Magellan and Drake's Passage.
Shanghai-Valparaiso Trans-Pacific Optic Cable: The government of Chile and Huawei Marine have signed a pre-feasibility agreement to connect China and Chile with an approximately 20,000 km-long trans-Pacific fibre-optic cable [9]. The exact route of the cable has not been finalised, but it is very likely to connect Shanghai and Valparaiso, passing through some of the island nations of Oceania and the Chilean Easter Islands.
If realised, this will be the first direct physical telecommunication connection between Asia, predominantly China, and South America.
China-Myanmar International Terrestrial Cable System: This land-based optic-fibre cable connects all the major cities of Myanmar – Mandalay, Naypyitaw (capital), Yangon, terminating at the beach resort of Ngwesaung. The cable extends northwards to the Chinese province of Yunnan, passing through the Chinese land port of Ruili [10]. Beijing is interested in financing and expanding the Thilawa port in Yangon. The optic-fibre cable passing via Yangon will be of significant use as a building block for this megaproject. Thilawa is a port of critical importance from the Indian perspective as it is less than 1,000 km away from the north-eastern tip of the Andaman Islands.
Nepal China Optic-Fibre Link: This land-based optic-fibre cable passes from the Tibetan town of Gyirong, through the land port of Rasuwagadhi, ending in Kathmandu [11]. The Tibetan Autonomous Region has an immense network of optic-fibre telecommunications, working as a strategic gradient to the sparsely connected Nepal, Bhutan and Indian border regions. Equipped with such a network, China is now able to exercise military as well as economic dominance across its under-developed borders.
Besides these terrestrial and long-range submarine optic-fibre projects, Beijing has acquired vast specialisation in island telecom connectivity, particularly that of small island nations.
Avassa Submarine Cable Project: China has connected the French Overseas Department of Mayotte with the three major islands of the Union of the Comoros – Grande Comore, Moheli and Anjoun [12]. This is a strange connection. Mayotte became a French Overseas Department as an outcome of a referendum, held in 2009, despite opposition from neighbouring Comoros, which long expressed its reservations about French rule in Mayotte. It should also be noted that the French telecom company, Orange S.A., is also constructing the Lower Indian Ocean Network (LION-3) optic-fibre cable between Mayotte and Grande Comore [13]. Beijing seems to be inserting itself, via Avassa, as a stakeholder in bilateral matters between Mayotte and Comoros.
Strategic Evolution Underwater Link: China has finished constructing an optic-fibre construction project in the Central American nation of Belize. It has built for Belize Telemedia Limited, a local telecom company, a 24-km-long submarine optic-fibre cable, connecting the mainland of Belize with its Ambergris Caye Island, passing through the ecologically sensitive Belize Barrier Reef [14].
MARS Submarine Cable: Huawei Marine is collaborating with the Hong-Kong based information communications technology company, Pacific Century CyberWorks (PCCW) Limited, to construct a 700-km-long submarine optic-fibre cable between the islands of Mauritius and Rodrigues in the Indian Ocean [15]. The cable will be constructed on the Mascarene Plateau, the second largest submarine plateau in the Indian Ocean with shallow depths of about 150-1,000 m. The Rodrigues Island is approximately 1,700 km from the U.S. military base of Diego Garcia and the optic-fibre project could be used for acoustic sensing of ship and submarine movements and seismic sensing.
Chaitanya Giri is Fellow, Space and Ocean Studies, Gateway House.
This map updates information provided in an earlier version. Click here to view it.
Click here to view our repository on the Arc of India's Border Security.
This article was exclusively written for Gateway House: Indian Council on Global Relations. You can read more exclusive content here.
For interview requests with the author, or for permission to republish, please contact outreach@gatewayhouse.in or 022 22023371.
© Copyright 2018 Gateway House: Indian Council on Global Relations. All rights reserved. Any unauthorized copying or reproduction is strictly prohibited.
References
[1] Retrieved from the Institute of Remote Sensing and Digital Earth, Chinese Academy of Sciences website. http://english.radi.cas.cn/RD/crssgs/
[2] D. Xu, G. Dong, G. Wang, H. Li, W. Jiang (2016). First geodetic VLBI sessions with the Chinese Deep Space Stations Jiamusi and Kashi. Advances in Space Research 58, 1638-1647.
[3] Retrieved from the Embassy of the People's Republic of China in the Republic of Namibia website. http://na.china-embassy.org/eng/zt/znjj20/t711937.htm
[4] Retrieved from the Porto de Caio, Angola website http://www.portocaio.com/wp-content/uploads/2017/10/English_POC-Operations-release_October-2017.pdf
[5] Retrieved from the Government of Argentina portal. https://www.argentina.gob.ar/centros-y-estaciones/estacion-cltc-conae-neuquen
[6] C. Giri. New Delhi: Myopic beyond Mars. Retrieved from the Gateway House website. 6 November 2013. https://www.gatewayhouse.in/new-delhi-myopic-beyond-mars/
[7] J.F. Cooper. China's Foreign Aid and Investment Diplomacy, Volume III. Strategy Beyond Asia and Challenges to the United States and the International Order. Palgrave Macmillan London-New York 2016. ISBN: 978-1-349-55595-6.
[8] Huawei Marine Press Release, Huawei Marine partners with CTR to deploy new undersea cable system in Southern Chile. 23 March 2018. http://www.huaweimarine.com/en/News/2018/press-releases/PR20180323
[9] Retrieved from the Undersecratary of Telecommunications, Government of Chile website. 17 April 2017. https://www.subtel.gob.cl/chile-firma-acuerdo-con-empresa-china-para-conectar-a-nuestro-pais-con-asia-a-traves-de-fibra-optica/
[10] BRICS Post, China telecom giant completes Myanmar optical cable line. 15 November 2014. http://thebricspost.com/china-telecom-giant-completes-myanmar-optical-cable-line/#.W2LtWKzXzIU
[11] Retrieved from the China Telecom Global website, http://www.chinatelecomglobal.com/CtgPortal/#/about/newsDetail?newsId=14047110
[12] Huawei News, Huawei Marine networks successfully deliver Avassa Submarine Cable Project. 18 November 2016, https://www.huawei.com/en/press-events/news/2016/11/Avassa-Submarine-Cable-Project
[13] Retrieved from the Orange S.A. website, 12 July 2017. https://www.orange.com/fr/Press-Room/communiques/communiques-2017/Orange-signe-un-accord-pour-la-construction-d-un-nouveau-cable-sous-marin-tres-haut-debit-entre-Mayotte-et-Grande-Comore
[14] Huawei News, Huawei Marine partners with Belize Telemedia to deploy new undersea cable system. 17 August 2016. https://www.huawei.com/en/press-events/news/2016/8/Deploy-New-Undersea-Cable-System
[15] Huawei News, Huawei Marine partners with PCCW to deploy MARS linking Mauritius and Rodrigues Island. 6 March 2018. https://www.huawei.com/en/press-events/news/2018/3/Huawei-Marine-PCCW-MARS