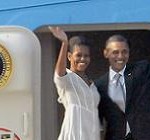 Mr. President, we at Gateway House were not the only ones writing about your visit but we certainly hit the nail on the head in identifying and vocalizing the core issues you must address during your visit. We were accurate in determining the outcome too. So, thank you for reading up on what we had to say.
In the article "Natural Allies or Strategic Partners", we had suggested that even though the UNSC reforms may take a decade, it was about time United States supported our bid for permanent membership for a UNSC seat. At the Indo-U.S. Youth Dialogue held by Gateway House and HR College on Oct 26, a group of Indian and American young professionals and students also said it was time for the United States to back India's quest – or risk having India get on with becoming a major power and render the permanent membership of the UNSC as useless as the G8 had become until it became the G20.
There was something in the way you avoided the question on the UNSC seat at the press conference at Hyderabad House that made it clear a more direct statement was forthcoming. At your address to the joint houses of Parliament, where you announced your support, you reached out to the Indian polity at large, especially the Left, which has been openly critical about cautioning India about accepting favors from the United States. You delivered a carrot which the Indian Parliament accepted happily with huge applause, even taking in its stride the critical comments you made on Iran and Myanmar. The announcement came just in time, too. For unlike the precedent set by the Clinton and Bush India visits, yours was turning out to be a social visit without a defining moment. Now you too, have joined your predecessors in leaving your mark on India.
In the article "Indo-U.S.: Natural Coupling", Gateway House identified the need for a more balanced Indo-U.S. partnership at four levels: Government, Trade, Business and Citizens. Young Indians and Americans also advocated that it was time for the two countries to look beyond government to citizen-to-citizen initiatives. You did precisely that: at the Town Hall meeting at Mumbai with the youth, at Hyderabad House emphasising the need for more balance in trade, and in Parliament where you advocated greater people-to-people interaction.  Enjoining these three as major areas of development in our partnership (besides Trade and Security), you have rightly attempted to reach out to the lower but deeper horizontals of partnership. Your denial of being against outsourcing was disingenuous because you have taken populist stands to garner public support for votes. However, we expect you to take a take a firm stand on such issues within the domestic politics of your country just like you expect us to take a stand on promoting democracy around the world in return for a UNSC seat.
In the same article, we had suggested that you reestablish a focus on partnership in agriculture (without trade being skewed in your favor) because India needs a "second green revolution" to feed the millions still in poverty. We had also argued that education remains another critical untapped area of our partnership. We can push our relationship to new levels if we can unleash our youthful entrepreneurs to be co-creators for the technology that will come to define the next age.
You talked about exchanging and expanding a knowledge of science of technology in agriculture and backed our idea to hold a Higher Education Summit in India – these are steps in the right direction.  We believe that it forms the basis of transitioning our relationship from a "government-induced-strategic" partnership to a "citizen-driven-natural" relationship.
At the conclusion of Indo-U.S. Youth Dialogue, we had sent you a summary to bring to your attention that Climate Change is the most important issue for the youth of both the U.S. and of India. We know that you have been the single biggest advocate amongst international leaders for addressing the issues of climate change. However, the next generation in India were genuinely concerned about the sincerity of your efforts in recognizing the complexity of addressing the issues of climate change in India. Our Prime Minister has a very difficult task at hand – convincing our Parliamentarians and our state governments to make climate change a priority while numerous other issues regarding poverty and funding are competing for attention. So we are happy to know that India and the U.S. have signed new deals in trade and partnership in clean energy.
One aspect of your state visit surprised all of us. As good an orator as you are, Mr. President, our Prime Minister Dr. Manmohan Singh was the one who won our hearts. His straight-forward, bold and clear remarks at Hyderabad House were not only refreshing to hear – given that we Indians mostly know him as a technocrat and an economist – it also illustrated the depth of his knowledge and the clarity of his vision for our country and for the world. So, as happy as we are with you, your efforts to reach out would not have been possible without the prescience of our leadership led by Prime Minister Singh. You called our Prime Minster your dear friend; he too, looks upon you as one. We hope you will live up to your end of the commitment in strengthening and maintaining the vibrant and expanding India-U.S. relationship by implementing all that was discussed, swiftly and loyally, without distractions from other competing world affairs.
Akshay Mathur is Head of Research, Gateway House
This article was exclusively written for Gateway House: Indian Council on Global Relations. You can read more exclusive content here.
For interview requests with the author, or for permission to republish, please contact outreach@gatewayhouse.in.
© Copyright 2010 Gateway House: Indian Council on Global Relations. All rights reserved. Any unauthorized copying or reproduction is strictly prohibited