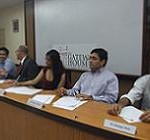 President Barack Obama is heading to India and expectations about the tour are rising. Commentators are speculating on what the trip will bring in terms of taking the Indo-U.S. relationship forward. Will there be big bang announcements, such as multi-billion dollar defence deals or U.S. support for India Security Council seat ambitions? Or will it be a series of small but no less significant initiatives? What are the key areas of discussion and disagreement between the two countries?
As part of Gateway House's series of initiatives as a build up to this visit, a Youth Forum was held at H R College in Mumbai on Tuesday, October 26, 2010 in which three young Indians and three Americans participated. The topic of the discussion was Building a Youth Agenda for the Future of India-U.S. relations. The discussion was in the format of an on the spot question-answer session. Craig Johnson, the principal of The American School in Mumbai moderated what turned out to be a lively debate among the participants and students and others who attended.
The participants were—
U.S.:
Russell Mason (Mahindra); Alexandra Rosen (journalist); Nishant Dixit (Technoserve)
Indian:
Akanksha Mohla (Mahindra), Akshay Mathur (Gateway House), Rishabh Shah (student, HR College)
Though the discussion covered several topics, from terrorism to education to nuclear issues, it was Climate Change that seemed to interested the audiences and the participants the most. Some excerpts:
What should be on President Obama's agenda when he visits India on November 5?
He should address India's bid for a permanent seat at the United Nations Security Council, terrorism in Kashmir and U.S. aid to Pakistan. – RISHABH SHAH
President Obama should focus on bringing small and medium enterprises to work together. – AKSHAY MATHUR
He must bring about a partnership with a push towards climate change. – AKANKSHA MOHLA
There should be more discussion on rural economic development. – NISHANT DIXIT
India and the United States should both relax their visa rules. – ALEXANDRA ROSEN
Currently there is a lot of distrust so both parties should discuss their mutual fears. – RUSSELL MASON
---
EDUCATION
India's HRD minister, Kapil Sibal, is pushing an agenda for collaboration with international institutions of higher education The Central government is changing the law to allow these institutions to open campuses here in India. What do you think will happen?
ALEXANRA ROSEN
There will have to be changes on both sides. For all the 100,000 students who come to the U.S. to study, one needs to think about the kind of students. There aren't as many scholarships and funds in India for Indian student to go abroad as there are in the U.S.. It is primarily a wealthy group of students going to the U.S. which isn't exactly broadening the horizons of students who haven't been able to travel and see the world. On the U.S. side, there has been a 20% increase in the last year or so of students coming to India but that's only 3000 students. I think the first step would be to increase the number of American students coming to India to study and there needs to be a push from Americans to learn about India in their curriculums.
---
TECHNOLOGY
According to a study by Harvard Business Professor Clayton Christensen, 50% of all high school education in the U.S. and much of the west will be done online by 2016. What are the implications of this for education and entrepreneurship globally but also to India?
RUSSELL MASON
The transition of education online is a result of more outsourcing openness to education. The knowledge and resources that we do have in America are not superior to those of the rest of the world but our resources act as a supplement to the education systems in different countries.
NISHANT DIXIT
When you look at Indian industry and outsourcing, there is an interaction of models. We can have one such model wherein people in the United Kingdom can be taught mathematics and science by someone sitting in Punjab. I think we will see an explosion of investment in these areas and hopefully areas India has excelled in particularly engineering, science and math. But the models we use for education in the U.S. can be translated so that scores for U.S. students will rise as well. I think it remains to be seen how much it will affect Indian population without significant investment in mobile technology or 3G.
---
SKILL DEVELOPMENT
If you had the power, to re do the global education and ensure that your graduates would exit with a particular skill, what would that one skill be?
RUSSELL MASON
I would ensure that they graduated with a healthy sense of skepticism.
ALEXANDRA ROSEN
Especially in India, I would hope they had analytical skills.
NISHANT DIXIT
They should imbibe language skills and cross cultural skills.
AKANKSHA MOHLA
I hope that they obtain the ability to question confidently and fearlessly.
AKSHAY MATHUR
I think students in schools should think a little bit more about liberal arts education. I think we are coming out as engineers and all kinds of technocrats without knowing how to live in a community.
RISHABH SHAH
The ability to think out of the box is something that I would hope every graduate has, no matter what situation you are in.
---
TERRORISM
President Obama has drawn parallels India and the U.S. saying that "both countries have been victims of catastrophic terrorist attacks and we have a shared interest in succeeding in the fight against terrorist organizations, their operations and their ideological affiliates." Where does the relationship have similarities and differences?
ALEXANDRA ROSEN
The American and Indian agenda on terrorism is not the same as the U.S. continues to give $2 billion in aid to Pakistan for their security. India and the U.S. are not on the same page — India's security threats come from Pakistan and internally, while the U.S. threats are not from any organized country but from terrorist organizations. While these threats may overlap, [both countries] have different ideologies and agendas. The suggestion that India and the U.S. can work together while Pakistan is receiving aid from the U.S. will only hinder U.S. and India from becoming partners.
---
STRATEGIC PARTNERSHIP
Obama said that he voted for the Indo-U.S. Nuclear agreement because India is a strong democracy and a strategic partner. What is your take on the natural strategic partnership between the two countries?
AKSHAY MATHUR
There is a lot of scope in the Indo-U.S. strategic partnership beyond the geopolitical setup. Does this counter China or Pakistan or Afghanistan? We have a nuclear capability in us. We do want a strategic partnership with the U.S. in areas such as space, sharing intelligence vis-à-vis terrorism and counter terrorism, agriculture and food security.
---
CLIMATE CHANGE
According to the New York Times, USA and India locked horns in the run-up to the Copenhagen summit on global warming. Why? The U.S. is the second largest polluter while India is the fourth. What structure should this conversation about global climate change take? Who should be the leaders? What should be the outcome?
RUSSELL MASON
Everyone wants to keep polluting because its costly to not pollute. There a lot of benefits involved when we are polluting, we can achieve the kind of economic growth. We need to make the necessary sacrifices and to understand the full societal costs of your actions. I cannot defend America's actions and, with you, I condemn America's inertia towards finding a solution to climate change over the past two decades. We all realize how severe a problem this is and how we need to move forward. The U.S. cannot do it because Obama has tried to do it through legislation but failed, I think he is now trying, to get leverage, to go back to the U.S. Congress and say "look the rest of the world is doing this so we must act now." When he comes to India, he will try to emphasize on the point that emerging countries will have to take up their share of combating climate change.
AKANKSHA MOHLA
A treaty of this magnitude especially involving strategic partners like India should be treated as a partnership of equals. This is one of the deterrents for the signing of future treaties along with a lack of clarity on the contribution of each country towards resolving climate change.
ALEXANDRA ROSEN
Action against climate change isn't supposed to come necessarily from governments but the prerogative of international corporations. It is an issue of businesses, if businesses start practicing sustainability then there will not be a need for governments to come in.
---
What should President Obama know about India before he visits?
AKSHAY MATHUR
He needs to know of all the things India has done without the Americans help. Nuclear, space, our education systems – IITs and IIMs, everything we have done in business.
Letter to President Obama – Indo U.S. Youth Agenda (PDF)
The discussion was in the format of an on the spot question-answer session. The views expressed in this discussion are the panelists own and do not necessarily represent the views of Gateway House: Indian Council on Global Relations.
You can read more exclusive content from Gateway House, here.
For interview requests with the author, or for permission to republish, please contact outreach@gatewayhouse.in.
© Copyright 2010 Gateway House: Indian Council on Global Relations. All rights reserved. Any unauthorized copying or reproduction is strictly prohibited