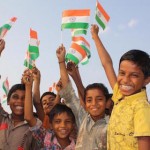 The 2013 Companies Act for the first time mandates that private corporations join public sector firms in annual donations for Corporate Social Responsibility (CSR).  All firms with net worth above Rs 500 crore, turnover over Rs 1,000 crore, or net profit over Rs 5 crore are required under Section 135 to spend at least 2% of their annual profits (averaged over 3 years) and establish a CSR committee to oversee the spending.
How did CSR work pre-2013?
| | | | |
| --- | --- | --- | --- |
| Time period | Economic currents | State role | Corporate CSR |
| 1850-1914 | Industrialisation | Colonial, extraction | Dynastic charity |
| 1914-1947 | Trade barriers for new industries | Colonial, exploitative | Support freedom struggle |
| 1947-1960 | Socialism, protectionism | Five year plans | Support new state; launch own rural initiatives |
| 1960-1990 | Heavy regulations | Licence raj; development failures | Corporate trusts |
| 1991-2013 | Liberalisation | Shrinking in production; expanding in social provision | Family trusts, private-public partnerships, NGO sponsorship |
| 2013-present | Globalisation | Need to manage inequality; new reforms to liberalise further | Introduction of mandatory 2% rule |
Religious traditions of daan, seva, and zakat operated in India for centuries helping to shape the relationship between the privileged and the dispossessed.  The vast majority of philanthropy in India has always been to religious institutions and that continues to be the case.  The earliest industrialists of the 19th Century launched the practices of corporate giving via trusts, and endowed institutions controlled by members of business families.
After the First World War, a new phase of corporate philanthropy arose that drew business leaders into the political fight for independence. The close relationship between M.K. Gandhi and leading industrialists is well-known.  He proposed a model of trusteeship for business in which tycoons should understand their position as fiduciaries of society's wealth.
In the period immediately after Independence, the role of the Indian State expanded greatly and the corporate sector took a backseat in development efforts.  After some time, the failures of the State to end poverty and support economic growth led to dissatisfaction.  The liberalisation of the Indian economy in 1991 ushered in a new globalised economic environment, with rapid growth in overall wealth and also in inequality.
The rising gap between the wealthiest Indians and those at the bottom sparked innovation in efforts by the corporate sector to address social problems.  It also led the State to think about how to pull in more support from the booming business world.  In the context of a shrinking State, a more globalised economy, and great divisions in economic and social worlds, the landscape of Indian CSR is fascinating
Gateway House and Lehigh University, Pennsylvania, U.S., have teamed up to conduct a study of how these regulations are shaping corporate giving.  Based on dozens of interviews with corporations, lawyers, journalists, consultants and NGOs as well as research on almost 200 of India's largest corporations we are presenting a series of articles on Indian CSR today.
Nandini Deo is an Assistant Professor at Lehigh University, Pennsylvania, U.S.
This blog was exclusively written for Gateway House: Indian Council on Global Relations. You can read more exclusive content here.
For interview requests with the author, or for permission to republish, please contact outreach@gatewayhouse.in.
© Copyright 2015 Gateway House: Indian Council on Global Relations. All rights reserved. Any unauthorized copying or reproduction is strictly prohibited.