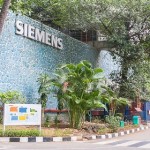 1. Introduction
Siemens India, a subsidiary of Germany's Siemens AG has been operating in India for over 150 years. It has 23,000 employees, annual revenues of $1.5 billion, 22 factories, eight centres of competence and 11 R&D centres in India. Over the past few years, Siemens AG has been diversifying from conventional engineering products and services, to becoming a total technology and digital solution provider across all its verticals. Siemens is also amongst the top 10 software companies in the world. By the year 2030, Siemens aims to manufacture all green products as part of its global vision and focus in three core areas/ functions – electrification, automation and digitisation.
The Siemens factory at Kalwa near Mumbai is an electrical/electronic manufacturing company. This over 50-year-old brownfield factory established in 1973, manufactures low voltage switchgears. Till 2017, it made 80 variants of switchgears on three separate production lines. With rapid improvements in design and technology, Siemens wanted to introduce new global products and variants to boost productivity in this Indian facility plant. Ideally, such capacity addition in a brownfield asset would have entailed substantial capital expenditure on upgradation and setting up new production lines.
This is a classic challenge not just for large multinationals, but one faced by many Indian SMEs that are typically brownfield and seek to strike a balance between possible productivity improvement and necessary capital infusion.
2. Transformation Philosophy
The Kalwa plant manufactured the earlier generations of low voltage switchgears, while the latest generation switchgears were imported from Germany for the Indian market. Siemens found it increasingly difficult to keep the product-competitive in India Local manufacturing of new gen switchgears was necessary and found resonance in the 'Make in India' initiative. The challenge was to match the quality of the German origin product and introduce additional variants to boost productivity.
As pioneers of digitisation and digitalisation across Oil and Gas, marine, aerospace, food and beverage, electronics, pharmaceutical and other sectors, Siemens decided to demonstrate value of digital transformation in its own brownfield factory – a challenge common to the Indian manufacturing sector. Starting early 2016, an automation and digitalisation-based transformation plan was rolled out at the Kalwa facility. Within 18 months, the three production lines were merged into a single line that today rolls out over 200 variants of switchgears. In Jun 2017, Siemens decided to showcase Kalwa as an example of a brownfield industrial installation being transformed into becoming more efficient through automation and digitalisation.
3. Methodology
Business and Operation Needs
Having set the goal for manufacturing the latest generation switchgears in India, the following needs were consolidated: –
Merge the three conventional lines into a single production line capable of handling more variants and higher volumes as compared with the combined capacity of the existing three production lines
Build flexibility in production – that allows manufacturing of a batch size consisting of a single switch
The next generation product meant higher quality compliance – 68 checks compared with the 22 checks on the older generation switchgears, a 200% increase
Reduce cycle time to bring it par with the German counterpart
Reduce time-to-market for a new product to 18-20 months from 36 months and
Build-in capacity for five years of business expansion.
At the heart of this transformation are three in-house technologies – 'Digital Twin', 'Mindsphere' – a cloud and IoT based operating system and 'Video Analytics'.
Digital Twin
Siemens used the Digital Twin concept to virtually simulate the entire manufacturing process. The Digital Twin concept was used to simulate – (a) virtual product design, (b) virtual production and (c) virtually create the end product. This virtual simulation of the entire manufacturing process helped Siemens to optimise the entire process-based iterations drawn from performance data of the Digital Twin model. This simulation helped in: –
Eliminating expenditure for creating real and full-sized prototypes
Creating and evaluating virtually, a process that can operate within the boundary conditions of productivity, quality and cycle time
Conserving capital through optimisations of the process that in a physical world could have resulted in rework and execution delays from variances in specifications from the drawing board to implementation on the factory floor
Building drill-down traceability to the sub-component level during the manufacturing process.

MindSphere
'MindSphere' is a Siemens proprietary cloud and IoT-based operating system, that connects physical assets to a digital ecosystem to harnesses data analytics for driving process innovation. 'Mindsphere' leverages the company's in-built excellence in software development, digitisation and automation. This platform was utilised in Kalwa to digitally thread the business-side software systems such as ERP and SAP with the operations-side Manufacturing Execution System (MES). This end-to-end digital connectivity has provided greater business visibility across the value chain – from order-to-order execution to delivery.

Video Analytics
At the Kalwa plant, video analytics has been used extensively at every stage of the production process. This feature helps in: –
Capturing process parameters with respect to design and generate correction factors for next steps in the sequential manufacturing process stage
Making the machines smart in deciding the kind of correction factor and fine-tuning required, thus providing individualised treatment for each product and
Bringing down cycle time from 12 seconds to the targeted value of 9 seconds by generating data sets that were reprocessed through the Digital Twin.
Challenge Mitigation
Implementing a digital transformation project in a brownfield facility had it challenges, but none that technology and upskilling could not overcome.
Transformation executed within the target of 18 months whilst continuing production operations and maintaining delivery reliability in green over the entire period of transition.
To keep capital investment low, Siemens adopted a mix of physical and digital interventions to help build a process that now matches the German product on quality and cycle time.
Providing traceability for low-cost products like switchgears, manufactured in a semi-automated process; overcome through adoption of MindSphere platform seamlessly integrating and analysing data from various production points.
Enhancing existing skill sets to include new disciplines to match the requirements of a digitised setup. Siemens started a program at its training centre within Kalwa, where Industry 4.0 specific-training is imparted to its white- and blue-collar work force – essential for navigating the transformation through change management.
4. Success Stories
In 18 months the Kalwa switchgear facility has been able to roll out large-scale production of new generation products. The plant manufactures over 200 variants on a single manufacturing line compared with 77 variants on three manufacturing lines in 2016.
Fewer manufacturing lines has reduced maintenance and labour costs.
The facility is now capable of producing 1.5 million devices a year on a single line with a more than three times capacity in spare – a 20% jump in productivity compared to the pre-transformation setup.
The Overall Equipment Effectiveness at the semi-automated Kalwa facility is comparable with fully automated process line in Germany.
The cycle time per product has been cut by over 50% from 21 seconds to nine seconds even after quality checks increased by over 200% from 22 to 68.
Increased flexibility has been built into the single production line where now a batch size can include a single piece of device variant. The agile setup ensures that the product line can continue its operations and requires no setting time for change in product variant cycles.
5. Key Findings
The benefits of digital transformation are not limited to new generation greenfield projects but are equally viable and beneficial in brownfield setup as demonstrated by Siemens at the Kalwa facility.
Digital Twin is a technology that can bring immense benefits and result in optimisation and customisation. Some other benefits include: –
– Optimisation of the transformation roadmap through iterations leading to capital savings and faster execution of transformation projects. Digital Twin can be used to simulate the factory, the machines, their functionalities, workflow, work processes, throughput and costing of the whole set-up.
– During the COVID-induced lockdown, to achieve regulatory compliance of social distancing and reduced manpower norms at the work place, the Kalwa facility once again leveraged its investment in the Digital Twin. The end-to-end visualisation of the entire manufacturing process allowed Siemens to run simulations and reconfigure the production line with new norms within a short span of three hours – thus adding significant resilience to its operations and aiding agility and business continuity during the pandemic.
Change Management is crucial and must be addressed through upskilling and cross-skilling training programmes.
SMEs can utilize digitalisation to address growing demands such as mastering increasing product and process complexity, reducing time to market, adapting to changing market requirements, deliver individualized products and secure continuous product improvement.
Commander Amrut Godbole is Fellow, Indian Navy Studies Programme at Gateway House.
Manjeet Kripalani is Executive Director and co-founder at Gateway House.
Sagnik Chakraborty is Former Researcher, Cybersecurity Studies Programme at Gateway House.
This study was conducted by Gateway House, in partnership with India EXIM Bank. Read the full study here.
For interview requests with the author, or for permission to republish, please contact outreach@gatewayhouse.in.
Disclaimer: The contents of the paper are personal views of the author and do not reflect the official position of the Indian Navy or Government of India.
© Copyright 2021 Gateway House: Indian Council on Global Relations. All rights reserved. Any unauthorized copying or reproduction is strictly prohibited.