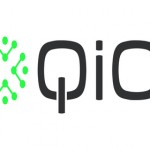 1. Introduction
Established in 2015, QiO Technologies is an Industry 4.0, advanced analytics and artificial intelligence, software company based in the U.K, with a presence in India, Germany, Singapore and the U.S. QiO helps customers to drive value-based innovation by removing the burdens of legacy software, vendor requirements, and dependencies. The product and service suite offered by QiO does not lock companies into perpetual software licenses, embed immovable consulting teams, or monetise their customer database. The customers own their data, their client's data and their own innovation. The QiO platform is built to securely accommodate any data, any asset, any source, at any scale, and on any cloud – edge, private, hybrid or public.
Traditionally, data has been used to generate business insights by the 'White Collar' workforce, while 'Blue Collar' workforce, which accounts for more than 50% of the workforce in a manufacturing industry, largely remained impervious to data insights related to the factory floor. Industry 4.0 has led to greater sensorisation and connectivity within assets on factory floor. There is a growing convergence between Information Technology (IT) and operational technologies. This increased digital connectivity between manufacturing processes and machinery with IT systems is changing the way 'Blue Collars' work. QiO aims to empower industrial engineers by providing them Artificial Intelligence (AI) infused digital tools that aid greater visibility of the entire value chain.
In May 2017,QiO was recognised in the Gartner Cool Vendors in manufacturing operations. The company also found a place in the 2018 inaugural Gartner Magic Quadrant for Industrial Internet of Things (IIoT) and maintained its presence in the Magic Quadrant in 2019 as well.
2. Products
QiO Foresight Energy: This solution enables to optimise energy usage and cut carbon footprint. This application finds wide usage across customers that have high energy usage such as manufacturers in the steel, cement, and shipping sectors.
QiO Foresight Maintenance: This solution helps predict failures and recommends the best course of action to prevent downtime. Prescriptive recommendations significantly improve safety, lengthen asset life, and reduce unplanned downtime and costly outages. In order to assess the health of any equipment, a scoring system based on Performance, Availability, Reliability, Capacity and Serviceability (PARCS score) has been developed. Industries operating an array of capital-intensive machinery such as aviation and automobile are some of the prominent users of this platform.
QiO Foresight Platform: This is an enterprise wide solution providing augmented analytical applications to predict and prescribe next course of action for performance, production, maintenance and energy. This platform operates at five levels. They include: –
IT/OT Enablement – This involves convergence of Information Technology (IT) and Operational Technology (OT) data for analytics in real-time. This feature is crucial to generate insights at a rate that is faster than the process.
Application Enablement – This involves development of configuration driven application services for user management, workflow, notifications, visualisation and analytics.
AI Infused Applications – These provide augmented analytical applications to predict and prescribe the next course of action for performance, production, maintenance and energy.
Cloud – The platform supports cloud providers: AWS, Microsoft Azure, Google and a combination of deployments – public, private and edge.
Security– The platform enables secure access control (machines and humans), data protection and encryption. It is ISO 27001 certified and externally validated by accredited agencies.
3. Implementation Model
According to QiO, industrial and manufacturing companies struggle to follow a proven roadmap on how to tackle transformation projects. QiO offers a five-point plan that has been successfully implemented in the industry, at scale, by their customers. The action plan entails: –
Think Big, Start Small and Scale Fast
Think Big is about a vision within the organisation that goes well beyond one that is currently predictable in order to focus on achieving high-value business outcomes rapidly.
Start Small helps achieve high-value quick wins that reflect impact on the bottom-line results which aid in decisions on organisational buy-in. This early success not only inspires the customer to take on more Industry 4.0 challenges; but the cost savings these efforts create can help fund future projects by identifying high value, transformative, use-cases tied to clear business outcomes, which can be delivered within weeks.
Scale Fast helps manufacturing and industrial leaders to create and launch initiatives that deliver their visions for their plants — co-creating digital solutions with fast agile pilots lasting a few weeks, which achieve a tangible return (within a year or less).
Protect Digital Sovereignty – Control over data is a critical topic that needs to be considered before embarking on digital transformation initiatives. QiO engages with internal IT teams to ensure security gets built in at the design stage in a collaborative manner. Client review and audit of the developed products, that are industry standards complaint, are also subjected to internal security protocols before deployment. Once the QiO product achieves the full security compliance, it then becomes easy to scale up implementation enterprise-wide. To achieve this, QiO teams up with customers to: –
Transfer knowledge to customers to create self-sufficiency through internal digital teams
Co-create and innovate by making the created IP accessible
Provide expertise on manufacturing and software knowledge to upskill workers
Provide digital tools that do not lock the customer into any cloud or IIoT provider, thereby enabling greater interoperability
Secure, protect and rapidly leverage competitive advantage
Digitally Equip Workforce – Alignment of individual factory engineers with the internal digital organisation is crucial to the success of a digital transformation. The outcomes desired from Industry 4.0 tools should be meaningful and help unlock innovation and free factory engineers working at crucial performance frontiers. QiO helps customers create digital cells (teams of 6-8 engineers) that co-create and collaborate, and sit between the enterprise, its customers, its supply chain and the information and operational systems within the enterprise.
AI Infusion–This entails achieving transformative outcomes using AI toolkits to gain insights from system-wide data. Like the Credit Score used in the financial sector, QiO has developed an AI- based PARCS score that helps development of Digital Twins through modelling and simulation.
Servitisation of Products and Outcomes – Selling products and outcomes is the new 4.0 business model. The two models at QiO include: –
Pay-per-Usage Pricing – This model helps the customer save money and eliminate the archaic perpetual licensing model and high maintenance fees.
Pay by Return on Investment – In this model, subscription to the platform entails no upfront payment and customers are charged as fraction of incremental profit accrued through the implementation of their platforms. This model is helping QiO gain wider traction and acceptability in the industry.
4. Success Stories
Some of the QiO success stories are tabulated below: –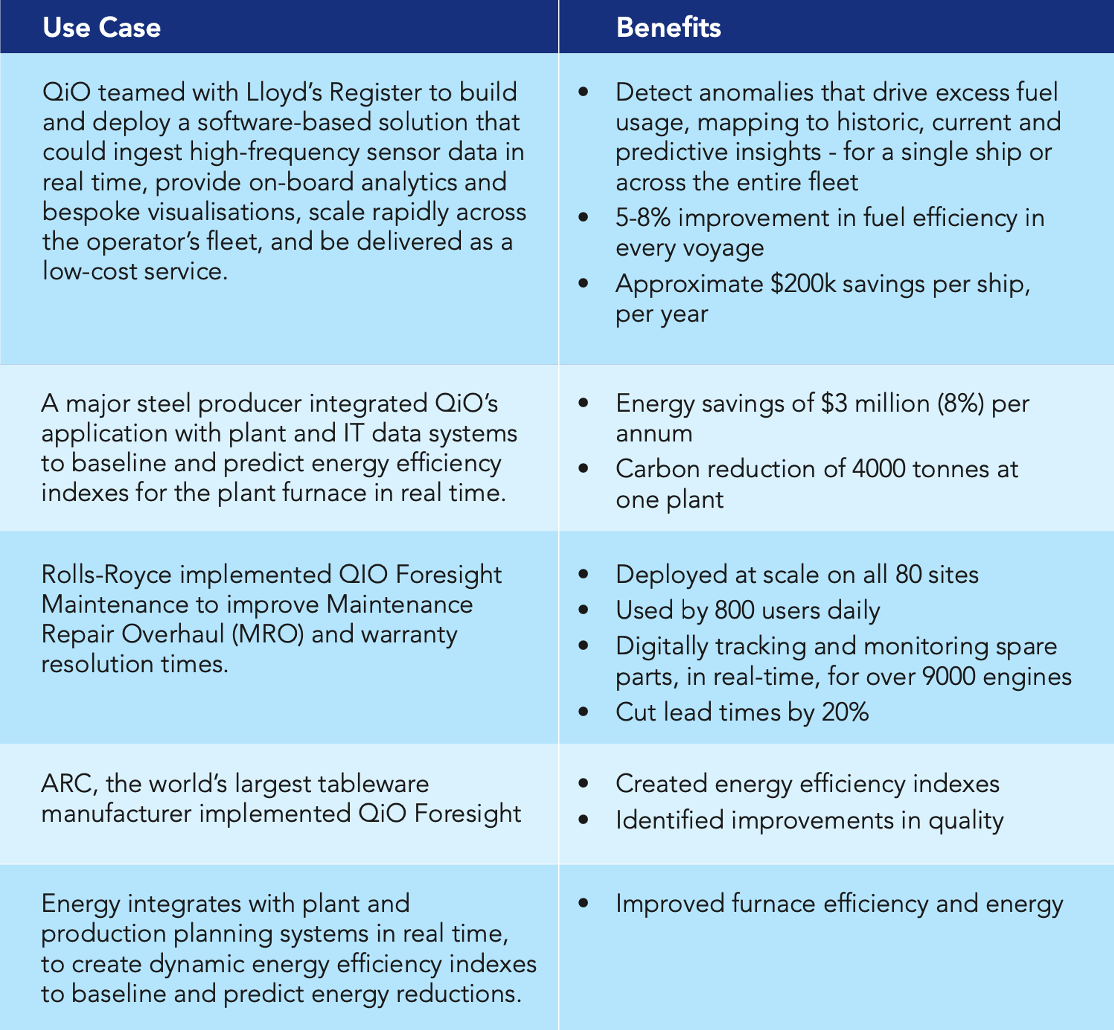 5. Key Findings
Industries should identify the pilot use cases that are easy to implement and bring in immediate value addition in terms of ROI. Most manufacturing firms can focus on two areas to start their journey for digital transformation. These are: –
Pilot cases tracking energy consumption can generate about 10% cost savings and also help reduce the carbon footprint, which is vital to compliance of environmental regulations
Applications for generating predictive maintenance insights can help reduce maintenance cost by upto 15%
Scalability is crucial for acceptance of any product or service. The solutions developed by QiO can be rapidly scaled to other plants and assets without large consulting implementation costs, high software license fees and unforeseen rework.
QiO solutions do not lock the customers into proprietary software thereby offering a high degree of interoperability across various architectures and frameworks.
Co-creation by bringing in greater objective and capability alignment between the factory engineer and the internal digital organisation is key to the success of any developed solution.
As more and more assets, especially those of importance to a nation (power plants, oil and gas, etc) get connected through Industry 4.0 solutions; there is a need to ensure data security and privacy. The unavailability of industry standards and integrated certification for Industry 4.0 are therefore crucial challenges that need to be overcome through the development of new protocols. Some of successful attempts at establishing such protocols and certifications include the following: –
IMDA, Singapore: The Infocomm Media Development Authority, a statutory board in the Singapore government, seeks to deepen regulatory capabilities for a converged info- communications and media sector, safeguarding the interests of consumers, and fostering pro- enterprise regulations. It also promotes and regulates data protection in Singapore thereby ensuring public confidence in the private sector's use of personal data. The certification process entails an audit of the applicant firm for its financial stability, and quality of service and product. A certification for an organisation from the IMDA, makes the organization eligible to bid in any government, and private tender process with minimum paperwork.
National Computing Centre Group, U.K.: This U.K. based group undertakes security testing and audit of software solutions through the lens of cyber-security. QiO products are complaint to NCC audit and certification.
GDPR: The General Data Protection Regulation came into force on 25 May, 2018 in Europe, and is designed to modernise laws that protect the personal information of individuals. It has overhauled how businesses process and handle consumer data. QIO platforms are compliant with the GDPR and are therefore preferred by many customers.
Commander Amrut Godbole is Fellow, Indian Navy Studies Programme, Gateway House.
Manjeet Kripalani is Executive Director and co-founder, Gateway House.
Sagnik Chakraborty is Former Researcher, Cybersecurity Studies Programme, Gateway House.
This study was conducted by Gateway House, in partnership with India EXIM Bank. Read the full study here.
For interview requests with the authors, or for permission to republish, please contact outreach@gatewayhouse.in.
Disclaimer: The contents of the paper are personal views of the author and do not reflect the official position of the Indian Navy or Government of India.
© Copyright 2021 Gateway House: Indian Council on Global Relations. All rights reserved. Any unauthorized copying or reproduction is strictly prohibited.