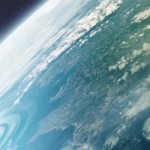 Global commons have been traditionally defined as those parts of the planet that fall outside national jurisdictions and to which all nations have access. International law identifies four global commons, namely the High Seas, the Atmosphere, the Antarctica and the Outer Space. These resource domains are guided by the principle of the common heritage of mankind.
UN System Task Team 2013
Since Independence, India has been consumed by its domestic priorities. Now, with increasing integration with the world and a huge stake in global stability, it is time to focus on the global commons. India has a seat on the hightable to design and shape the rules for the governance of the global commons.
In this special Independence Day Briefing, Gateway House examines India's engagement with four global commons – technology, outer space, cyber and the oceans – and makes recommendations on how best they can be governed for our collective future.
Governance in the age of AI
By Rohinton P. Medhora, President & Samane Hemmat is Research Associate, International Law Research Program, the Centre for International Governance Innovation (CIGI), Canada.
A massive technological revolution is in the offing in the next 20 years, with its maximum impact being on the future of work. Artificial Intelligence and robotics will change how the labour market operates and governments will have to review ethical standards for emerging technologies. India can show the way in creating inclusive economic growth. Read more
Geopolitical territoriality on the moon
By Chaitanya Giri, Fellow, Space and Ocean Studies, Gateway House

Ownership of lunar artifacts – objects left behind by space missions – will become a vexing issue as the international footprint on the Moon grows. Such archaeological objects may be designated 'national heritage', but the site on which they exist ought to remain 'a global common', and not become a point of territorial contestation. The Moon needs to be managed by global consensus, prudence and realism. Read more
How India can keep the oceans prosperous
By Cyrus Rustomjee, Senior Fellow, Global Economy Program at Centre for International Governance Innovation, Canada
The notion of the oceans and seas as a global common is under severe test. National and regional interests are winning over the urgency to maintain their well being while competition to exploit the many commercial opportunities they present is ever increasing. The task at hand is to stop ocean decline – and India can play a transformative role in this. Read more
India's lead on cyber space governance
By Sameer Patil, Director, Centre for International Security & Fellow, National Security Studies, Gateway House
Cyber space is a new global common that defies formal governance. Its interconnectedness makes it full of opportunity, yet vulnerable. Attempts to regulate it have seen setback due to the differing visions of major powers and developing countries. India, an emerging economy with a sophisticated technology industry, is well positioned to shape the governance of this global common. Read more