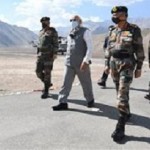 In May, in the depths of the COVID-19 crisis, India had three major developments that will be seen as a turning point for the country and, subsequently, in world affairs.
First, a major structural reforms program was announced by the Indian government on May 17, significantly expanding the scope for foreign investment and freeing up closed sectors, such as space, to private enterprises. Second, around the same time, U.S. tech investors had invested $15 billion in Jio, an Indian mobile and data services operator. Third, in late May, Chinese troops advanced into the northern Indian state of Ladakh; an initial standoff escalated within days to brutal combat, on June 15. After this incident, and following India's restriction in April of Chinese direct investment in Indian companies, India banned 59 Chinese apps from the country, including the popular TikTok, which had an Indian user base of 200 million.
The ripples of India's swift and forceful move against China's global ambitions was felt around the world, with other countries following suit in restricting Chinese tech investments in their economies. Chinese majors such as ByteDance, the parent of TikTok, and Alibaba have lost billions from their valuations, dependent as they were on growth from the populous Indian market.
It was a remarkable response from a country that has been largely passive in world affairs. All of these events — the ambitious reforms, the U.S. digital investments, the pushbacks against China — are reflective of an India that is shedding its bashful, accommodative stance. Instead, India is using its strategic and market weight of 1.3 billion people, openly taking geopolitical sides and effecting serious economic reform to back up its desired positioning, namely, to be a reliable partner in a more equitable global supply chain of virtual, physical and geopolitical elements.
In terms of digital enterprises, a boom in Indian start-ups in agricultural technology, telemedicine, education and entertainment has been under way since March, with U.S., Japanese, European, Chinese and Indian money. This growth will increase — minus Chinese funding.
Information technology plays nicely into India's relatable cultural soft power, prevalent across West, Central and Southeast Asia as well as in Africa, where Bollywood and Indian music and cuisine have deep and popular roots. In these regions, a trust for Indian products is still high, even though Chinese products have deeper market penetration.
For years, banner sectors such as information technology (IT) and the pharmaceutical industry have enabled India to overcome its infrastructure and capital deficits. That is no longer a substitute if India is to become a viable alternative to China for global manufacturing, and a reliable partner in a more equitable global supply chain of virtual, physical and geopolitical elements. With the exception of automotive and pharmaceutical products, the country has never developed a competitive manufacturing base or became a significant part of global supply chains or a generator of stable jobs. Achieving that base and clout would require India to move at China's speed in instituting greater regulatory reform, modernization of legislation, and speedy adaptation of policy, in particular concerning new technologies.
The trust base already exists. Throughout the COVID-19 pandemic, outsourced Indian IT, plugged into the guts of global corporations, has continued its work with trust. Affordable drugs from a robust pharmaceutical industry has meant the disease could be handled at home and, in the early days of the pandemic, drugs much in demand or considered potential therapies, such as the antimalarial hydroxychloroquine, were exported to more than 120 countries from India, the "pharmacy to the world."
This position of trust has made India a key global decision maker. Innovation at home has also played a role. Over the past five years, India has pioneered the digitization of its bureaucratic and governance processes, using a unique open-source, volunteer-led public-private partnership model. Its model is neither the American, the European nor the Chinese one, but it has given millions of its citizens easy access to government services and subsidies. It is so successful that today India has the world's second-largest population of digital citizens, after China. And, if it had India in its digital pocket, Chinese standards and technology such as 5G could rule the world.
That is no longer a possibility. India's global positioning will now be visible in India's leadership of five multilateral groupings over the next two years, with roles including the month-long presidency of the UN Security Council as a non-permanent member, the year-long chair of the executive committee of the World Health Organization (WHO), the host of the Shanghai Cooperation Organisation's Heads of Government Council in 2020 and, most significantly, the presidency of the Group of Twenty (G20) in 2022.
The established multilateral institutions may be showing fatigue: China has found a way to lead global bodies such as the International Civil Aviation Organization, the International Telecommunication Union, the Food and Agriculture Organization and the United Nations Industrial Development Organization. China's candidate to head the World Intellectual Property Organization (WIPO) lost in March by a whisker, but China has filed the most patents at WIPO — a standards-setter. It continues to use its influence over the WHO exclusively to its advantage. But an India that steps in to participate and lead an overdue institutional reformation could infuse new energy into multilateral affairs.
Investor countries such as the United States, Japan, Canada and the European Union can assist India in its pursuit. Together, they can draw India into a more equitable trade order and, simultaneously, update the existing global standards and benchmarks for everything from trade, to finance and technology, which China has now successfully breached and dominated. The G20 can offer that platform, in line with its own goals. India, with its market-based, conservative and inclusive systems, can infuse a necessary balance into the rules and regulations of tomorrow.
Small steps in that direction are already being taken. Some Indian states have used the lockdown to map the skills of their residents, to match those needed for the factories of the future. Even the skills of traditional artisans are recorded — weavers who could work in textile factories, blacksmiths who could work with auto parts or iron foundries. Such models based on a natural skills transfer could be replicated in other developing countries in Asia and Africa; India, leading the way, could draw them virtuously into a new global supply chain that will be created.
COVID-19 may, ironically, have propelled India into its own "China moment," a turning point like the year 2001, when China began its accession to the World Trade Organization, and its ascension in world affairs. India's vibrant democracy and deep cultural moorings will prevent it from developing China-style grandiosity and aggression; instead, it will seek to maintain sobriety and an equitable rise, within its own limitations.
Manjeet Kripalani is Co-founder and Executive Director, Gateway House.
This article was originally published by the Centre for International Governance Innovation.