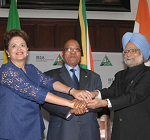 Plenty of buzz surrounds BRIC (Brazil, Russia, India, China) investment in Africa. Rightly so: they are spurring the region's integration into the global economy as never before. Much has been heard about China's infrastructure-building in Africa and its competitive edge in the race for natural resources. But what are the two democracies within the grouping contributing to the Continent?
Unable to compete with China's hefty contributions, India and Brazil see agriculture – on which two-thirds of Africa depends for its livelihood – as their comparative advantage. Both countries have had their own agricultural revolutions and are among the world's top food producers. After South America, Africa possesses the largest share of uncultivated cropland in the world – a land ready for transformation.  Here, India and Brazil are providing important input in the form of affordable services and badly-needed technical expertise. Together, their venture into Africa's agriculture sector can reignite a primary engine for growth and prove vital to the region's food security.
Individually, India and Brazil have leveraged their strengths in affordable low-tech and scientific research to boost Africa's agricultural productivity. India provides what it calls Triple A – adaptable, appropriate and affordable – technologies and Brazil has launched research and food security initiatives throughout Africa. The Indian government's increasing lines of credit – up to US$5 billion now – are driving investment, such as a US$15 million loan to develop commercial agriculture in Sierra Leone. Through Embrapa, its pioneering research institute, Brazil shares with several African countries the skills that transformed its own dry savannah into one of South America's most fertile regions.
Combined, it seems to be just what Africa needs. In Senegal, says Renu Modi, professor of Africa Studies at the University of Mumbai, low-cost irrigation pumps provided by the Indian firm Kirloskar Brothers have boosted rice production and allowed the largely agricultural nation to meet twice as much of its domestic demand. Simultaneously, Embrapa has partnered with Senegal, investing in technical training and experimenting with rice varieties.
This kind of interlocking investment by India and Brazil could be the new investment model for Africa.
And these investments by India and Brazil could not have come at a better time. Agricultural productivity in Africa has been declining just as traditional sources of aid have shrunk. According to Robert Paarlber, professor at Harvard Kennedy School, the share of World Bank loans that went to agricultural development in Africa fell from 30% to 8% between 1978-2006, and U.S. agricultural assistance shifted away from capacity-building to food aid. By 2006, the U.S. was spending twice as much providing free food to the region as it was on helping Africans feed themselves. Such aid has done little to encourage Africa's development or to mitigate widespread malnutrition. The Food and Agriculture Organization reports that 30% of Africans remain malnourished. The global economic slowdown will also likely impact food aid.
India and Brazil can fill the investment void. To maximize the impact, what is needed now is a formalized India-Brazil Partnership for Africa's food security. Memorandums of Understanding can be explored jointly with the Comprehensive African Agriculture Development Programme, the African-led programme for improving food security and agriculture, or regional bodies like the Southern African Development Community, for cooperation appropriate to specific economic or agricultural climates. This will enhance India-Brazil relations without hindering their individual efforts in Africa. While Brazil's topography and climate more closely resemble Africa's, India's agricultural ecosystem has many lessons to offer. The average Indian farm is smaller than its Brazilian counterpart (1.3 ha versus 68 ha), and the sector employs more people in India than it does in Brazil. India's expertise in small farm mechanization and its experience of empowering women through microfinance and cooperative enterprises is highly relevant to Africa as it develops its industry. African institutions will benefit from hosting Indian scientists as well as private and social sector leaders to share their know-how.
Institutional and people-to-people interactions also present an opportunity for India and Brazil to build mutual confidenceat a time when their bilateral and global interactions are increasing. International organizations, USAID and others already collaborate in Brazilian-led agricultural projects throughout Africa. The Indian Council of Agricultural Research or the forthcoming Indian Agency for Partnership in Development can step in.
If the partnership works, then India and Brazil can extend knowledge-sharing on agriculture and food-security programmes to other developing countries. The India-Brazil-South Africa trilateral forum, IBSA, which wrapped up on Oct 18, can serve as a springboard for greater cooperation.
India and Brazil's increasing engagement in Africa is a clear sign that both countries are embracing their new roles as global diplomats. For now, collaboration in Africa's agriculture is not a priority for either country, but should be seriously considered. Policy- makers and academics have historically called this type of collaboration 'South-South cooperation,' a term meant to distinguish the mutually beneficial interactions developing nations can have with one another versus the often unfavorable relationships they have with Western powers. South-South cooperation has long been a popular catchphrase within the Indian and Brazilian diplomatic lexicon, but is only now, with the emergence of these countries as economic powers, that the expression is beginning to carry any real promise. By joining forces to bolster Africa's food security, India and Brazil have the chance to break ground on a tangible South-South agenda that could have a far-reaching impact on a matter of urgent global concern.
Estefanía Marchán is Researcher, Latin American Studies Programme, at Gateway House: Indian Council on Global Relations.
This article was exclusively written for Gateway House: Indian Council on Global Relations. You can read more exclusive content here.
For interview requests with the author, or for permission to republish, please contact outreach@gatewayhouse.in.
© Copyright 2011 Gateway House: Indian Council on Global Relations. All rights reserved. Any unauthorized copying or reproduction is strictly prohibited.