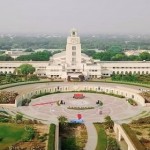 1. Introduction 
The Birla Institute of Technology & Science (BITS) in Pilani, Rajasthan, offers the world's only master's degree in Digital Manufacturing – so far. BITS is one of India's most prestigious private universities of higher education. From its main Pilani home and two satellite campuses in India and one in Dubai, it offers bachelors and masters in various engineering streams (BE/ME), doctoral (PhD) and Masters of Business Administration (MBA).[1] Its unique proposition is collaborating with industry to understand and impart the latest technology trends through its curriculum, bridging the skill gap between academic yield and industry needs. A speciality is its Work Integrated Learning Programme (WILP) for working professionals, whose curriculum and faculty are synchronised with the industry. BITS- Pilani has gained deep insights into emerging industry trends and skill demands. Since inception, over 500 organisations, including prominent one such as Maruti, Mahindra and Mahindra, Tata Motors, Mercedes Benz, Cummins, Bharat Forge, Bharat Petroleum, GE, Alstom, JSW Steel, Bosch and other have benefited from the WILP.
It is under this programme that the 18-month-old Digital Manufacturing course was created, with the fourth batch commencing in Jan 2021.
2. Methodology
Creating the Course: Even before 2016, when Klaus Schwab, founder and executive chairman of the Geneva-based WEF coined the term 'Fourth Industrial Revolution', BITS-Pilani was already engaged with Indian industry to identify future training needs, especially in the manufacturing sector. Between 2014 and 2015, BITS-Pilani conducted a survey to identify the training needed for this. Industries, business houses such as FICCI and CII, individuals, alumni and faculty were surveyed. The survey also revealed that Industry 4.0 will make production systems faster by up to 30% and increase efficiency by 25%.
The survey results also showed that though the existing programmes were suitable for the current generation of manufacturing, future of manufacturing needed more. It needed skills in Industrial IoT, additive manufacturing, big data analytics, industrial cybersecurity, logistics and supply chain optimisation, autonomous equipment, and using digital tools for product and system design, simulation and production.
Prof PB Venkataraman, Associate Dean who led the Digital Manufacturing programme introduction, saw clearly that "role of the engineer is changing in a digital factory -supervision and management tasks will reduce, while engineers will be more involved in building deep operational insights and decision making".
The institute reviewed over 80 relevant courses offered by various universities across the globe, to identify academic trends arising from Industry 4.0. This was combined with the insights from the 2014-15 survey, and in June 2019, India's – and the world's – first Post Graduate programme in Digital Manufacturing was begun. Like other WILP certifications, the Digital Manufacturing programme too is offered only for working professionals. Factory-floor experience aids in accelerating skill build- up and provides an immediate opportunity for application of acquired skills at workplace.
The three foundational themes for the Digital Manufacturing programme are: –
IoT in manufacturing (data management, data analytics, robotics and cybersecurity)
High-precision manufacturing (including metal based additive manufacturing)
Change and behavioural aspects of a digital factory
3. Opportunities and Challenges
The applications received for the 2019-21 class, were numerous – 700. Only 52 candidates were admitted to the course based on the selection criterion and target industry envisioned while framing the course curriculum and desired outcome. The pandemic, lockdown and recognition of upskilling in the manufacturing sector has resulted in another 50 students being admitted in the fourth batch commencing Jan 2021. It's not a large number for a country like India, which is seeking to draw manufacturing and its supply chain away from China – but it is a respectable start.
Prof PB Venkataraman, emphasises – "Manufacturing sector has been significantly impacted due to the pandemic, as it relied on physical presence of the operators and engineers. Despite lockdowns and job losses, interest in the Digital Manufacturing course remains undiminished. The institute continues to receive good number of enquiries but the stringent selection criteria limits the admissions. The pandemic has accelerated digital adoption and this programme will cater to the future upskilling demands".
Equipping the College
New infrastructure, both faculty and physical were needed. Infrastructure and faculty development had to be creative, given the newness of the subject.
Faculty. It comprises a mix of resident faculty and knowledge partners from leading industries, like GE, Bosch, Cummins and others. BITS-Pilani continues to invest and focus on building in-house expertise for this programme through a combination of: (a) shadow following of industry experts; (b) upskilling through certification programmes from renowned institutions and (c) faculty industry immersion to provide factory-floor experience.
Lab Infrastructure. These are a mix of virtual and physical labs.
Remote Lab: The Remote lab is a physical lab that can be controlled from anywhere in the world. The IoT enabled lab equipment and the integrated remote access network makes this possible. The lab is open 24×7, 365 days. This helps in bringing the campus learning experience to the working professionals.
Physical Lab: The campus has a miniaturise bottling plant with dedicated workstations for heating, cooling, mixing, filling and other real-life manufacturing processes. Students undergo a three-day boot camp at this plant to understand and experience various elements of a digital- factory. This lab is IoT enabled to provide an interface with the remote lab.
3D Printing Lab: This lab has multiple metal 3D-printers used to train students on additive manufacturing concepts. Students are also required to design a component/system at their workplace. This involves creating a 3D design confirming to performance specifications, simulate performance of the designed product and the eventual manufacturing using 3D-printers. These manufactured components are then tested and validated in the candidate's workplace.
Cybersecurity Lab: This upcoming lab will provide students practical experience on the vulnerabilities of Industrial IoT and their mitigation.
4. Success Stories
In less than 18 months since its introduction in June 2019, the programme has successfully admitted over 200 working professionals from the manufacturing sector. With over 100 engineers completing the Masters' programme annually, this programme serves as a game-changer for upskilling demands within the manufacturing sector – a crucial link for India to emerge as a popular manufacturing destination as companies look to diversify their supply chains to trusted destinations.
5. Key Findings
Large businesses can invest in internal training programmes but smaller organisations that are constrained to develop inhouse training facilities and programmes for the future, can benefit from an academic Digital Manufacturing programme.
The virtual format for this course is best suited for industry and can be scaled up to meet the increasing demand for digital skills in the manufacturing sector.
The sustained interest by applicants indicates the programme's relevance and ability to bridge industry needs.
The collaboration with industry is valuable, but must be deepened to develop an ecosystem for digital manufacturing in India.
Commander Amrut Godbole is Fellow, Indian Navy Studies Programme, Gateway House.
Manjeet Kripalani is Executive Director and co-founder, Gateway House.
Sagnik Chakraborty is Former Researcher, Cybersecurity Studies Programme, Gateway House.
This study was conducted by Gateway House, in partnership with India EXIM Bank. Read the full study here.
For interview requests with the authors, or for permission to republish, please contact outreach@gatewayhouse.in.
Disclaimer: The contents of the paper are personal views of the author and do not reflect the official position of the Indian Navy or Government of India.
© Copyright 2021 Gateway House: Indian Council on Global Relations. All rights reserved. Any unauthorized copying or reproduction is strictly prohibited.
References:
[1] The M tech programme is a two year – four semester course, that requires the candidate to undergo a minimum of 12 courses within first three terms, while the fourth semester is exclusively dedicated for the dissertation that is supervised and guided by student's organisational mentors and evaluated by in-house faculty. Online classes are conducted mostly on weekends or after business hours. Enrolled students are required to commit 32 hours for online classes, 32 hours for lab work and 64 hours for self- study per course per semester.