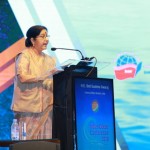 The Indian Ocean Region (IOR) holds primacy as an important economic corridor. Of late, 'Indo-Pacific' has gained currency as a broader term, and is often used interchangeably with the IOR to denote its strategic and economic significance.
Approximately two-thirds of global oil shipments, half its container traffic, and one-third of bulk cargo transit through the region.[1] Its seabed holds some of the most valuable mineral resources and fossil fuels, which are economically critical. At present, navies of more than 40 countries are operating in this part of the world, including a host of external navies such as the United States, Russia, France and the United Kingdom. Yet, it lacks a security architecture, based on regional cooperation.
The conventional security challenges have two aspects. Military competition between the major powers, such as the United States, China, India, Russia and Japan, and competitive territorial claims between China and the South East Asian countries in the South China Sea dominate the security calculus in the Indo-Pacific. External powers have also used territories in the Indian Ocean for staging military operations: the use of Diego Garcia by the United States military being a case in point. Moreover, the surreptitious nature of  Chinese investments in various port facilities in the IOR – Gwadar in Pakistan and Hambantota in Sri Lanka – have fuelled concerns that they can potentially be used as a naval base like Djibouti, where  China formally opened its first overseas base last year.[2]
Several non-conventional threats exist too. They include: terrorism, maritime piracy and robbery, trans-national organised crime, contraband smuggling (arms, drugs and wildlife), human trafficking and malicious cyber activities. Maritime piracy and armed robberies off the coast of Somalia, Strait of Malacca and waters of Indonesia, which grabbed headlines over the last few years, have declined, but other security challenges have proliferated, such as organised smuggling syndicates, terrorist groups and money laundering networks. The perpetrators are all inter-linked, capitalising on the weak institutional capacities of the littoral states. In 2016, investigations into a fake passport racket in Bangkok showed that its services were long used by the cadres of Lashkar-e-Taiba and al-Qaeda terrorists. The racket was also linked to the human trafficking network in Europe.[3]
Similarly, ransoms paid to Somali pirates have been linked to terrorist financing, with proceeds laundered through formal financial channels and Hawala networks.[4] In the past, the Liberation Tigers of Tamil Eelam insurgency in Sri Lanka made good on the elaborate smuggling networks its associates had established regionally and globally.[5]
A long-term solution for many of these transnational security challenges lies in political stability and economic development. But in the interim, multiple initiatives — informal arrangements, bilateral efforts and sub-regional initiatives — have been implemented to tackle these challenges.
The Indian Ocean Rim Association has in recent years tackled these issues by establishing a Working Group on Maritime Safety and Security and holding an annual Indian Ocean Dialogue.[6] In March 2017, it also adopted the Declaration on Preventing and Countering Terrorism and Violent Extremism, to strengthen regional cooperation.[7] Other regional efforts have focused on countering piracy, such as the Shared Awareness and Deconfliction platform in the Western Indian Ocean and the Regional Cooperation Agreement on Combating Piracy and Armed Robbery against Ships in Asia. Another important initiative is the United Nations Office on Drugs and Crime's Maritime Crime Programme, which has helped the littoral states of the IOR in building capacity to combat maritime crime.[8]
In recent years, India as the leading security actor of the IOR has shown willingness to undertake greater security responsibilities as evident from its focus on the IOR littoral through the Security and Growth for All in the Region (SAGAR) project and expanded naval diplomacy. The Indian Navy has been biennially hosting 'Exercise Milan', one of the largest regional naval exercises, since 1995, with the focus this year being on combating unlawful activities at sea.[9] A decade ago, it also set up the Indian Ocean Naval Symposium  to bring together 32 Navies (23 members and nine observers) for maritime cooperation.[10] India is also part of the revived Quadrilateral dialogue, involving the U.S., Japan and Australia, to discuss regional security architecture.
These initiatives are important in developing security cooperation. But they are limited in scope and a pan-IOR security effort is lacking. Currently, there is no IOR-wide network for surveillance, maritime domain awareness and intelligence sharing between the national security agencies. The reason for this is a trust deficit that exists due to competing territorial claims and military competition between the major powers. The IOR states, particularly the smaller ones, do want to cooperate, but lack the capacity to see this through.
This state of affairs pales in comparison to the synergies shown by the rogue non-state actors. The ongoing conflict in Yemen, for instance, has provided impetus to other criminal activities, including arms smuggling and human trafficking. Similarly, the siege in the Filipino city of Marawi by the Daesh  in May 2017 and the Bangladesh Rohingya refugee crisis (which  sparked fears of extremist violence and human trafficking) prove how well interlinked the security challenges in the region are.
Therefore, the creation of a regional security architecture must become priority for the IOR and Indo-Pacific states. This can consist of: institutionalised intelligence sharing, training and capacity building for the smaller littoral states' security agencies, focus on money laundering networks, including the informal financial channels, and creation of Maritime Domain Awareness vis-à-vis the activities of rogue actors.
Creating such a region-wide architecture will not be easy considering the diversity of security interests. But competing powers must join hands, given the scale of security challenges and the ongoing conflicts in the IOR- Yemen being a glaring example. Such collaboration will also ensure economic security by protecting the region's energy and cargo flows.
Sameer Patil is Director, Center for International Security and Fellow, National Security Studies, Gateway House.
This article was originally published as part of the pre-conference publication for India Foundation's Indian Ocean Conference 2018, which was held in Hanoi, Vietnam on September 27-28, 2018.
References
[1] EU-India Think Tank Twinning Initiative, Gateway House: Indian Council on Global, Mumbai and Istituto Affari Internazionali, Rome, Maritime Security and Freedom of Navigation from the South China Sea and Indian Ocean to the Mediterranean, December 2016, <https://www.gatewayhouse.in/wp-content/uploads/2016/12/EU-India-Security-Dialogue-Maritime-Commentary.pdf>
[2] Bhandari, Amit and Chandni Jindal, Gateway House: Indian Council on Global, Mumbai, Chinese Investments in India's Neighbourhood, 12 March 2018, <https://www.gatewayhouse.in/chinese-investments-in-indias-neighbourhood/>
[3] Ghosh, Nirmal, The Straits Times, Probe into terror links in Thailand-based fake passport racket, 6 October 2016, <https://www.straitstimes.com/asia/se-asia/probe-into-terror-links-in-thailand-based-fake-passport-racket>
[4] The Financial Action Task Force, Organised Maritime Piracy and Related Kidnapping for Ransom, July 2011, <http://www.fatf-gafi.org/media/fatf/documents/reports/organised%20maritime%20piracy%20and%20related%20kidnapping%20for%20ransom.pdf>
[5] The Mackenzie Institute, Funding Terror: The Liberation Tigers of Tamil Eelam and their Criminal Activities in Canada and the Western World, 25 December 1995, <http://mackenzieinstitute.com/funding-terror-the-liberation-tigers-of-tamil-eelam-and-their-criminal-activities-in-canada-and-the-western-world/>
[6] Indian Ocean Rim Association, Maritime Safety & Security, <http://www.iora.int/en/priorities-focus-areas/maritime-safety-and-security>
[7] Department of Foreign Affairs and Trade, Australian Government, Indian Ocean Rim Association (IORA) Declaration on Preventing and Countering Terrorism and Violent Extremism, 6 March 2017, <http://dfat.gov.au/about-us/publications/Pages/iora-declaration-preventing-countering-terrorism-violent-extremism.aspx>
[8] United Nations Office on Drugs and Crime, Maritime Crime Programme – Indian Ocean, <http://www.unodc.org/unodc/en/piracy/Indian-Ocean.html>
[9] Indian Navy, Milan 2018, <https://www.indiannavy.nic.in/content/milan-2018>
[10] Ministry of Defence, Government of India, Press Release – Admiral Sunil Lanba, Chief of the Naval Staff visits Tehran, Iran for Indian Ocean Naval Symposium (IONS) – 2018, 22 April 2018, <http://pib.nic.in/newsite/PrintRelease.aspx?relid=178840>