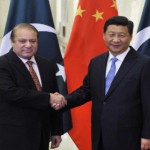 Prime Minister Narendra Modi's visit to China, starting on May 14, is the first time Chinese President Xi Jinping will receive a foreign leader at a location outside Beijing—the two will meet in Xi'an, the capital of Shaanxi province, often referred to as "the cradle of  Chinese civilisation".
Xi'an was also the starting point of the ancient Silk Road, now being revived through the Silk Road Economic Belt (SREB). The SREB, along with the proposed Maritime Silk Road connecting ports of various countries in China's extended neighbourhood, constitutes China's 'One Belt, One Road' (OBOR) initiative.
These ambitious plans, launched by Xi in 2014 to connect China with its neighbours in Asia and beyond, involve more than 60 countries. China plans to finance OBOR projects through the Asian Infrastructure Investment Bank (AIIB) and the $40 billion Silk Road Fund.[i]
Both OBOR and AIIB are the biggest and newest such ventures promoted by China, and Beijing wants India to participate. However, India's response is guided by a complex set of factors.
India's persistent security concerns—including an unresolved border dispute with China; the psychological baggage of the 1962 war; the repeated incursions by Chinese troops into Indian territory; China's close ties with  Pakistan; and the perceived power rivalry between India and China—have created a lingering trust deficit between the two countries. India is therefore bound to be cautious about any project proposed by Beijing that involves Pakistan or India's other neighbours.
Specifically, India's hesitation in embracing the China-led OBOR is the projection of the China-Pakistan Economic Corridor (CPEC) as its flagship project.[ii] The CPEC is expected to connect Kashgar in China's restive province of Xinjiang with the Gwadar port in the volatile Baluchistan province of Pakistan. It will pass through Pakistan-occupied Kashmir (PoK) and Gilgit-Baltistan—both Indian territories occupied by Pakistan. This is at the core of India's doubts about China's sincerity in seeking its collaboration.
India's security establishment and strategic community have consistently flagged the issue of the growing Chinese presence and involvement—such as infrastructure projects, including dams and roads—over the last decade in these regions.
Moreover, India has steadfastly opposed any international presence in PoK and Gilgit-Baltistan. For example, India's opposition to the Asian Development Bank's financing of the high-profile Diamer Bhasha dam project in Gilgit-Baltistan in 2011-13 forced Pakistan to look for other sources of funding for the project.[iii]
India's concerns about the CPEC and China-Pakistan ties are combined with Beijing's growing presence and influence in South Asia and the Indian Ocean Region. In the last decade, China has systematically engaged with countries in India's neighbourhood—such as Nepal, Sri Lanka, Bangladesh, and the Maldives—through economic and military aid.  Although India's poorly-executed neighbourhood policy may be partially responsible, India sees China's growing profile in the region as an "encirclement".  OBOR, with its network of China-sponsored infrastructure projects in and around India's neighbourhood, amplifies India's anxiety about China's real intentions.
India has repeatedly drawn China's attention to these issues. But China remains seemingly indifferent to India's apprehensions, perhaps because its perspective, unlike India's, is not coloured by the war of 1962. Many Chinese scholars find India's suspicion puzzling and self-defeating. However, they also acknowledge that China has similar sensitivities towards Japan, even though the history of the confrontation between these two countries dates further back—to the first Sino-Japanese War of 1895.
China's disregard of India's concerns also stems from how China's perceives India—as a regional power, a country that still has to overcome its socio-economic problems and build the material strength required to become a great power.
For China, socio-economic development is the key to resolving regional security problems. In fact, the consensus in China seems to be that the root cause of terrorism in Pakistan is poverty and unemployment, and that infrastructure development can do for Pakistan what it did for China. This belief persists despite the growing instability in China's own Xinjiang province. In fact, Chinese investment-based projects and labourers in Gilgit-Baltistan and PoK have historically faced multiple violent attacks by Xinjiang-origin militants.
Despite these threats, even China's vision document of March 2015 for OBOR implicitly assumes that the economic development and prosperity that OBOR promises will eventually root out terrorism and religious extremism in Pakistan—the document barely mentions the numerous security challenges of such an endeavour.[iv]
This may also explain why China has emphasised that its involvement in PoK and Gilgit-Baltistan is merely for economic reasons, and should not be seen as supportive of Pakistan's position on the Kashmir issue.
India will soon have to articulate a definite stand on OBOR by assessing its security concerns along with the benefits of greater engagement with China. If OBOR does generate substantial socio-economic benefits of infrastructure and connectivity, India will gain from a stable neighbourhood and a prosperous Asia.
India too wants better connectivity with Afghanistan and the rest of Central Asia to its west, and with Myanmar and rest of South East Asia to the east. Both regions suffer from intermittent connectivity due to insurgency, and terrorism has stalled several infrastructure projects undertaken by India in these regions. Any financial and engineering inputs arising out of OBOR will take this regional connectivity forward.
Gateway House has already argued that India must press China to co-design OBOR so that it can be truly collaborative, and India can fully benefit from the integration.[v] Given India's goodwill in South Asia, West Asia and South East Asia, a partnership with India will also benefit China—and China knows that.
Without this goodwill, the economic development that OBOR promises can be compromised by the unrest in the countries through which the SREB will traverse, threatening China's investments and ultimate vision.  The onus is on both leaders to bridge the trust deficit and Modi's trip to China will be one such opportunity to demonstrate progress.
Sameer Patil is Associate Fellow, National Security, Ethnic Conflict and Terrorism, at Gateway House.
This article was exclusively written for Gateway House: Indian Council on Global Relations. You can read more exclusive content here.
For interview requests with the author, or for permission to republish, please contact outreach@gatewayhouse.in.
© Copyright 2015 Gateway House: Indian Council on Global Relations. All rights reserved. Any unauthorized copying or reproduction is strictly prohibited
---