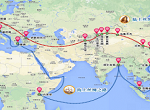 The very mention of a "Silk Road" evokes images of teeming bazaars filled with not just the most beautiful silks but also metal objects, oils, spices, and innumerable manufactured goods that made the lives of our ancestors colourful and comfortable.
It was along this route that the many technological advances of ancient China travelled west and to India—paper, the wheelbarrow, gun powder, and critical innovations in tools which revolutionised agriculture.
China's plan for a Silk Road Economic Belt (SREB), also known as One Road One Belt, seeks to celebrate not just this material legacy but also the 'Silk Road Spirit' which, as the Chinese government's vision document states, is about "peace and cooperation, openness and inclusiveness, mutual learning and mutual benefit." [1]
If these values are actually to be put into practice, two key issues urgently need attention.
Firstly, in what ways can the SREB foster a 21st century version of the socially-embedded bazaar, which was the nurturer of invention, innovation, and commerce in China and India for over two millennia till the mid-18th century?
Secondly, can the SREB become an extensive laboratory for finally breaking the false dichotomy between economic growth and ecological sustainability as well as social equity?
Commerce in Asia, as in most pre-capitalist societies, was governed by several layers of ethical and cultural norms which recognised greed as a human trait but did not celebrate or encourage it. Even in societies with rigid social hierarchies there were spaces for the inventive and enterprising energy of millions of small producers who would today be dismissed as cottage industries. [2]
If the SREB is to be a win-win proposition for all the countries it touches, then its projects and funding mechanisms must focus on creating the kind of infrastructure and economic spaces that will enable communities to strengthen their local economies.
In this context, it is important to note that the Chinese government's vision document presents the SREB as a response to the lingering global slump triggered by the financial crisis of 2008 and implies that the world order, as defined by the West since World War II, is past its expiry date.
As recent discussions among various think tanks in Beijing and Shanghai indicated, Chinese scholars are uniformly confident that the new model emerging from Asia can foster win-win global relations. The western model, one senior scholar said, fostered win-lose relations.
The SREB is also projected as a mechanism by which the Chinese government aims to raise the governance standards of Chinese companies to make them less dependent on personal relationships. This approach will presumably inform the operations of the Silk Road Infrastructure Fund, which already has $40 billion.[3]
It is not clear if and how the SREB will foster equity and fairness, rather than relying on profit maximisation as the only reliable driver of economic dynamism. But there are faint glimmers of hope on the environmental front.
In June 2014 the Institute of Geographic Sciences and Natural Resources Research, a part of the Chinese Academy of Sciences, brought together experts from 17 countries for a conference on 'Ecology, Environment and Sustainable Development of Silk Road Economic Belt'. This is partly because many of the regions included in the SREB are already ecologically stressed.
Through the report of this conference Chinese scholars have called for the setting up of multi-lateral platforms for "scientific policy-making system of ecological environment and sustainable development in the SREB." [4]
Even more significantly the official report on the conference states that "human society is marching towards Ecological civilization which advocates harmonious coexistence between human and nature." In practical terms, it goes on to say, this will mean protecting important ecological spaces in natural reserves and building ecological economic zones based on "circular economics"—presumably a reference to closed loop production systems which place a minimal burden on the natural resource base.
However, discussions with various Chinese scholars in the last week of April indicated that many still hold the view that environmental concerns cannot be allowed to stand in the way of economic growth. And since SREB is the key to China's "new normal", at lower rates of growth, nothing must jeopardise this plan.
There was also a distinct unhappiness about why the Indian government has not as yet fully endorsed the SREB. As some of the visiting Indian scholars pointed out, there is a contradiction in a vision that aims to be collaborative being unilaterally designed and declared.
Since the SREB will be a top item on the Chinese agenda when Prime Minister Modi visits Beijing and Shanghai from 14-16 May, this is a crucial moment for India to take a stand.
It is necessary, but not sufficient, for India to negotiate on both potential benefits from the SREB—to fund our own infrastructure, as well as strategic geo-political threats posed by the SREB, such as the China-Pakistan economic corridor.
It is equally, if not more, important that India co-design the SREB along with China with a view to ensuring two broad goals. The SREB must foster mechanisms that create not just economic opportunities for people on the ground but also dispersed accumulation of assets. And above all, the SREB can become the harbinger of a 21st century model of infrastructure and growth, which dissolves the out-dated dichotomy between  environmental protection and material plenitude.
Modi could highlight these potentialities and make them the centre-piece of his visit to China. For example, Indian scholars and technical experts, many of them in private not-for-profit organisations, have crucial experience in the restoration of watersheds, community management of forest resources, revival of bio-diversity, and construction of buildings that have a lower eco-footprint. These are strengths that can lend heft to the pitch for co-designing a scheme that could potentially shape the future of this continent.
Note: The Silk Road Economic Belt (SREB) initiative of the Chinese government was the recurring theme when three scholars from Gateway House, along with a team from the Observer Research Foundation, recently visited Beijing and Shanghai at the invitation of the prestigious Chinese Academy of Social Sciences (CASS). The SREB involves massive infrastructure projects that will link eastern China via sea and land with southeast Asia, south Asia, and central Asia, up to Europe and Africa—covering a region inhabited by 4.4 billion people or 63% of the world's population. On 23 April, at a seminar hosted by CASS in Beijing, Rajni Bakshi chaired a session on how, if China and India cooperate to build the SREB, it could establish a more just and reasonable international order.
Rajni Bakshi is Senior Fellow, Gandhi Peace Studies, Gateway House
This article was exclusively written for Gateway House: Indian Council on Global Relations. You can read more exclusive content here.
For interview requests with the author, or for permission to republish, please contact outreach@gatewayhouse.in.
© Copyright 2015 Gateway House: Indian Council on Global Relations. All rights reserved. Any unauthorized copying or reproduction is strictly prohibited
References
[1] Ministry of Foreign Affairs, Government of China, Vision and Actions on Jointly Building Silk Road Economic Belt and 21st-Century Maritime Silk Road, 28 March, 2015, <http://www.fmprc.gov.cn/mfa_eng/zxxx_662805/t1249618.shtml>
[2] Bakshi, Rajni. Bazaars Conversations and Freedom: For a market culture beyond greed and fear (New Delhi: Penguin, 2009)
[3]Xinhua, China Pledges 40 Bln USD for Silk Road Fund, 8 November 2014, <http://news.xinhuanet.com/english/china/2014-11/08/c_133774993.html>
[4] Dong, Suocheng, and others, 'Resources, Environment and Economic Patterns and Sustainable Development Modes of the Silk Road Economic Belt', Journal of Resources and Ecology, Vol. 6 No. 2, 2015   <http://www.jorae.cn/EN/abstract/abstract8614.shtml>