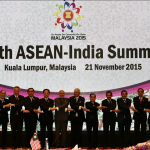 Two years into its term, the National Democratic Alliance (NDA) government, led by Prime Minister Narendra Modi, can justly feel satisfied with the results of some of its significant foreign policy initiatives, such as India's Act East Policy (AEP).
The AEP was set in motion by Modi at the East Asia Summit in Myanmar in November 2014. Although some analysts dismiss the shift from the Look East Policy (LEP) launched by then Prime Minister Narasimha Rao in 1992 as merely a change in nomenclature, with both the AEP and LEP pursuing the same objectives, this is not an accurate assessment. While it is true that there is considerable continuity between the two, in several significant areas the AEP has gone well beyond what LEP could achieve in 20-plus years.
This is partly because India today is not the India of 1992. At that time, the country was facing an uncertain future on the international policy front, due to factors such as the disintegration of the Soviet Union, and a sharp fall in India's foreign exchange reserves, such that the country had enough to provide an import cover for merely 10 days.
It had become imperative for the government to take measures to promote economic growth and pull India out of the difficult situation. One admirable step in this direction was the LEP. Bilateral trade between India and ASEAN grew from $3 billion in the early '90s to $12 billion in 2003,[1] and to $79.3 billion by 2012.[2] Since then, however, economic engagement between India and ASEAN countries has languished, in part due to the continuing international financial and economic crisis, and the subsequent Eurozone sovereign debt crisis.
But with the introduction of the AEP, India's multi-dimensional ties with ASEAN have been given greater vigour and dynamism. This is especially important in a context of rapidly-changing geopolitical realities, defined by the assertive rise of China. So far, AEP-driven changes and progress have been eight-fold, as discussed below:
One, the renewed focus and new direction of the AEP are evident in the extensive high-level visits—by India's president, vice president, and prime minster to nine of the 10 ASEAN states—over the last 23 months. One outcome is that bilateral and multilateral relations, some of which were stagnating, have assumed renewed energy and focus, as have projects—for example, the India-Myanmar-Thailand trilateral highway.
Two, in addition to reviving the economic partnership, India has focused on promoting connectivity with other ASEAN states through Myanmar and Thailand. At the India-ASEAN Summit in Kuala Lumpur in November 2015, Modi allocated $1 billion to promote connectivity, and signalled the primacy of  'connectivity, culture and commerce'.[3] Recognising that the AEP's success will be measured by its contribution to the security and economic development of India's North East, these states have been drawn in as active partners in the AEP.
Three, with the AEP, India's relations with ASEAN have broadened to encompass security, strategic, political and counter-terrorism realms, as well as defence collaboration. This is in addition to furthering economic ties, which were the primary focus of the LEP. Collaboration to curb terrorism has become a priority, especially considering the rising strength and influence of the Islamic State. Defence partnerships with several ASEAN states, particularly Singapore [4] and Vietnam [5], [6] have progressed, after high-level bilateral visits in the last two years.
Four, the AEP has sought to significantly expand its geographical coverage to include other countries in East Asia, like Japan, Australia, Fiji and other Pacific Island nations, South Korea, and Mongolia.
Of these, India's partnership with Japan has witnessed the most dynamic growth. Several path-breaking and historic steps have been taken to energise bilateral ties, particularly the decision taken by Japan—the only country in the world to have suffered a nuclear attack—to sign a civilian nuclear deal for commerce in nuclear technology and equipment with India on 14 December 2015.
Other examples of the blossoming strategic, economic, and technological partnership between the two countries include Japan's commitment to invest $35 billion in India over five years (in infrastructure and smart cities, among other area),[7] manufacture a high-speed bullet train that will run between Mumbai and Ahmadabad, participate in the Malabar naval exercises between India, Japan, and the U.S., invest in the Delhi-Mumbai Industrial Corridor, and enhance defence cooperation.
Five, Modi has sought to establish or rejuvenate ties with countries that India has not focused on in recent years. For example, he visited Australia in November 2014, the first visit by an Indian prime minister to that country after 28 years; his visit to Fiji in the same month was the first in 33 years; and his visit to Mongolia in May 2015 marked the first ever by an Indian prime minister.
Modi has also worked on developing normal ties with China by hosting President Xi Jinping in September 2014 and paying a reciprocal visit in May 2015. It is a matter of some satisfaction that no cross-border incursions by Chinese forces have taken place after September 2014, when Modi delivered a strong message to Xi during his visit to India.
Six, on China's disputatious claim of a large track of the South China Sea, India has firmly articulated its principled position of freedom of navigation,  maritime security, and expeditious resolution of disputes according to provisions of international law (the UN Convention on Law of the Seas, 1982), developing a Code of Conduct, and settlement through dialogue and peaceful means. India is especially concerned because more than 40% of its trade traverses through the South China Sea,[8] and it also has interests in harnessing the fossil resources in this region.
Seven, with the conclusion of negotiations on the Trans-Pacific Partnership Agreement between the U.S. and 11 other Pacific Rim nations, India has expressed its interest in concluding the talks on the Regional Comprehensive Economic Partnership (RCEP) Agreement during 2016. The RCEP, along with the implementation of the free trade agreement on investment and services between ASEAN and India, will boost the economic development of all member countries.
And eight, during U.S. President Barack Obama's visit to India as the chief guest at the Republic Day celebrations in January 2015, Modi said, "For too long India and the U.S. have looked at each other across Europe and the Atlantic. When I look towards the East, I see the Western shores of the United States."[9]  By aligning India's Act East Policy with the U.S.'s 'pivot' to Asia through a Joint Strategic Vision, India seeks to expand its manoeuvrability and geo-strategic space. This will help India to counter the growing assertiveness of, as well as foster balanced relations with, China.
It is still early days for the AEP. In the coming years, India must continue to focus on further strengthening collaboration with ASEAN nations. The partnerships should promote economic revival, strategic cooperation to fight terrorism, and enhance maritime security and defence cooperation. In addition, Modi's use of soft power such as Buddhism, tourism, people-to-people contacts, and cultural ties with the region must continue to be harnessed.
The AEP should also continue to work on improving India's connectivity with ASEAN, particularly to North East India via the trilateral highway, the Kaladan project (which will connect the ports of Kolkata and Sittwe in Myanmar), and the Bay of Bengal Initiative for Multi-Sectoral Technical and Economic Cooperation (BIMSTEC). This will promote peace and prosperity in the region.
Beyond, but linked to ASEAN, India must further strengthen strategic and economic ties with the U.S., Japan, Korea, Australia, and also with China. If important sectors like technology transfer, civilian nuclear cooperation, defence, and innovation are given priority, the government's promise of progress will be renewed.
Ashok Sajjanhar is the former Ambassador of India to Kazakhstan, Sweden, and Latvia. He is also the former Secretary/ Principal Executive Officer, National Foundation for Communal Harmony, India.
This article was exclusively written for Gateway House: Indian Council on Global Relations. You can read more exclusive content here.
For interview requests with the author, or for permission to republish, please contact outreach@gatewayhouse.in.
© Copyright 2016 Gateway House: Indian Council on Global Relations. All rights reserved. Any unauthorized copying or reproduction is strictly prohibited.
[1] ASEAN-India, Association of Southeast Asian Nations, Overview ASEAN-India Dialogue Relations, November 2015, <http://www.asean.org/wp-content/uploads/images/2015/November/asean-india/Overview%20ASEAN-India%20Dialogue%20Relations%20-%20November%202015.pdf>

[2] Ministry of External Affairs, Government of India, India-ASEAN Relations, April 2013, <http://mea.gov.in/Portal/ForeignRelation/India-ASEAN_Relations.pdf>
[3] Chand, Manish, Act East: India's ASEAN Journey, Ministry of External Affairs, Government of India, 10 November 2014, <http://www.mea.gov.in/in-focus-article.htm?24216/Act+East+Indias+ASEAN+Journey>
[4] Ministry of External Affairs, Government of India, Joint Statement on a Strategic Partnership between India and Singapore, 24 November 2015, <http://www.mea.gov.in/bilateral-documents.htm?dtl/26060/Joint+Statement+on+a+Strategic+Partnership+between+India+and+Singapore+Renewed+Spirit+New+Energy++++++November+24+2015>
[5] Ministry of External Affairs, Government of India, Joint Statement on the State Visit of Prime Minister of the Socialist Republic of Vietnam to India, 28 October 2014, <http://mea.gov.in/incoming-visit-detail.htm?24142/Joint+Statement+on+the+State+Visit+of+Prime+Minister+of+the+Socialist+Republic+of+Vietnam+to+India+October+2728+2014>
[6] President of India, Government of India, Joint Communiqué Between The Socialist Republic Of Vietnam And The Republic Of India, 15 September 2014, <http://www.presidentofindia.nic.in/press-release-detail.htm?1105>
[7]  Ministry of External Affairs, Government of India, India-Japan Relations, 23 July 2015, <http://www.mea.gov.in/Portal/ForeignRelation/Japan_2015_07_23.pdf>
[8] Ministry of External Affairs, Government of India, speech by Foreign Secretary at National Maritime Foundation on 'India as a Consensual Stakeholder in the Indian Ocean: Policy Contours', 19 November 2010, <http://www.mea.gov.in/Speeches-Statements.htm?dtl/816/>
[9] Press Information Bureau, Government of India, Text of Remarks by Prime Minister at the India-U.S. Business Summit, 26 January 2015, <http://pib.nic.in/newsite/PrintRelease.aspx?relid=114960>