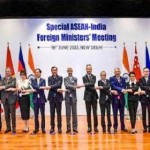 The Indian and ASEAN Foreign ministers met in New Delhi on 15-16 June at a special meeting to mark the 30th anniversary of the ASEAN-India Dialogue partnership.[1]  Several of them participated along with the Minister for External Affairs of India at the XII Delhi Dialogue which discussed 'Building Bridges in the Indo-Pacific'.[2]
Unlike the 20th and 25th anniversaries, when commemorative summits were held, this time, India chose not to pursue a summit but to hold a Special ASEAN-India Foreign Ministers' Meeting (SAIFMM). While this may lack the optics of a summit, it is preferable to do things in a working manner. A ministerial meeting meets that requirement.
The SAIFMM was attended by six of the 10 ASEAN foreign ministers. Three countries, Thailand, the Philippines and Laos, attended below that level. The ASEAN Secretary-General Lim Jock Hoi, from Brunei, was present. Myanmar's military-appointed foreign minister was not invited in keeping with the ASEANs decision to isolate the country. This meant that India's closest ASEAN neighbour, with which India values its strategic partnership, was excluded. Given ASEAN's determined position on Myanmar, it was decided not to risk the SAIFMM and go ahead with what was possible. The same model was followed by ASEAN in its special meeting with the U.S., China and Japan in recent months. China had tried to overcome ASEAN resistance and invite the Myanmar regime last year, but ASEAN stood united to deny it.[3] The U.S.[4]  and Japan were, in any case, averse to the coup regime in Myanmar.
The India-ASEAN partnership aims not to be overwhelmed by other events in the region and globally. S. Jaishankar, India's Minister for External Affairs, in his book, The India Way: Strategies for an Uncertain World, observed that ASEAN centrality is not what it used to be.[5] The crises around the globe, the covid pandemic, post-pandemic economic recovery, the Ukraine crisis and the challenge of China all tested ASEAN capabilities to manage them effectively. Thus, ASEAN unity and centrality is finding increasing mention in joint statements with partners. In reality, it is now up to ASEAN to work out its unity and centrality with a greater sense of responsibility.
This is a good time to assess the India-ASEAN partnership and look at the current situation in which India and ASEAN seek to engage.[6] First, the pandemic tore apart many commonalities. The economic downturn thereafter provided opportunities, but these were more available in the China-ASEAN partnership than any other aspect. Strategically, ASEAN remained dormant vis-a-vis China, which strengthened its hold over the South China Sea and then started to push against Taiwan, the East China Sea and the Western Pacific. Had ASEAN been able to contain China better in the South China Sea, perhaps other regions would not have had to work so hard to do the same. This is the current reality.
Moreover, the Ukraine crisis is forcing the Indo-Pacific region to look at strategic options anew, in which Russia is also a factor. Earlier, ASEAN was apprehensive about choosing between China and the U.S. Now, there is also the rivalry between the U.S. and Russia, causing them concern. This was evident in the discussions at the Delhi Dialogue, where the ASEAN aversion to such choices was enunciated by Cambodia.
On China, ASEAN has had more than a decade to arrive at a muted consensus,[7] but now, over Russia, it is divided. In the U.N. vote to expel Russia from the Human Rights Council, six ASEAN states – Brunei, Cambodia, Indonesia, Malaysia, Singapore, and Thailand abstained; Laos and Vietnam voted against; Myanmar, and Philippines voted in favour though the Myanmar vote is by a representative of the previous government still at the U.N. General Assembly. In Delhi, while Cambodia mentioned the dilemma of taking sides, Singapore was openly critical of Russia.
The ASEAN policy of strategic autonomy is being tested, and its engagement with India provides an opportunity to build strategic trust in an acceptable manner. At the last ASEAN-India Summit, in October 2021, India and ASEAN both agreed on a common programme, where they would associate with the ASEAN Outlook on the Indo-Pacific (AOIP).[8] It was also to find commonalities with the Indo-Pacific Oceans Initiative (IPOI).[9] However, that document was almost entirely dominated by features of the AOIP, without India's priorities like the International Solar Alliance (ISA), or the Coalition for Disaster Resilient Infrastructure (CDRI) being accommodated. Foreign minister Jaishankar reminded ASEAN at the Delhi Dialogue that the ISA was a good forum to work together on energy security, which ASEAN should note.
On the economic side, India has, for the first time, signed up to an instrument of economic cooperation in the Indo-Pacific, the Indo-Pacific Economic Forum (IPEF).[10] Seven ASEAN countries have also joined in. This is an important beginning for India and ASEAN to come together. There are more ASEAN members in the fledgling IPEF than in the formal Comprehensive and Progressive Agreement for Trans-Pacific Partnership (CPTPP). All of ASEAN is part of the Regional Comprehensive Economic Partnership (RCEP), another ASEAN-centric arrangement from which India withdrew in 2020. But RCEP is not fully operationalised, and therefore in the post-pandemic period, ASEAN countries are looking for other trade avenues, particularly with regard to the U.S. The IPEF brings together India and its better ASEAN trading partners.
There is some satisfaction that India-ASEAN trade has finally crossed the $100 billion mark. It is possible that later this year, ASEAN will have approved all its internal processes to start the review of the ASEAN India Agreement on Trade in Goods (AITIGA), which can be completed in two years. Besides overcoming the perceptions and opportunity losses under RCEP, the new AITIGA can support regional supply chains, now more necessary post-pandemic.
The success of the Delhi Dialogue was visible in comfort among Indian and ASEAN ministers. There is a recognition in ASEAN that in areas like pharmaceuticals, vaccines, the digital economy and the supply of food and agricultural products, India is an important partner. A greater maturing of the relationship while recognising their respective attitudes toward China was evident in the joint statement issued by the co-chairs, India and Singapore.[11]
It is significant that the statement has no new financial commitments by India. This one-sided manner of India providing funds for partnering with ASEAN needs a review, and ASEAN must contribute equally to new programmes rather than treat India in the same way as China, Japan or Korea, on which ASEAN depends on funding.
The cooperation in maritime security, enunciated at the 2018 Commemorative Summit, will be expanded with a Special Defence Ministers informal meeting among ASEAN and Indian ministers alongside the ASEAN defence ministers meeting in November 2022, is envisaged. A maritime exercise is now also on the anvil, as is ASEAN-India cooperation in preventing and countering terrorism, the rise of radicalisation and violent extremism, and combating transnational crimes -important acknowledgements from ASEAN of India's role as a partner in its political-security sphere.
While international relations in the region are going beyond ASEAN centrality, India is at the forefront of respecting it but also seeking responsiveness to deal with issues on which ASEAN needs to take positions. While the centrality can be enunciated by ASEAN's partners, the unity has to emerge from within ASEAN.
Gurjit Singh is Former Ambassador of India to ASEAN, Current Chair of the CII Task Force on Asia-Africa Growth Corridor and Professor at the IIT, Indore.
This article was exclusively written for Gateway House: Indian Council on Global Relations. You can read more exclusive content here.
For interview requests with the author, or for permission to republish, please contact outreach@gatewayhouse.in.
© Copyright 2022 Gateway House: Indian Council on Global Relations. All rights reserved. Any unauthorized copying or reproduction is strictly prohibited.
References:
[1] Special ASEAN-India Foreign Ministers' Meeting and related events, MEA, June 15, 2022,
https://www.mea.gov.in/press-releases.htm?dtl/35417/Special+ASEANIndia+Foreign+Ministers+Meeting+and+related+events
[2] Keynote Address by External Affairs Minister, Dr. S. Jaishankar at the Ministerial Session of the Delhi Dialogue XII, MEA, June 16, 2022,
https://www.mea.gov.in/Speeches-Statements.htm?dtl/35419/Keynote_Address_by_External_Affairs_Minister_Dr_S_Jaishankar_at_the_Ministerial_Session_of_the_Delhi_Dialogue_XII
[3] Gurjit Singh, China and ASEAN at 30, (New Delhi: Chanakya Forum), October 3, 2021, https://chanakyaforum.com/china-and-asean-at-30/
[4] Gurjit Singh, Is the U.S. Central or Peripheral, to ASEAN? (Mumbai: Gateway House), May 17, 2022, https://www.gatewayhouse.in/is-the-u-s-central-or-peripheral-to-asean/
[5] S Jaishanker, The India Way: Strategies for an uncertain world, (New Delhi: Harper Collins,2020)
[6]Gurjit Singh, India and ASEAN must enhance their partnership, (Jakarta: Jakarta Post), November 19, 2021, https://www.thejakartapost.com/opinion/2021/11/18/india-and-asean-must-enhance-their-partnership.html.
[7] Gurjit Singh: Is ASEAN really calling out China? (Mumbai: Gateway House), July 2, 2020, https://www.gatewayhouse.in/asean-china/
[8] Prime Minister co-chairs the 18th India-ASEAN Summit, PIB, October 28, 2021, https://pib.gov.in/PressReleasePage.aspx?PRID=1767289
[9] ASEAN-India Joint Statement on Cooperation on the ASEAN Outlook on the Indo-Pacific for Peace, Stability, and Prosperity in the Region, MEA, October 28, 2021, https://mea.gov.in/bilateral-documents.htm?dtl/34425/ASEANIndia+Joint+Statement+on+Cooperation+on+the+ASEAN+Outlook+on+the+IndoPacific+for+Peace+Stability+and+Prosperity+in+the+Region
[10] Gurjit Singh: The launch of the Indo-Pacific Economic Framework, (New Delhi: ORF), June 3, 2022, https://www.orfonline.org/expert-speak/the-launch-of-the-indo-pacific-economic-framework/
[11] Co-Chairs' Statement on the Special ASEAN-India Foreign Ministers' Meeting in Celebration of the 30th Anniversary of the ASEAN-India Dialogue Relations, MEA, June 16, 2022, https://www.mea.gov.in/bilateral-documents.htm?dtl/35416/CoChairs+Statement+on+the+Special+ASEANIndia+Foreign+Ministers+Meeting+in+Celebration+of+the+30th+Anniversary+of+the+ASEANIndia+Dialogue+Relations