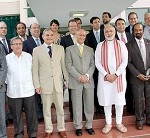 Economic diplomacy must be India's focus in its relationship with Latin American countries. India's trade with all the countries of the region is estimated at approximately $42 billion in 2013,[1] and it has the potential to reach $100 billion in the next four years.[2] Latin America can also contribute to India's energy and food security in the long run.
Post-reform India and a Latin America that has, in the last two decades, achieved democratic stability and significant economic growth, have several complementarities that can be built on.
Latin America's foreign policy has become assertive, with a belief in a multi-polar world and in multilateralism. This makes the region an ideal partner for Modi's agenda of enhancing India's global profile and role.
India can focus on and intensify its exchanges with Latin America by taking 10 specific steps, as outlined below:
To begin with, India can sign free trade agreements (FTAs) with Mexico, Colombia and Peru—the second, third and fourth largest destinations of India's exports in Latin America. Indian exports are at a disadvantage in these markets, which have FTAs with many countries whose exports enter duty-free. India must also deepen and widen the preferential trade agreements (PTAs) with Chile and Mercosur countries including Brazil—the largest destination of India's exports in the region—and consider upgrading them to FTAs.
Along with the agreements, more opportunities for Indian business will be opened up if India becomes a member of the Inter-American Development Bank (IADB), which is a major financier ($14 billion in 2013) of development projects in the region. This will enable Indian companies to qualify to participate in IADB projects. China and South Korea have already joined the IADB.
In the context of credit, India's EXIM Bank must review its policies. It has extended a number of commercial lines of credit to Latin America, but many of them remain unutilised. The bank should give more credits that can be implemented. The government can also increase its concessional lines of credit to the region with an annual target of $200 million for Latin America, to start with. China has given an estimated $102 billion of credit to Latin America during 2005-13.
Improved connectivity between South America and India can further facilitate bilateral exchanges. Air India could start a service to Sao Paulo through Johannesburg in South Africa—a commercially viable route, with growing trade and tourism among all there sectors. At present South African Airways has a monopoly on this route, with inadequate flights. Even Ethiopian Airlines connects Sao Paulo with Delhi, besides some Gulf carriers like Emirates. Mumbai-Johannesburg-Sao Paulo is not just another air route: it is a strategic, commercial and political corridor of IBSA (India-Brazil-South Africa) and can become a thriving tri-continental South-South connection.
Brazil is a global pioneer in the use of ethanol—which is less polluting than petrol—as fuel and has substituted one-third of its petrol consumption with ethanol. India can learn from Brazil's experience and reduce its huge oil import bill, save foreign exchange, enhance the incomes of farmers, and help the sugar industry to diversify. FICCI has plans to organise a seminar later this year, inviting car manufacturers, oil companies, sugar mills, and agricultural sector representatives, besides the Brazilians. The government of India can support and use this conference to unveil a new fuel ethanol policy as part of India's strategic energy security.
The annual Latin America business summits held in India can be scaled up, with more government support, as done by China. FICCI is holding the summit this year on 16-17 October. The government can invite a Latin American president as the chief guest to elevate the profile of the event. The pro-business Mexican president Peña Nieto will be an ideal choice.
Argentina and Brazil are leaders in agricultural research and best practices such as no-till cultivation, the silo bag storage system, tropicalisation of temperate crops, and precision farming. India can step up cooperation and learn from them. Indian companies manufacturing edible oil and pulses can be given incentives to invest in Argentine and Brazilian agribusiness companies and form joint ventures, so that India has direct access to the producers. This is important because India is importing ever more edible oil and pulses to meet its growing domestic demand.
An increased exchange of visits with Latin American countries must also be a part of the new policy agenda. The presidents of Mexico, Peru and Bolivia can be invited to visit India in 2014-15. It is especially important to invite the Bolivian president, Evo Morales, the first native Indian elected as president in the history of Latin America. During her visit to the UN General Assembly in September, the new Indian external affairs minister, Sushma Swaraj, can have meetings with the foreign ministers of CELAC (Latin American and Caribbean Community of States), of Mercosur, the Pacific Alliance and of SICA (Central American Integration System). It will reinvigorate dialogue and cooperation.
Opening Indian embassies in Ecuador, Bolivia, and the Dominican Republic must also be on the new Latin America agenda. The three are medium size countries with sizable markets of sufficient economic interest to India.
The IBSA (India, Brazil and South Africa) grouping has been inactive in recent years, mainly because of China's attempts to include South Africa in BRIC so that it overshadows IBSA. Prime Minister Narendra Modi should reactivate IBSA, which is a promising partnership of different role models of democracies in the three continents.
This 10-point agenda will benefit both sides economically as well as politically. With a specific focus on energy and food security, if implemented successfully, these steps can be the basis of an important strategic partnership between India and Latin America.
Ambassador Viswanathan is Distinguished Fellow, Latin America Studies, Gateway House. He is the former Indian Ambassador to Argentina, Uruguay, Paraguay and Venezuela, and Consul General in Sao Paulo.
This article was exclusively written for Gateway House: Indian Council on Global Relations. You can read more exclusive content here.
For interview requests with the author, or for permission to republish, please contact outreach@gatewayhouse.in.
© Copyright 2014 Gateway House: Indian Council on Global Relations. All rights reserved. Any unauthorized copying or reproduction is strictly prohibited
Endnotes:
1. The IBSA (India, Brazil and South Africa) grouping has been inactive in recent years, mainly because China has included South Africa in BRICS so that it overshadows IBSA.
2. Author's estimate compiled from data for 2013 from three different sources: Mercosur Online; the Ministry of Commerce and the Ministry of External Affairs, Government of India; and fact checking with the relevant embassies.