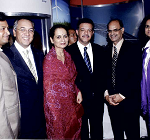 "My mann (mind) beats for Macondo", exclaimed Sushil Chaudhary, founder of Mann-India Technologies, referring to the fictional town in the novels of Colombian author Gabriel Garcia Marquez. Sushil and his team chose to venture into Latin America for their IT business after considering several other geographies for two reasons. First, he and his young partners were fascinated by the vibrant culture. Second, Indian IT companies were riding the high waves of business flowing from Europe and the U.S. and were yet to realise the potential of Latin America. Therefore, Mann-India had the first-mover advantage. The gamble has paid off – over a decade later, Latin America accounts for 90% of the company's revenue.
Sushil, along with co-founders Noor Qazi and Roopam Gupta, graduated in 1998 from the National Institute of Technology, Tiruchirappalli. The fourth co-founder, Lathika Regunathan, was a graduate in economics from the Lady Shri Ram College, Delhi. In May 2000, the four young entrepreneurs established a software development company and decided to open operations in Latin America. Their first destination was Panama. Being a start-up with no established credentials, they took on a pilot project- free of cost- and within a short span of time, signed on their first client – Banco Casa de Ahorros, a Panamanian bank. Mann-India was the first in Latin America to provide mobile payments using Unstructured Supplementary Service Data (USSD) – a protocol used by GSM cellular telephones to communicate with the service provider's computers.  Other clients soon followed, most notably Panama's largest retail chain, Panafoto. However, with venture capitalists showing no interest in funding their projects in Latin America, Mann-India began exploring smaller countries more suited to their budget and strategy.
Sushil traveled to Colombia, which at the time was a high risk area due to the ongoing guerrilla war, kidnappings and drug-trafficking. Fascinated by the warmth and friendship he found there, he decided to make the country his next investment destination. Venezuela followed a year later. In 2003 the company secured three projects here, including a government contract to build a national mobile payment platform for financial inclusion, a project for the national oil company, Petroleos de Venezuela S.A., and a government tender to build software to convert the currency to the new bolivar.
The next big investment was in the Dominican Republic where the company established a development centre in 2008. Today Mann-India has offices in Noida, Delhi, Hyderabad, Bogota, Caracas and Santo Domingo. The company's verticals include banking, insurance, telecom, enterprise resource planning (ERP) and retail. They also develop IT several products and provide consultancy services.
The founders are now diversifying into trade, starting with agribusiness in Argentina.  In April, Sushil visited Buenos Aires to explore opportunities in oil import and other products.Sushil and Lathika, who got married in 2006, lived in Latin America for 11 years. They made many friends here, and value the personal connections well above the business they receive. They were enriched by the experience and have imbibed the Latino spirit of celebrating life.
Lathika says she was inspired by the local women who are independent and assertive. She felt safe and comfortable even while travelling alone into the interiors. She found Latin Americans to be largely non-judgmental and non-intrusive.
Sushil says the secret of success to their success lies in their understanding of the local culture and business practices. Before starting a venture in any country, he would travel as a backpacker and frequent beaches and bars to get a feel of the place. He learned to leverage the strengths of his clients and contacts. Having gathered that business in the region was driven by both, personalities and systems, Sushil focused on cultivating friends. The "know-who" in Latin America is said to be more important than the "know-how".
The founders as well as a number of the Indian employees have learned Spanish, enabling a better rapport with clients. Another important practice is to hire local talents and managers. Mann-India now has roughly forty such employees who see this as an opportunity to obtain global exposure, upgrade expertise and acquire multicultural skills.
Sushil says that after 2005, business in Latin America has picked up – the image of India as a global IT power has helped attract more clients. An Indian name with a young nerdy look, he believes, attracts both admiration and business. Some Latin American governments have welcomed Mann-India as they hope the company will train their youngsters and inspire them to start their own ventures. The IT minister of the Dominican Republic, Eddie Martinez, went out of his way to facilitate the entry of Mann-India which went on to collaborate with the government in setting up a SAP Centre of Excellence where locals could get training and SAP certification. Chile went one step further by providing financial support to foreign start-ups in the tech-incubator zone of Santiago.
What were the challenges of working in Latin America? Sushil believes some of his Indian colleagues needed time to understand the local ways. Managers, who were used to a more formal culture back home, were unaccustomed to employees calling them by their first names. Vegetarians found it difficult adjust to the local cuisine. The comfort zone of NRI communities, which is a strong factor in North America, Europe and Australia, was missing here. The more serious challenge was the rampant crime. Sushil faced threats from a local mafia-type businessman in Panama due to contractual conflicts. The personality-based culture has its downside as well. Mann-India is struggling to remit some of its earnings from Venezuela due to foreign exchange restrictions. Their local contact has lost influence in the present government.
On the positive side, the Indian staff shares similar values with the locals when it comes to the family and hospitality. More importantly, they feel right at home amidst the all too familiar complaints about unscrupulous politicians, the inefficient bureaucracy, rampant corruption and inadequate infrastructure!
Sushil and Lathika often share their experience in conferences organised by CII and Nasscom to inspire entrepreneurs to explore the opportunities offered by the new markets of Latin America. The Electronics and Software Export Promotion Council in India is also doing a commendable job by including small Indian firms in the delegations visiting Latin America. Latin American IT companies participate in the annual IndiaSoft exhibition to enable greater interaction. There is immense potential for the smaller Indian companies to do business in Latin America. In fact, a number of Latin American clients prefer smaller Indian IT companies to big firms such as Tata Consultancy Services.
Ambassador Viswanathan is Distinguished Fellow, Latin America Studies, Gateway House. He is the former Indian Ambassador to Argentina, Uruguay, Paraguay and Venezuela, and Consul General in Sao Paulo.
Hari Seshasayee is Senior Researcher, Latin American Studies Programme, Gateway House: Indian Council on Global Relations.This feature was written exclusively for Gateway House: Indian Council on Global Relations.
This article was exclusively written for Gateway House: Indian Council on Global Relations. You can read more exclusive content here.
For interview requests with the author, or for permission to republish, please contact outreach@gatewayhouse.in.
© Copyright 2014 Gateway House: Indian Council on Global Relations. All rights reserved. Any unauthorized copying or reproduction is strictly prohibited.