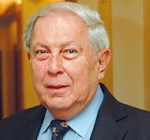 Intellectual Property Rights issues are expected to figure prominently in the talks between Prime Minister Narendra Modi and U.S. President Barack Obama when they meet in Washington D.C. later this month. India's patent regime has attracted the ire of U.S.-based pharmaceutical companies that have been lobbying to get India included in the 'priority foreign country' list which deserve trade sanctions.  Speaking to Gateway House, Yusuf K. Hamied, chairman of Cipla, India's oldest pharmaceutical company, says he is confident that the new government will not compromise on its stand.
Q. The meeting between PM Modi and President Obama this month is being viewed as major step towards reviving the India-U.S. bilateral which has been marred by acrimony over many issues, chiefly IPR. What are your expectations from this meeting?
I expect the IPR issue to continue to figure prominently in the talks and there will be pressure from President Obama on India to change the stance it has taken on patents, especially regarding Section 3(d) of the Indian Patent Act which states that inventions that are frivolous and do not result in the increased efficacy of a known substance are not patentable. This has prevented the extension of monopoly by evergreening a patent. Our Patents laws are fully TRIPS compliant. I hope and pray that our Honourable Prime Minister Mr. Modi stands by India. I feel confident that he will, based on two recent developments – one, is the stand taken by the new government at the WTO meet in Geneva, and the other is the creation of the BRICS Development Bank.
Q. There is a huge backlash against the Indian patent regime, especially in the U.S. What is the stand that you would like to see the Indian government take if the issue of IPR comes up in these talks?
India today is the pharmacy capital of the world. It supplies 30-40% (in volume) of generics medicines to the U.S., and produces them according to world class standards. It is important that India does not relent when it comes to Section 3(d). This is the clause that safeguards 'evergreening' – which stops the process by which drug companies can go on extending the life of the patent – like Novartis tried with its cancer drug Glivec and we fought it. We do not believe in frivolous patenting and this is the position India should continue to hold onto. Under no circumstances must they compromise but instead explain to the USA that it is in the interest of its own citizens and Obamacare that access to medicines is a human right, even for Americans.
Q. As you mentioned, India supplies 40% of generic medicines to the U.S. market. Those numbers are expected to grow under Obamacare – the new healthcare law – as generics are pivotal to its success. The expectation is that this will boost the Indian industry – a year-on-year growth of 25-30% is being projected. Of late a number of top Indian pharmas have been hit by regulatory rebukes from the U.S Food and Drug Administration. How can India address the perception barrier that is associated with the industry?
I am very clear that one has to abide by the laws of the land and that includes regulatory laws. If India is exporting to the U.S., it has to comply with American regulations. However, the U.S FDA has to keep us updated if rules and requirements are being changed and Indian companies must abide by those changes. Some companies get into trouble either due to ignorance, others because they are cutting corners, perhaps because there isn't a compliance culture in those companies.
You have been batting for stronger action against drug monopolies and the adoption of a pragmatic IPR policy. Why do you feel so strongly about this?
The whole basis of patents is monopoly and the power of pharma monopoly. There should be no monopolies in healthcare and it is important in that context for India to adopt a pragmatic IPR policy so that it implements the Doha Declaration of access to medicines for all. It may well require the government to make some symbolic gestures of granting a few compulsory licenses when medicines are either unaffordable or in short supply to allow a generic drug company to pay a royalty and make a comparable version of a patented drug. This way the drug is both affordable and the patent holder gets a fair fee and the system is consistent with India's international obligations.
Yusuf K. Hamied is Chairman, Cipla
Shai Venkatraman is the Website Editor at Gateway House: Indian Council on Global Relations.
This interview was exclusively conducted for Gateway House: Indian Council on Global Relations. You can read more exclusive content here.
For interview requests with the author, or for permission to republish, please contact outreach@gatewayhouse.in.
© Copyright 2014 Gateway House: Indian Council on Global Relations. All rights reserved. Any unauthorized copying or reproduction is strictly prohibited