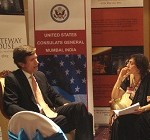 Robert O. Blake, U.S. Assistant Secretary of State for South and Central Asian Affairs, was in India for the second India-U.S. Strategic Dialogue. In addition to the usual policy and diplomatic tools he uses for his portfolio, Blake has created another: an engagement with the South Asian diaspora.
After the meeting in Delhi, Blake flew to Mumbai to be part of a panel discussion by Gateway House on "The Indian Diaspora: Converging Destinies." He joined Alwyn Didar Singh, Secretary for the Ministry of Overseas Indian Affairs, diaspora expert Devesh Kapur of the University of Pennsylvania and recent NRI returnee Adil Zainulbhai, chief of Mckinsey & Co. in India, in a lively discussion on the diaspora's promises and problems.
Blake's initiative was perfectly timed: India is witnessing the largest return migration of the diaspora in its history. The majority of these are professionals from the developed countries of U.S., U.K. and Canada, stimulated by the combination of the economic crisis of the West and the incredible economic dynamism of India. With their talents they bring their host country's internalized hopes for engagement with India.
Blake sees the enormous contribution of this diaspora in stimulating innovation, generating jobs and contributing to the broader community through its strong value system, at home. He hopes to use this cohort cohesively to influence Indian policies in ways that align with U.S. objectives. The focus on private sector participation is one such way to promote this objective. How much it benefits India will depend on how creatively India can respond, without losing the independence and integrity of its own economic and political ethos.
Here are excerpts from Secretary Blake's conversation with Gateway House's Executive Director Manjeet Kripalani:
Q: You thought up the role of an Advisor for the Diaspora. What was the thinking behind that?
I have two positions in my portfolio that are discretionary. I thought I'd use one for the diaspora, and the other for education.
There are 2.7 million to 3 million Indian Americans in the United States. They all want to do more to help India, but are at a loss as to how they can contribute.
There are few reputable routes or NGOs they can trust. It's an opportunity for us to set up a tax-deductable mechanism with a menu of trustworthy operations that can be set up in India. So an alliance and a mechanism will be in place such that if you want to support say, education in Karnataka, we'd do the due diligence and work out a system to channel your support.
That is where the Advisor comes in. It is important to use aid money well and in this we will partner with the private sector. Especially now that there are so many opportunities in India, not just through corporate social responsibility but also with business. There is an interest in partnering in areas like education and water.
We also deal with the Tamil diaspora. It is important for them to be part of the solution in Sri Lanka. The greatest need now is for investment in northern Sri Lanka. The LTTE and the years of neglect have created tremendous needs in infrastructure, capacity-building, etc. The diaspora can play a very important role.
Q: What is your official definition of 'diaspora?' You just had an event in Washington on diasporas, which communities were represented?
The Indian definition of the diaspora is a good one: Persons of Indian Origin going back to the fourth generation. Now advances in communication and easy travel have made it easy for people to go back and forth from their host country to their country of origin.
Even without government intervention, there is a lot of engagement between India and the US, people travelling back and forth. It's dramatic: 670,000 Indians travelling to and from the US.
So I also want to talk to Indians who spend a lot of time in the US but did not become resident there. Indians who came in the 1980s stayed, but then the Manmohan Singh reforms generated serious growth, and opportunities opened up for young people in India. Indians still come to the US on an H1B visa, but now most go back to India and set up ventures there. Like the young man from Bihar who returned home to set up a venture to burn energy from rice-husks. He was US-educated, and got some US financing for his venture.
The Washington DC event primarily had the diaspora from India, Sri Lanka and Bangladeshis – those that come under our bureau.
Q: Was the role of the Indian diaspora discussed during the strategic dialogue, as planned? What will be the outcome?
The diaspora was not discussed as such, but people-to-people initiatives were talked about.
Q: If Science and Technology and Education are to be successful bilateral initiatives, we need to come up with creative mechanisms for the free movement of people between our countries, for the convergence of our destinies. An FTA in services will facilitate this. We at Gateway House are working on a proposal that recommends an FTA in services as a game-changer for our international engagement, and starting with the US would be ideal. How would you respond to such a proposal?
It is an interesting idea.
We have tried to pursue a more comprehensive approach to trade. We have three FTAs pending – with Korea, Panama and Colombia. Will have to make some decisions – do them piecemeal or make them comprehensive.
Starting August, we will have bilateral investment treaty talks.
Q: Institutes like ours have a role to play in such people-to-people exchanges. Can your 22nd dialogue (the U.S and India have 21 on-going dialogues) be the one that brings think tanks into the official space?
Think tasnks play a very important role in policy-making. We certainly use our think tanks a lot. In fact as soon as I am back in the US, I'm meeting the think tanks to talk about the strategic dialogue. We engage with three groups outside of government: the diaspora, the think tanks and the media.
Robert O. Blake is U.S. Assistant Secretary of State for South and Central Asian Affairs.
Manjeet Kripalani is the Co-founder and Executive Director of Gateway House: Indian Council on Global Relations.
This interview was exclusively conducted for Gateway House: Indian Council on Global Relations. You can read more exclusive content here.
For interview requests with the author, or for permission to republish, please contact outreach@gatewayhouse.in.
© Copyright 2011 Gateway House: Indian Council on Global Relations. All rights reserved. Any unauthorized copying or reproduction is strictly prohibited.