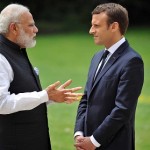 India and France have converging interests in the Indo-Pacific. These range from strategic to economic and are based on fostering a rules-based, free, open and inclusive region.
Why France? Because it has a unique global positioning. Technically, it is in the Indo-Pacific, with its 12 overseas territories, stretching from Wallis and Futuna in the East Pacific to French Southern and Antarctic Lands in the western Indian Ocean. These overseas territories give France a border with every continent, and more significantly, with four of the five oceans.
France has an 8% share of the world's Exclusive Economic Zone (EEZ) – more than any other. The underlining fact of 90% of French EEZs being in the Indo-Pacific makes France one of the major stakeholders in the region. To put things in perspective, India, with a coastline of over 7,400 km, has an EEZ of 2.37 million sq km, while France with a coastline of just over 3,300 km, has an EEZ of 4.5 million sq km. That means, France has 90% more EEZ than India with a coastline that is half its size.
The vulnerability of these overseas territories to geopolitical, social, economic or environmental crises is a major cause for concern for the French government. Compared with mainland France, the average individual contribution to GDP of the overseas territories is 40% lower, while the beneficiary share in social benefits is thrice as much and the unemployment rate twice as high. In 2018, France's Finance Bill provided a credit of €17 billion for the overseas territories. It has a potential to increase in the coming years considering their strategic value.
There's good reason for this. These overseas territories serve as 'static aircraft carriers' for France to project power in the region. This is now increasingly challenged by Chinese activities in the Indo-Pacific, which France sees as a threat to freedom of navigation and in conflict with its regional strategic interests. In the backdrop of an increasingly unreliable U.S. leadership on global issues, in 2018, President Macron  proposed a new strategic alliance with Australia and India, and sought  security ties with Japan to check Beijing's regional ambitions. "The time of European naivete towards China is over," Macron warned the European Council in March this year, signalling a harder China policy from France.
This statement was followed up by the deployment of the Charles de Gaulle, France's sole naval carrier in the Indo-Pacific to conduct freedom of navigation operations.
Unlike other countries, India's definition and interests in the Indo-Pacific stretch from the west African coast in the Indian Ocean to the South China Sea and Indonesia. It's three core interests – trade, energy security and resources – run from the Malacca Strait to the Persian Gulf. Indian Ocean channels carry two-thirds of the world's oil shipments, a third of the bulk cargo and half of all container traffic. The Indian Ocean littoral has the potential to be the leading source of global growth over the next 20 years, and it is here that Indo-French geo-strategic interests converge.
Like France, India also finds Chinese activities in the Indo-Pacific – more specifically in the Indian Ocean – a threat to its security and interests. Since 2008, China has significantly ramped up its presence in the Indian Ocean, always maintaining between six and eight ships in the region. The presence of Chinese submarines in the Indian Ocean for anti-piracy patrols is duplicitous: submarines are not anti-piracy platforms. Chinese intent in the South China Sea, East China Sea, Pacific Islands, specifically the Tulagi-Solomon Islands, Doklam, Hambantota, Gwadar, Djibouti and the China-Pakistan Economic Corridor (CPEC), have resulted in India actively countering the Chinese 'String of Pearls' strategy by adopting a more proactive and balanced approach with its neighbours through diplomatic, strategic and economic action.
Diplomatically, the Act East, Look West, Neighbourhood First and launch of the Information Fusion Centre-Indian Ocean Region (IFC-IOR) in 2018, are efforts by India to bring greater consensus in the region towards a free, open and inclusive Indo-Pacific. The IFC-IOR is the surveillance hub which links the maritime infrastructure of member nations. This is intended to develop real-time and accessible maritime domain awareness against maritime terrorism, piracy, human and contraband trafficking and illegal fishing.
Strategically, several bilateral or multilateral arrangements with members of the Association of South East Asian Nations (ASEAN), Japan, Australia, Oman, and more recently, with the Vanilla Islands (Seychelles, Madagascar, Réunion, Mauritius, Comoros, Mayotte), are part of the proactive Indian approach. The signing of the logistics sharing agreements with France and the U.S. have brought the Djibouti, Abu Dhabi, Réunion Islands, Mayotte and Diego Garcia military bases within India's strategic reach. India must now use its pivotal role in the Indian Ocean Rim Association (IORA), Indian Ocean Naval Symposium (IONS) – both of which have Iran as a member – and the IFC-IOR to further strengthen its credibility in the Indian Ocean and beyond as a responsible and inclusive power.
Economically, a robust domestic economy will enable New Delhi to act as a facilitator for the security and growth of the region. Partnering with a strong Indian economy should be seen not only from a traditional trade balance perspective, but also through the lens of the counterbalance India provides against China, especially in the Indian Ocean. India's participation in the Regional Comprehensive Economic Partnership (RCEP) will help integrate its economy with Asia's. The current China-centred agreement will serve Asia better, with India's inclusion. The recent statement by Japan, linking its own inclusion in RCEP with that of India's, is a step in the right direction.
For the Indo-Pacific to emerge as a genuinely functional multilateral definition, it must overcome its own contradictions. The predictable Chinese expansion and the unpredictable U.S. policy in the Indo-Pacific and beyond remains the most significant risk to any regional powers in the Indo-Pacific.
Both countries also disregard international norms, China in the South China Sea, and the U.S. with the United Nations Convention on the Law of the Sea (UNCLOS), which it has not ratified to date. In Diego Garcia, the UK and U.S. have dismissed the May 2019 non-binding UN resolution asking the UK to relinquish control over the Indian Ocean islands, originally a part of Mauritius. Countries taking distinct sides in the great Indo-Pacific game may find themselves lost at sea in such an eventuality.
On numerous occasions, India and France have demonstrated a policy independent of both the U.S. and China. India's decision to buy the S-400s from Russia, and French president Macron describing the North Atlantic Treaty Organisation (NATO) as a "brain dead"[1] organisation, are indicative of this. Indo-French cooperation in this emerging geostrategic space of the Indo-Pacific can offer an alternative in the region. Their mutual interest in security, environment and economic areas, coupled with India's stated intent to ensure Security And Growth for All in the Region (SAGAR), can offer a reliable and inclusive partnership for countries in the Indo-Pacific.
Since 1971, France has been a dependable friend.[2]  It identified the potential of the Indo-France relationship especially in the Indo-Pacific. The defence policy document, France and Security in the Indo-Pacific, published in 2018, lists India as a primary partner for regional stability, a view that French Ambassador to India, Emmanuel Lenain, reiterated on the eve of the 4th Indo-French Maritime Security Dialogue. [3] France's permanent placement  of a  liaison officer at the IFC-IOR in December 2019, and announcements to undertake joint patrols in the Southern Indian Ocean and enter into a classified information sharing agreement [4] with India by early 2020, augur well for this deepening relationship.
Cdr. Amrut Godbole is a serving officer of the Indian Navy and former Indian Navy Fellow, Gateway House.
The views expressed in this report/article are those of the author and do not necessarily reflect the official policy or position of the Indian Navy, the Ministry of Defense, or India.
This article was exclusively written for Gateway House: Indian Council on Global Relations. You can read more exclusive content here.
For interview requests with the author, or for permission to republish, please contact outreach@gatewayhouse.in
© Copyright 2019 Gateway House: Indian Council on Global Relations. All rights reserved. Any unauthorized copying or reproduction is strictly prohibited.
References
[1] The Economist, "Emmanuel Macroon warns – Europe: NATO is becoming brain-dead", 7 November 2019, https://www.economist.com/europe/2019/11/07/emmanuel-macron-warns-europe-nato-is-becoming-brain-dead
[2] During the war for Bangladesh's liberation, French support for India's position was summed up at the UN Security Council as follows: "We appreciate the fact that India cannot feel satisfied with a superficial solution when it has a million refugees under its care."
The second significant phase of this budding relationship came during India's nuclear tests, first in 1974 and then in 1998.  On both occasions, India was criticised by the U.S., Canada, Australia, Japan and others. France was the only Western country to support the Indian perspective and oppose sanctions. In January 1998, President Jacques Chirac described India's exclusion from the global nuclear order as an anomaly that needed to be rectified. It was, therefore, natural that France became the first country with which India elevated its relationship to a "strategic partnership" that year.
Consequently, in 2008, France became the first country to sign a Civil Nuclear Agreement with India, even before the United States Senate had approved the U.S.-India Civil Nuclear Agreement. Although France signed the Non-Proliferation Treaty (NPT) in 1992, this did not affect Indo-French bilateral relations.  In June 2011, when the Nuclear Suppliers Group (NSG) declared that it would not supply enrichment and reprocessing technology to NPT non-signatory countries, France declared that its bilateral nuclear collaboration with India will remain unaffected.
French support was crucial for India's entry to the Missile Technology Control Regime in 2016, and its consistent stand, seeking India's inclusion as a permanent member at the UNSC, has been a hallmark of the steady and reliable growth in bilateral relations.
Indo-French strategic relations have since prospered and expanded through convergence on broader multilateral engagements, such as climate change, the International Solar Alliance (ISA), space cooperation and socio-economic sectors. India's decision to buy Scorpene submarines and Rafale Multi-Role Combat Fighter aircraft from France has given a significant thrust to the strategic partnership.
[3] Lenain, Emmaunel, "France will act in concert with India to ensure a free, open and secure Indo-Pacific region", The Times of India, 9 December 2019,
https://timesofindia.indiatimes.com/blogs/toi-edit-page/france-will-act-in-concert-with-india-to-ensure-a-free-open-and-secure-indo-pacific-region/
[4] The Times of India, "India and France to start joint patrolling mission of Indian Ocean Region", 10 December, 2019, https://timesofindia.indiatimes.com/india/india-france-to-start-joint-patrolling-mission-of-indian-ocean-region/articleshow/72449168.cms