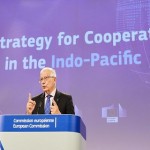 The timing was certainly unfortunate. As the European Union's foreign policy chief Josep Borrell finally went public with details of the bloc's much-anticipated new Indo-Pacific strategy on September 15, world attention was focused on the unexpected announcement of a new trilateral military alliance between Australia, the United Kingdom and the United States (AUKUS).
When questioned about the deal, Borrell admitted he had no previous knowledge of the "Anglosphere" security pact. Angry French officials described the US decision to help Australia acquire nuclear-powered submarines – a deal which scuttled their own multimillion Euro planned sale of submarines to Australia – as a "stab in the back".
As others in the EU chimed in with their support for France, EU Council President despaired at the lack of loyalty and transparency among friends and allies, adding: AUKUS "further demonstrates the need for a common EU approach in a region of strategic interest. A strong EU Indo-Pacific strategy is needed more than ever."
Two months later, tempers are cooling off. US President Joe Biden and EU leaders met and shook hands at the G20 and COP26 summits, a Transatlantic Trade and Tech Council has been set up and Biden has sort of apologized to his French counterpart Emmanuel Macron for having been "clumsy" over AUKUS.
So, are transatlantic good times back on track? And has AUKUS put a permanent spanner in the wheel of the EU's Indo-Pacific outreach?
The short answer to both questions is "No". The longer one is "No, don't bet on it. Transatlantic trust will be difficult to rebuild and AUKUS has not deterred the EU from pursuing ambitions to sharpen its role in the Indo-Pacific.
Transatlantic scars left by the trilateral "Anglosphere" AUKUS alliance as well as America's chaotic retreat from Afghanistan have put an end to any magical EU thinking about the strength of the transatlantic alliance. They have also increased EU determination to build a stronger Indo-Pacific profile that includes security but also plays to its strength as an economic great power.
Despite the romanticized one-dimensional view of transatlantic relations as special, solid and all-weather – a narrative often peddled on both sides of the Atlantic – the truth is that while the US and the EU can work together when their interests align, they are also permanent competitors and rivals, with very different priorities and concerns.
This is most obvious in business and trade – both on the bilateral and multilateral level – but also in geopolitics.
Much before the current geopolitical focus on the Indo-Pacific, America's overwhelming presence and influence in Asia (including China) encouraged the EU to craft its own relationship with the region. The Asia-Europe Meeting (ASEM) was set up as a response to APEC. Former US president Barack Obama's "pivot to Asia" encouraged the EU to follow suit.
Transatlantic relations hit rock bottom under Donald Trump who described the EU as an "enemy". But the inconvenient truth is that all recent US presidents have viewed the EU as a junior partner that you turn to when you need help – for instance, to present a "joint front" to China or Russia – but can safely overlook when times are good. Joe Biden and AUKUS are a continuation of this.
This time, however, the EU is not waiting for America to lead the way. Instead, AUKUS has focused attention on two fronts.
First, with France in the lead, discussions on European "strategic autonomy" are gathering momentum. Second, EU policymakers are even more determined to ratchet up their presence in the Indo-Pacific, including the promotion of a new Global Gateway connectivity blueprint.
Given the importance of NATO and the transatlantic security alliance, EU policymakers insist their plans for strategic autonomy do not require turning their back on either. Instead, the focus is on building a true "European pillar" within NATO or as Macron defines it, "building the capacity to act autonomously" so that the EU can independently act without US backing.
Plans are underway for a European Defence Summit in February 2022 with France in the chair. A so-called EU "strategic compass" is expected to be released in March 2022, which Charles Michel has called "the year of European defence".
Not everyone agrees, however. For one, the US has its doubts. And Central European leaders are nervous about loosening defence ties with Washington in the face of an aggressive Russia.
Whether Europe is really prepared to spend enough to become a serious stand-alone strategic player remains unanswered. Strategic autonomy remains loosely defined despite months of discussion. In addition to security, for instance, EU conversations about autonomy also include foreign, trade and development policy as well as sectors like climate change, R&D, industry and ICT.
Second, the ruckus over AUKUS has made EU governments even more determined to pursue an independent Indo-Pacific strategy which includes – but is not restricted to – flexing hard military power, engaging in much-publicised naval exercises and dispatching frigates and air assets in the region.
Playing to Europe's economic strengths is a priority, however. As competition heats up on setting new standards for global trade, connectivity and data exchanges, the EU's new toolbox for the region focuses on the bloc's market and regulatory power in areas such as the Blue Economy, climate change-related Green Deal initiatives, digital transformation and the provision of "high quality" connectivity networks.
Still, it is not going to be plain sailing. However much the EU touts its economic strength, critics will insist that the bloc lacks the military nous needed to really count in the Indo-Pacific.
Also, implementing the EU strategy will require navigating the troubled waters of increasing competition between the US and China.  Officials in Brussels insist that despite increased tensions with Beijing, China is very much part of the bloc's outreach in the Indo-Pacific, a stance also taken by the ten ASEAN countries. Such talk in the face of rising geopolitical tensions heightened pressure from the US and increased Chinese assertiveness will be difficult.
EU officials are still reluctant to acknowledge that post-Brexit Global Britain is a potent rival that is busy expanding its own networks across the Indo-Pacific, adding to acrimony between the EU and Britain.
Finally, many EU states have published their own Indo-Pacific strategies. Brussels will have the challenging task of reconciling conflicting interests and coordination between the 27 often-diverging EU capitals.
Still, having built up a thriving network of trade agreements and "partnership" pacts across the region over years, the EU is no stranger to the Indo-Pacific. Far from taking a back seat in the Indo-Pacific, AUKUS has given the EU just the spur it needed to step up its engagement in the region.
Shada Islam is a Brussels-based independent EU commentator, Non-Resident Fellow at the Center for Global Development and Senior Adviser at the European Policy Centre.
This article was exclusively written for Gateway House: Indian Council on Global Relations. You can read more exclusive content here.
For interview requests with the author, or for permission to republish, please contact outreach@gatewayhouse.in.
©Copyright 2021 Gateway House: Indian Council on Global Relations. All rights reserved. Any unauthorized copying or reproduction is strictly prohibited.