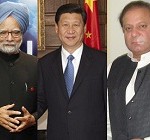 When India and Pakistan's new leaders sit down to manage their faltering relationship, they will do well to take a leaf out of the India-China relationship book.
When the two Asian rivals negotiated the recent military face-off in Ladakh – the most high-profile Sino-Indian border crisis since 1987, neither threatened to curtail trade and economic engagement. The prospect of a prolonged stand-off could endanger overall relations, underpinned by economic engagement, helped to defuse the military tension. Even in 2009-2010, after India suspended bilateral military relations for a year to protest against China's pro-Pakistan Kashmir policy, Sino-Indian trade grew from $61 billion in 2010 to $74 billion in 2011. [1] And despite disputes over India's $29 billion trade deficit, visas, non-tariff barriers and notably on China's Pakistan policy, the template is a useful one to consider.
Pakistan has taken note. A year ago, President Asif Ali Zardari cited India-China relations as a model for improving bilateral ties by de-linking economic engagement from strategic disputes over Kashmir and terrorism. Zardari's statement now seems forgotten.
Unlike India and China which use economic linkages to create mutual stakes to ease strategic tension, normal trade between India and Pakistan is difficult without normal political relations. The Sino-Indian economic linkages are driven by high-level government interest and intervention from both sides. With Pakistan, talk of normalising trade was political taboo – and especially so after the 26/11 attacks on Mumbai – until recently. Essential infrastructure and policies necessary to elevate trade relations have languished on both sides for nearly the last half century.
Now the two largest economies in South Asia are struggling to behave like trade partners as they lurch from crisis to crisis. A breakthrough trade liberalisation process started in 2011-12 sputtered this year after two Indian soldiers were killed in January, allegedly by Pakistani troops, on the Line of Control. The fatal prison attack on Indian prisoner Sarabjit Singh in Lahore on April 26 triggered a retaliatory attack on Pakistani prisoner Sanaullah Ranjay, jailed in Jammu.
Last year, Pakistan switched India from a positive to a negative trade list that permits trade in all but 1,209 items. [2] India expects the new Nawaz Sharif-led government to keep Pakistan's word to phase out the negative list and reciprocate Most Favoured Nation (MFN) status to liberalise trade with market access across several sectors. Although the buzz in Pakistan is that MFN, which India granted Pakistan in 1996, could be executed for India as soon as June, there is a danger that the MFN deadlock can linger.
First, there is opposition of the MFN agreement in Pakistan of course; they complain that Indian manufacturers will swamp Pakistan with superior technology and subsidised agricultural goods. Second, a genuine implementation of MFN status depends on Sharif securing the hard-to-get backing of the Pakistan military and sections of state actors which support the terrorism infrastructure to keep India on edge. This grouping has long opposed delinking Kashmir from normalising bilateral relations. Last year saw the first-ever political consensus in Pakistan on trade with India, largely because its businesses are desperate to diversify, create jobs and import electricity from north India. Both India and Pakistan are discontented with huge deficits in their bilateral trade with China; this is an important lesson to balance future India-Pakistan trade baskets.
Meanwhile, more pragmatic Indian and Pakistani business persons, who still cannot make cross-border foreign investments or take a direct New Delhi-Islamabad flight, are pushing for MFN to be actualised.
The Chinese export-led economy, with rising factory wages, is indirectly contributing to this push from the Indian end. "China is our biggest market in volume,'' Dhiren Sheth says; he is director at commodities trading firm C. A. Galiakotwala in Mumbai. "However, in terms of ease of doing business, Pakistan is the most convenient because of similarities in language, time zone and culture. In other countries, we work with agents. In Pakistan, we work directly with clients. Most apprehensions disappear overnight when you visit."
Amritsar-based Sinochem Impex long ignored the Pakistan market 50 kilometres away across the Radcliffe Line and instead traded with China and far-flung Ukraine. But five years ago, says the firm's partner Pardeep Sehgal, they made a decision based on logistical proximity to shift 70% of its business of sourcing chemicals and textiles from China to Pakistan. It proved to be faster and cheaper. This is sensible economics.
Textiles are Pakistan's main exports and India is still a vast and untapped market. Across the border in Lahore, billionaire Mian Mohammad Mansha made an unusual pitch in April for India over China, which is Pakistan's largest defence and nuclear technology supplier and all-weather ally. "I've always been a strong proponent of trade with India, which offers a bigger opportunity than China,'' Mansha, who is chairman of Pakistan's largest private employer, the Nishat Group, told The News. [4] In New Delhi last year, Mansha told the Hindustan Times he is eager to buy software from India instead of paying "10 times more" to European firms. [5]
A poll conducted in 2012 by the Pew Research Center in the U.S. showed that six of 10 people in India and Pakistan favour increasing bilateral trade despite political distrust. This trade sentiment has to be optimised as both countries start to see each other as an addition to, rather than an alternative to, trade with China. To consolidate long-term linkages, business visas have to be delinked from political compulsions. Wiring money across borders must be simplified by opening bank branches. At the trade outpost at the Wagah border, on the ancient Grand Trunk Road where Indian farm products rot while waiting in queues of trucks before reaching Pakistan. Trade corridors on both sides of the border need a complete infrastructure makeover.
On a hopeful note, the two governments have set a goal of doubling trade from $2.7 billion in 2011 to $6 billion by 2014. The Confederation of Indian Industry estimates that India-Pakistan trade can grow to $10 billion in 2015. But given recent political tensions, this could stall. The Associated Chambers of Commerce and Industry in India says India-Pakistan trade may dip by 20% in 2012-13.
India cannot deprive itself of a future market for software, pharmaceuticals and services; Pakistan cannot be unable to sell its textiles or set up joint ventures in India. Unless the two nuclear-armed neighbours stabilise trade, they cannot make the transition to a larger investment relationship. India is waiting for Sharif, a hard-nosed businessman-politician to signal which way the new trade winds will blow from Islamabad – whether towards Chinese and Middle Eastern boomtowns alone or also to the border-towns across the road in India.
Reshma Patil is Associate Fellow, East Asia Studies, Gateway House: Indian Council on Global Relations. Follow her on Twitter @reshmapatil11 
This article was exclusively written for Gateway House: Indian Council on Global Relations. You can read more exclusive content here.
For interview requests with the author, or for permission to republish, please contact outreach@gatewayhouse.in.
© Copyright 2013 Gateway House: Indian Council on Global Relations. All rights reserved. Any unauthorized copying or reproduction is strictly prohibited.
References
[1] Embassy of India, Beijing. 'India-China bilateral relations >> trade & commercial relations.' Retrieved fromhttp://www.indianembassy.org.cn/DynamicContent.aspx?MenuId=3&SubMenuId=0 Accessed on May 7, 2013.
[2] Government of Pakistan, Ministry of Commerce. (2012) (S.R.O. No. 280 (I) /2012). Retrieved from http://indiapakistantrade.org/policy/Trade Policy/Pakistan/Import policy order/IPO 2009-Amendment March 2012.pdf Accessed on May 8, 2013.
[3] Joint statement of the 7th round of talks on commercial and economic co operation between commerce secretaries of India and Pakistan. (2012)  Retrieved from http://commerce.nic.in/trade/Joint_Press_Statement_CS_Pakistan_India_Sept_20_21st_2012.pdf  Accessed on May 8, 2013.
[4] Ahmad, M. (15 April 2012). 'India offers bigger trade opportunities than China: Mansha'. The News. Retrieved from http://www.thenews.com.pk/Todays-News-3-102987-India-offers-bigger-trade-opportunities-than-China:-Mansha Accessed on May 7, 2013.
[5] Patil, R. (14 April 2012). 'Pak's richest man says "silly" barriers must go'. Hindustan Times. Retrieved from http://www.hindustantimes.com/India-news/NewDelhi/Pak-s-richest-man-says-silly-barriers-must-go/Article1-840234.aspx Accessed on May 8, 2013.