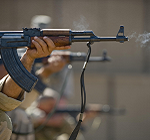 For decades, India and China have battled terrorism and separatist insurgencies emanating from Pakistan. Both countries have common interests in containing this challenge. But their differing foreign policy objectives and the Sino-Pakistan alliance, which is designed to contain India, have resulted in divergent approaches and limited success in combating terrorism.
India and China have worked on counter-terrorism through annual bilateral dialogue, annual military-level joint exercises, and at multilateral forums like the United Nations, BRICS, and the Shanghai Cooperation Organisation (SCO). China also holds periodic counter-terror dialogues with Pakistan.
But the record of over a decade of such engagement between India and China indicates that the bilateral dialogue has mostly been talk, with no substantial gains for either side. India has regularly briefed the Chinese on Pakistan's complicity in various terror incidents in India; the Chinese have been reluctant to accept India's concerns and press Pakistan to act.
Beijing has linked the terrorism issue with the unresolved Kashmir issue and the larger narrative of India-Pakistan relations. The Chinese side did not budge even when, after the 2008 attacks in Mumbai, India proposed to the UN to formally designate as terrorists prominent Pakistan-based militant operatives including Hafiz Saeed of the Lashkar-e-Toiba (LeT), who masterminded the Mumbai attacks and Maulana Masood Azhar of Jaish-e-Mohammed, who has been involved in a number of terrorist incidents in India. [1]
Considering these differences in their perceptions of terrorism, how can India and China move forward? What are the ways in which India can prod China to act on its concerns about the terrorist infrastructure in Pakistan?
The security situation evolving in Afghanistan after the withdrawal of the U.S.-led International Security Assistance Force has given India a good opportunity to develop a collective approach with China on terrorism and regional security issues.
Both countries have an enormous economic stake in Afghanistan: India has given Afghanistan $2 billion in development aid, and China has invested more than $3.5 billion in the Aynak mining project. China is also involved in the Amu DaryaRiver Basin oil deposits in the northern Afghan region. [2, 3, 4]
Both countries are also concerned with the Taliban making a comeback. China is particularly concerned about the impact on its Xinjiang province, and about the activities of the East Turkeystan Islamic Movement (ETIM) in Xinjiang, which has long been linked to Al Qaida. [5]
This ample common ground of security interests is an opportunity for New Delhi to convince the Chinese to work together with India to diminish the terrorist infrastructure in the region.
The upcoming bilateral dialogue with Chinese Premier Li Keqiang is the right forum for galvanising this security agenda. The Chinese government is known to emphasise technicalities and details, so the best way for a winning start will be for India to meticulously prepare its position on the issue.
New Delhi can also stress the economic angle – an unstable security situation will negatively impact economic growth, market development and foreign investment in the region.
There is a third area of cooperation: both countries have undertaken joint military exercises for countering terror. Now they can explore cooperation on operational intelligence, and sharing details on the threats faced by both countries in Afghanistan and on links to Pakistan-based terrorists. New Delhi and Beijing have made an earnest beginning by discussing the Afghanistan issue at the level of National Security Advisors earlier this year in Moscow, and at the bilateral counter-terror dialogue in Beijing in April 2013.
Meanwhile, Pakistan has been careful about ensuring the security of Chinese nationals in Pakistan, and has cracked down on groups like the ETIM, which have targeted Chinese nationals working in Pakistan on infrastructure projects. But anti-India jihadi groups continue to operate with impunity in Pakistan. Some Chinese nationals are reportedly also getting involved in anti-India activity. This was revealed during the interrogation of detained LeT operative Abu Jundal in July 2012. He said that Pakistani territory bordering Xinjiang has been used by the LeT for running terror training camps against India, with training given by a Chinese national. [6]
India must be firm about this, at least: that Beijing must adopt a zero-tolerance approach to all forms of terrorism undertaken in its territory against India, because it can affect the bilateral relationship.
Apart from this, India can utilise multilateral forums like the BRICS and the Regional Anti-Terrorist Structure of the SCO to evolve a regional approach on terrorism radiating from the Afghanistan-Pakistan core.
China's willingness to discuss the terrorist safe havens in Pakistan has surprised many analysts. But Beijing is merely aligning its security interests with the global consensus on terrorism, which crystallised post-9/11.
Now India must push China to make this engagement meaningful, despite the Sino-Pakistan alliance and other differences in the bilateral relationship.
Sameer Patil is Associate Fellow, National Security, Ethnic Conflict and Terrorism, at Gateway House.
This article was exclusively written for Gateway House: Indian Council on Global Relations. You can read more exclusive content here.
For interview requests with the author, or for permission to republish, please contact outreach@gatewayhouse.in.
© Copyright 2013 Gateway House: Indian Council on Global Relations. All rights reserved. Any unauthorized copying or reproduction is strictly prohibited.
Chronology of bilateral counter-terror cooperation
2002: Beginning of annual bilateral counter-terror dialogue in the immediate aftermath of the 9/11 attacks.2007: Launch of the annual military-to-military exercise 'Operation Hand-in hand', with the militaries of both countries showcasing their strength in counter-insurgency operations along with joint training and counter-terror drills.2011: India and China become founding members of the Global Counter Terrorism Forum under the chairmanship of Turkey and the U.S., primarily working on capacity- building in the Sahel, Horn of Africa and Southeast Asia.2013: National Security Advisors of India, China and Russia meet in Moscow for a trilateral dialogue to exchange notes on the security situation and discuss options to tackle the likelihood of the Taliban making a comeback.
References
[1] US Department of State, Beijing Embassy Cable. (2009).Indian information inadequate to warrant listing of three Pakistan-based individuals (221726 8/21/2009). Retrieved from website: http://www.thehindu.com/news/the-india-cables/the-cables/article2082221.ece
[2] Delhi Investment Summit on Afghanistan.  'Economic links between India and Afghanistan'. Retrieved from http://www.dsafghan.in/pdf/India-Afghanistan.pdf
[3] Behbud, F. (2012, 1 11). 'China's investment in Afghan oil field a step towards self-sufficiency: Afghan official'. Xinhua. Retrieved from http://news.xinhuanet.com/english/indepth/2012-01/11/c_131355175.htm
[4] World Bank, (2013). Aynak and mining in Afghanistan. Retrieved from website: http://www.worldbank.org/en/news/feature/2013/04/02/qa-aynak-mining-afghanistan
[5] United Nations. 'Security Council Committee pursuant to resolutions 1267 (1999) and 1989 (2011) concerning Al-Qaida and associated individuals and entities', (2002). QE.E.88.02. Eastern Turkistan Islamic Movement. Retrieved from website: http://www.un.org/sc/committees/1267/NSQE08802E.shtml
[6] 'Chinese trained Lashkar militants against India: Jundal'. (2012, July 3). Zee News. Retrieved from http://zeenews.india.com/news/nation/chinese-trained-lashkar-militants-against-india-jundal_785178.html