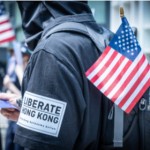 The weekly anti-government protests in Hong Kong – now in their fifth month – have dominated international headlines, especially in the Anglo-American media. The protests seem to be the first battleground in a new Cold War between the United States and China: coverage of the issue in the media shows the emergence of two competing narratives.
The mass protests – the most serious political crisis since the former British colony's handover to China in 1997 – started in June against a bill that would have allowed the extradition of fugitives from Hong Kong to mainland China for trial. Although the bill has now been withdrawn, the protesters have widened their demands to include the promised electoral reforms, especially the right to elect the city's leader.
The outcome in Hong Kong is of critical importance. The city-state had a prominent position during the Cold War years as a Western enclave, a nodal point for international financial flows, and a city where major international media are based. The anti-Communist media networks – notably the CIA-funded Radio Free Asia – were located on the territory to fight Communism. In the changed geopolitics of the 21st  century, Hong Kong is emerging once again as a key location for a new ideological conflict, this time with competing versions of capitalism. In a symbolic move, Joshua Wong, student activist and politician, speaking on 9 September 2019 at Berlin's News Conference Centre – which is built on what used to be a no man's land between East and West Germany during the Cold War – termed the Hong Kong protests part of a 'new Cold War'.
The anti-government protests, and by extension, anti-Beijing sentiment, appear to have a popular base, especially among young Hong Kongers. Besides the demand for democratic norms, their resentment has also grown because of unaffordable public and private housing, a situation partly attributed to rich Chinese mainlanders who have bought lucrative pieces of property, thus raising further already exorbitant prices. If such trends continue, the protesters worry that the 'one country, two systems' framework, which was agreed upon at the time of the handover, will be reduced to 'one country, one system'.
These sentiments, manifesting also in deep prejudice against mainlanders, is visible in social media memes, many of which are highly objectionable from Beijing's point of view. Such loaded phrases as Chinazi,[1] with its obvious Fascist connotations, are doing the rounds on social media, as well as on posters in parts of the city. China-linked stores, restaurants and banks have been damaged.
Videos of protesters waving the British or American flag are also emphasised in the Beijing version of events in official mouthpieces of the Communist Party of China, such as China Daily and The People's Daily, as also the extremely active Chinese cyberspace.
Chinese social media networks, such as Weibo, and Douyin, the Chinese version of TikTok, feature[2]  pro-China crowds, singing the Chinese national anthem in glittering Hong Kong malls, and violent protesting mobs attacking unarmed citizens and police officers. Chinese foreign ministry spokesperson Geng Shuang termed  the U.S. Congressional Committee's approval of legislation to pass the Hong Kong Human Rights and Democracy Act of 2019 as 'rude interference' in China's internal affairs, exposing, "the sinister intentions of some people in the United States to disrupt Hong Kong and contain China's development".[3] Such language, reflective also of the year-old, and as yet unresolved, Sino-U.S. trade war, is typical of the media narratives emanating from Beijing.
While this is the focus of media coverage in mainland China, such actions have not been making headline news in the U.S.-dominated international media. For example, the Chinese media circulated widely a photograph of Joshua Wong and other key protesters meeting Julie Eadeh, the political counsellor at the U.S. consulate general in Hong Kong, in August.  Wong is being portrayed as a favourite of the U.S. media. An article in The New Yorker described how Wong had evolved from "defiant teenage protester to international lobbyist and emerging politician"[4]. The New York Times gave space for an editorial page opinion piece to Wong and his fellow protester, Alex Chow,[5] while the Washington Post ran a 'Video Opinion' on its website, saying "Hong Kong's protests are a universal fight for freedom. The world must join us." Apart from Wong, the short video featured three other activists – Denise Ho, Brian Leung and Nathan Law – and was framed as "a clash between authoritarian and democratic values".[6]
Other anti-government protests taking place around the world do not seem to have received the same attention and consistent and effusive coverage in these liberal bastions of the international news media. The anti-government agitation in Baghdad in October, when more than 150 protesters were killed and nearly 6,000 wounded, offers particularly striking contrast. The story never made international headlines. The Hong Kong protests have been thankfully free of casualties and the damage to public and private property has been nowhere close to that inflicted in Baghdad, Santiago and Barcelona.
The pro-protest and interventionist media narrative – most strident in the Anglo-American media and followed to a lesser degree by other major Western networks, such as Germany's DW News and France 24 – is quite at variance with the studied silence of media networks in India, which are perhaps following the tradition of non-alignment and non-interference in the internal affairs of other nations, especially if that nation happens to be a powerful neighbour.
Daya Thussu is Professor of International Communication at Hong Kong Baptist University. His most recent book is International Communication: Continuity and Change, third edition, 2019, Bloomsbury Academic, New York.
This article was exclusively written for Gateway House: Indian Council on Global Relations. You can read more exclusive content here.
For interview requests with the author, or for permission to republish, please contact outreach@gatewayhouse.in
© Copyright 2019 Gateway House: Indian Council on Global Relations. All rights reserved. Any unauthorized copying or reproduction is strictly prohibited.
References
[1] Su, Alice and Kilpatrick, Ryan Ho, "Hong Kong protesters step on images of Xi Jinping's face and appeal to the world", Los Angeles Times, 29 September 2019, https://www.latimes.com/world-nation/story/2019-09-29/hong-kong-protesters-xi-jinping-china-police
[2] Chiu, Karen, "Hong Kong protests: A look from inside and outside China's Great Firewall", South China Morning Post, 20 September 2019  https://www.abacusnews.com/culture/hong-kong-protests-look-inside-and-outside-chinas-great-firewall/article/3028064
[3] Xinhua, "China slams US as congressional panel passes HK-related Act", China Daily, 26 September 2019,
https://www.chinadailyhk.com/articles/27/151/166/1569505805458.html
[4] Stack, Megan, "Joshua Wong's Long Campaign for the Future of Hong Kong", The New Yorker, 23 October 2019,
https://www.newyorker.com/news/dispatch/joshua-wongs-long-campaign-for-the-future-of-hong-kong
[5] Wong, Joshua and Chow, Alex, "The People of Hong Kong Will Not Be Cowed by China", The New York Times, 31 August 2019
https://www.nytimes.com/2019/08/31/opinion/hong-kong-protest-joshua-wong.html
[6] Editorial-Opinion,"Opinion: Meet the Hong Kong activists driving the global fight for freedom", Washington Post, 2 October 2019
https://www.washingtonpost.com/video/editorial/opinion–meet-the-hong-kong-activists-driving-the-global-fight-for-freedom/2019/10/01/56efeca9-6feb-4a05-8cf0-fe775de06e09_video.html