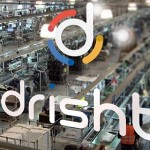 1. Introduction
Established in 2016, Drishti Technologies (Drishti) is a U.S. based company that uses AI and computer vision to produce continuous, system-wide data for manual factory tasks, by providing video analytics and video traceability for assembly lines. Improving a manual assembly line takes a huge amount of effort by engineers, supervisors, trainers, line associates, and others. Drishti provides data and insights for improving manual assembly lines faster, with much less effort, and much greater impact.
In 2019, Drishti was named a Gartner 'Cool Vendor' in manufacturing operations, as well in the World Economic Forum (WEF) Technology Pioneer, a group of 56 early to growth-stage companies from around the world that are involved in the design, development and deployment of new technologies and innovations, and are poised to have a significant impact on business and society. Drishti's India office is based in Bengaluru.
The proprietary neural-network architecture at the core of the Drishti offerings, are 100% Made in India. Drishti has a presence in the automotive and electronic manufacturing sectors that have extensive assembly lines. It has customers such as Denso, a $ 48 billion, Japanese company with multiple lines in North America. Three of the top six global auto OEMs, two of the top five auto tier-one companies, and two of the top three electronics contract manufacturers are also customers of Drishti.
The unique solutions offered by Drishti has seen the company attract $10 million series A funding in May 2018, followed by $25 million series B funding in June 2020. Toyota AI ventures, one of the investors in the Jun 2020 funding sees Drishti's technology as a way to help everyone on the factory floor identify opportunities that can improve performance and create greater value.
2. Products
Pioneers of the manufacturing world started using the stopwatch to measure human efficiencies. In an IoT based manufacturing environment, stopwatches are no longer an effective option to measure productivity. Dr.Prasad Akella, founder and CEO of Drishti states "Despite all of the industry hype around robotics and automation, humans still do the vast majority of factory tasks, in fact, humans are responsible for 72% of the tasks on the factory floor, and create three times the value of machines". That means more than 70% of the tasks behind global manufacturing GDP are effectively invisible to analytics. This large dependence on human activity in manufacturing introduces 73% variability, and 68% defects due to human actions.
The products at Drishti aim to convert human activities into data at scale. Bringing invisible human actions in to the data pool drives productivity, quality and safety at scale on the factory floor. Drishti's computer vision technology creates data from something that has been historically very difficult to measure: manual activities on the assembly line. Dave Prager, Head of Marketing and Business Development at Drishti states that "In the same way SAP transformed the financial data set into a business tool almost 30 years ago, Drishti believes the manufacturing data set is the new business tool today".
Drishti uses a combination of deep learning and computer vision techniques to digitise activities by humans on the assembly line. Some of the applications include:-
Process cycle detection that aids in generating insights such as average cycle time and average job time. These can also be used to build analytics such as line efficiencies and productivity.
Process action detection that helps detect bottlenecks in sequential lines, as well as provides a step-by-step verification of operator actions on an assembly line. It is akin to having a Google Map for all the human operators on the manufacturing lines. Extensions of the process action detection also can include missed step detection and introducing digital Poka-Yoke.
According to Drishti's research, a process engineer on an average, spends a third of his time on motion studies on the assembly line and an almost equal time on root cause analysis. These activities are not value creating. Optimising assembly lines to improve productivity and quality requires a lot of data. Manual motion-time studies and root cause analysis are time consuming and are often hindered by a small dataset size and inherent observer bias. Assembly line optimisation in such an environment is therefore slow, costly, often ineffective and completely insufficient to meet business needs.
The solutions offered by Drishti capture video and data from activities on the line, creating datasets with a scope and richness that has never before been available for manual assembly operations. Their solutions offer real-time process optimisation tools through: –
Live streaming for remote visibility.
Video capture, storage and search – to quickly identify root cause of anomalies and defects.
Easy video tagging and sharing throughout the organisation
Time-motion study analytics based on computer vision and deep learning models.
Training tools like annotation and tagging that drive standardized work adherence.
Multiple stakeholders on the factory floor can benefit from the solutions provided by Drishti. Some of these benefits are tabulated below: –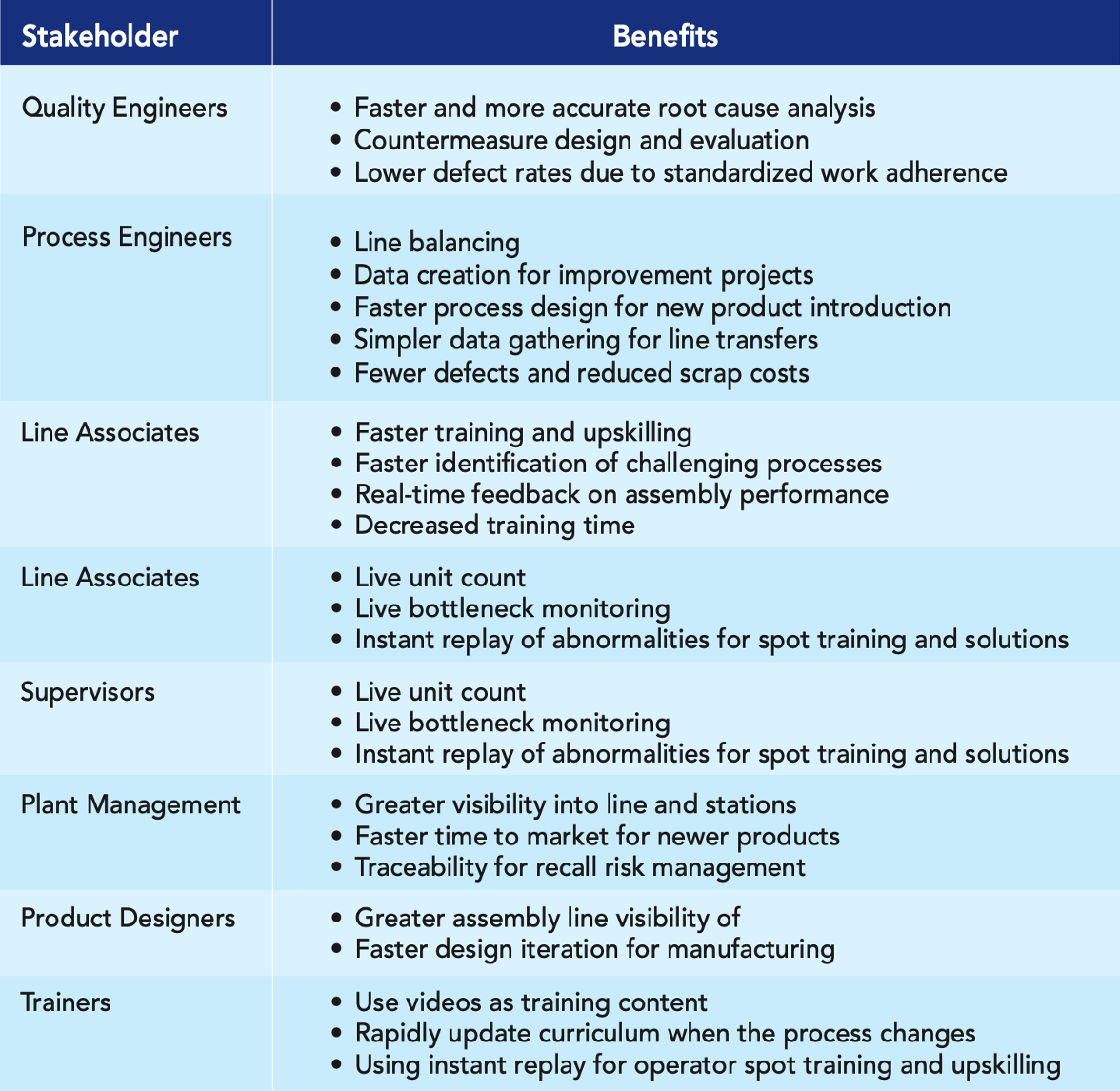 3. Implementation Model
One of the line manager's jobs is to walk up and down the line and check things. A human supervisor can only see a few things at a time. Drishti, with its technology stack provides far insights on the line than possible with human eye and intelligence. Some important features of Drishti's solutions are: –
The solutions augment people instead of displacing them.
They reduce operator errors and improve productivity.
The technology aims to improve the whole system at once, not just isolated stations or steps.
Customers do not need programmers or data scientists. Drishti offers a full-stack solution with apps that anyone can use on the factory floor.
Most customer engagements begin with a Value Assessment Workshop (VAW). This methodology helps the customer quickly isolate the impact of Drishti's video analytics and video traceability on quality, productivity and training. The VAW is an 8-week programme structured to achieve two goals: create immediate operational Return on Investment (ROI) in terms of quality or productivity, and provide the data necessary to calculate the business value of a larger-scale.
A VAW typically takes place on 1 to 2 lines, on up to 30 stations. The VAW focuses on more complex problems, such as the ones that have the most variability, the largest quality issues, or the most operator turnover. Drishti then focuses on use cases that can:-
Improve efficiency by understanding the causes of bottlenecks and production anomalies.
Optimise process through identification of process variability and inefficiencies.
Reduce defects through an instant replay, for root cause analysis and to review historical build-up episodes.
Provide remote accessibility through live streaming for increased visibility, remote collaboration and reduced travel time and cost.
The VAW typically involves the following methodology: –
Pre-Project – Deploy Drishti cameras on live stations.
Week 1 to 5 – Prove the ROI for Drishti's video analytics tools. Use cases include training, remote visibility, inspection, and root cause analysis. Drishti assists with site selection, education and workflow design.
Week 6–Prove the ROI for Drishti's process optimization tools. Drishti facilitates a kaizen event, using process analysis data created by Drishti's tools and services.
Week 7 to 8 – Post-kaizen monitoring to confirm impact and ROI.
Once Drishti provides data that has the potential to improve productivity, it is very important to re-build work flows to utilise the growing data points made available by Drishti. Some of the improvements seen after the VAW are tabulated below: –

4. Key Findings
Industry 4.0 has a massive blind spot – people. Time-and-motion studies are a poor source of data as they are performed manually, which means they produce minuscule sample sizes and the very act of one person observing another introduces significant observation bias. Introducing video- analytics on process lines can significantly impact productivity, quality and safety.
Manufacturing lines with a high degree of repetitiveness and predictability offer patterns that are used to create models for delivering process insights through video analytics. Factory floors with a high degree of variability – introduced by the process itself or by line-operators find it difficult to tap the benefits of computer vision-aided analytics. Manufacturers must therefore focus on building repeatability and predictability into their manufacturing lines.
Non-Disruptive Integration: The solutions offered by Drishti can be implemented without significant disruption to assembly lines or interference with existing processes. Some of these features include:
No heavy IT integrations
No need to redesign stations
No need to redesign processes
No requirement of Augmented Reality (AR) or Virtual Reality (VR) glasses
No specialised operator training
No heavy equipment to install
The tools offered by Drishti also aid in preservation of jobs as manual performance in each category improves. This offers companies an important alternative to expensive automation solutions.
Commander Amrut Godbole is Fellow, Indian Navy Studies Programme at Gateway House.
Manjeet Kripalani is Executive Director and co-founder at Gateway House.
Sagnik Chakraborty is Former Researcher, Cybersecurity Studies Programme at Gateway House.
This case study is a part of Gateway House and India EXIM Bank's study, 'Digital Manufacturing in India'. You can read exclusive content here.
For interview requests with the author, or for permission to republish, please contact outreach@gatewayhouse.in.
© Copyright 2021 Gateway House: Indian Council on Global Relations. All rights reserved. Any unauthorized copying or reproduction is strictly prohibited.