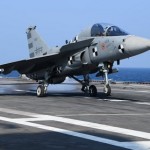 On 16 May 2020, Finance Minister Nirmala Sitharaman announced a series of measures to strengthen defence manufacturing in India. These measures include raising the foreign direct investment limit from 49% to 74% in the defence sector under the automatic route, promotion of corporatisation of the Ordnance Factory Board and a ban on imports of certain weapons and platforms.[1] These are undoubtedly ambitious measures, and if appropriately implemented, will significantly expand domestic defence-industrial capacities.
In the last two decades, India has modernised its military, mostly through imports as domestic manufacturing of advanced equipment is restricted and burdened by excess regulation. Efforts to promote private sector participation in defence manufacturing have yielded limited results, largely due to the opposition of the defence public sector units (DPSUs). These have enjoyed a seven-decade old monopoly in a monopsony market, without commensurate quality production.
Unable to make progress in this area, India's private sector companies such as Tata, Bharat Forge, and Mahindra Aerostructures have participated through tie-ups with the U.S. and European aerospace companies, enabling them to manufacture and export sub-systems as an active participant of the global supply chain.
Under the flagship 'Make in India' programme of 2014, the government sought to expand the country's defence-industrial base. The mechanisms for participation are through the Strategic Partnership (SP) model and the Innovations for Defence Excellence (iDEX) programme. The SP model allows tie-ups between Indian and foreign defence companies to produce fighter jets, submarines, helicopters and warships. The model was announced in 2017 but due to the protracted defence procurement procedure, it has only been activated recently, in January 2020 by the Defence Acquisition Council when it shortlisted public sector Mazagon Dock and private sector L&T for Rs. 45,000-crore contract, for P75I diesel-electric submarines for the Indian Navy.[2]
The Defence Innovation Organisation, funded by Hindustan Aeronautics Limited and Bharat Electronics Limited, has been promoting innovation through the iDEX programme.[3] There is no commercial output as yet, since the programme is still being fleshed out. Once developed, some of these technological innovations like unmanned surface and underwater, 4G/LTE tactical local area, secure hardware encryption devices etc.[4] which are being developed by individual innovators and start-ups will come on the market and are expected to augment the operational capabilities of the Indian military.[5]
These limited mechanisms will not do much towards helping India create a vibrant defence-industrial base. India is far, far behind, and is in stark contrast to countries such as South Korea, Turkey and Brazil which have built a robust defence-industrial base and become defence exporters. Similarly, China, which was one of the largest arms importers, till two decades ago, is now the world's fifth-largest arms exporter.[6] It has achieved this through a focus on research and development (R&D), coupled with 'reverse engineering' of Russian and Western hardware. China's self-reliance in defence manufacturing also has serious implications for India as Beijing has assiduously exploited its role as a defence supplier to entrench itself in India's neighbourhood.[7]
This reform, therefore, comes not a moment too soon, and the Ministry of Defence will have to step up the pace of deregulaton and pragmatic planning for the immediate, medium and long term.
Immediate
* The SP model has to be re-oriented to encourage and enable partnerships between the DPSU and the Indian private sector. The DPSU's strengths are its infrastructure and decades of experience, while the private sector brings sophisticated management and financial expertise. A consortium will leverage the best of both sectors. Such consortia ought to be prioritised in defence procurement, or, as an initial experiment, be awarded contracts for manufacturing equipment from the already marked categories under the SP model.
Medium
* India's future lies in the Indo-Pacific. A key enabler for this is the Indian Navy, which has undergone a significant expansion. Yet, in critical platforms, the Navy still lags. The Navy needs greater budgetary resources to achieve the necessary strategic capacity – 22%-23% of the annual defence budget, closer to the share of the Air Force.
* India can initiate flagship domestic programmes based on existing competencies in information and digital technologies. This will help to integrate the commercial and manufacturing dimensions of production with R&D efforts and expedite the commercialisation of these technologies. It also offers opportunities for Indian IT majors such as Tech Mahindra, Tata Consultancy Services, Wipro and HCL Technologies, which have so far played a limited role in military modernisation.
* The Ordnance Factory Board (OFB), which manages 41 factories across India is a valuable asset for India's defence-industrial base. The corporatisation of the OFB will give it the necessary framework to deliver optimal performance. To enlarge OFB's role, the government should encourage it to initiate collaborative industry research to identify global trends in emerging technologies and their implications for the Indian defence industry.
Long-term
* The Indian Navy is the most indigenised of the three services, yet the capacity for shipbuilding is primarily concentrated in the DPSU shipyards, rather than the private sector. This is not encouraging for the private sector companies, which are hoping to get a larger share of defence contracts. To provide capacity and resources, the government can explore creating the global model of a Common User Facility (CUF), which can potentially have facilities such as fabrication, assembly, commissioning, maintenance, and repair activities. A model worth emulating is the Australian Marine Complex's CUF in Henderson, Western Australia[8]– which enables private shipyards to bid for shipbuilding contracts, without replicating the existing infrastructure.[9]
* India has initiated some technology co-development and co-production projects with the U.S., Israel and Japan. This cooperation needs to evolve to include additive manufacturing (3D printing) – the technology which is already proliferating in the production of aerospace and naval systems. The scope this technology offers for customisation can be advantageous for the Indian defence industry in capacity-building.
The rapidly-obsolescing nature of military hardware has made the defence-industrialisation push vital for India. By bringing certainty to the defence procurement process, monitoring emerging technologies and joining hands with like-minded countries, India can create a vibrant and profitable defence-industrial base.
Read the paper here.
Sameer Patil is Fellow, International Security Studies Programme, Gateway House.
This article was exclusively written by Gateway House: Indian Council on Global Relations. You can read exclusive content here.
For interview requests with the author, please contact outreach@gatewayhouse.in.
© Copyright 2020 Gateway House: Indian Council on Global Relations. All rights reserved. Any unauthorized copying or reproduction is strictly prohibited.
References
[1] Press Information Bureau, Government of India, Finance Minister announces new horizons of growth; structural reforms across Eight Sectors paving way for Aatma Nirbhar Bharat, 16 May 2020, <https://pib.gov.in/PressReleasePage.aspx?PRID=1624536>
[2] Kaushik, Krishn, "Rs 45k-crore submarine project: Mazagon Dock, L&T in, Adani out", The Indian Express, 22 January 2020, < https://indianexpress.com/article/india/rs-45k-crore-submarine-project-mazagon-dock-lt-in-adani-out-6228865/>
[3] Department of Defence Production, Ministry of Defence, Government of India, Innovations For Defence Excellence (iDEX), <https://makeinindiadefence.gov.in/pages/innovations-for-defence-excellence-idex->
[4] The unmanned surface and underwater vehicles are being developed by Johns T Mathai; 4G/LTE tactical local area network by Ramu Srinivasaiah, Nishant Shah, Neha Satak and Kannan G.; and secure hardware encryption devices by Pradeep Kumar, Giridhar Narasimhamurthy and Mohan Jindal.
[5] Ibid.
[6] Wezeman, Pieter D., Aude Fleurant, Alexandra Kuimova, Nan Tian and Siemon T. Wezeman, 'Trends in International Arms Transfers, 2018', SIPRI Fact Sheet, March 2019, <https://www.sipri.org/sites/default/files/2019-03/fs_1903_at_2018.pdf>
[7] Bhandari, Amit and Chandni Jindal, 'Chinese Investments in India's Neighbourhood', Gateway House, Maps No. 4-9, February 2018, <https://www.gatewayhouse.in/chinese-investments-in-indias-neighbourhood/>
[8] Australian Marine Complex, "What is the Common User Facility (CUF)?", <https://australianmarinecomplex.com.au/common-user-facility>
[9] Briefing given to the author at the Common User Facility, Henderson, Perth, 27 May 2019