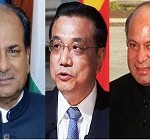 Indian Defence Minister A.K. Antony and Pakistani Prime Minister Nawaz Sharif are on near-simultaneous visits to China this week. Significant is the fact that this is Sharif's first foreign visit after becoming Prime Minister while this is the first visit to China by any Indian Defence Minister in seven years. From the Chinese side, Premier Li Keqiang who visited first India and then Pakistan in May, also made them his first official foreign call after assuming the premiership.
Why this peculiar convergence in Beijing between diverging interests? Apart from China's own deep economic interests in the subcontinent, surely the U.S. refocus on the Asia Pacific and the uncertain regional security scenario after the NATO withdrawal from Afghanistan, has forced the new Chinese leadership to intensify its engagement with both India and Pakistan.
Trade and economic issues dominate Sharif's agenda. Antony will focus on enhancing the military engagement with China and security issues – a challenge, given the Depsang incursion which will cast a pall on the India-China bilateral for some time to come.
Antony's visit has come soon after that of our National Security Advisor Shivshankar Menon who held the 16th round of border negotiations with his Chinese counterpart State Councillor and Special Representative (SR) Yang Jiechi in Beijing on June 28-29. Depsang was at the centre of these discussions. Menon's talks with Yang who is charged with negotiating the long-standing boundary dispute, helped to gauge Beijing's stance: predictably, to engage India in negotiations even while ignoring our security concerns.
These negotiations, which began in 2003, are now in the second phase. However, India and China seem unable to negotiate a framework for resolution of the dispute, and incidents like Depsang only make it more difficult. Hawkish warnings such as those issued July 4 by nationalist People's Liberation Army Major General Luo Yuan, asking India 'not to stir up border trouble' and disputing the boundary with Arunachal Pradesh, causes further ferment.
China has been trying to push a Border Defence Cooperation Agreement with India – but New Delhi has resisted, expressing reservations on two clauses about the development of border infrastructure and maintenance of troop levels.
Clearly, by the time both sides sit down to actually thrash out their respective territorial claims, the negotiations will have become protracted and complex.
There are ways of mitigating the mistrust, starting with more visits like Antony's and a greater interaction and acquaintance between the two militaries. So far, we only have one annual joint military exercise, 'Operation Hand-in-Hand' – suspended after the 2009 visa controversy. Periodic border meetings between the two armies have yielded nothing substantial. 'Hand-in-hand' will hopefully resume later this year, but what is really required is increasing the number of annual exercises, visits to military facilities and the creation of institutional linkages between military-backed think tanks and universities like China's Academy of Military Science and the National Defence University and India's Institute of Defence Studies and Analyses and United Services Institution.
Meanwhile, Sharif's Beijing agenda is economic and critical to the revival of Pakistan's sinking financial fortune. The current account deficit is $1.3 billion and foreign exchange reserves are just $11.34 billion [1], with a debilitating energy crisis. Despite the much-touted Pakistan-China friendship being "higher than the mountains, deeper than the ocean and sweeter than honey," the bilateral trade at $12 billion is a fifth that of India-China trade. Sharif desperately needs Chinese economic investment- but concerns about Pakistan's stability have limited China's economic assistance to Pakistan.
When Premier Li visited Pakistan he signed an agreement to create an 'economic corridor' linking the central and western parts of China and Pakistan. The Gwadar port, the Karakoram highway and special economic zones along the corridor route are the building blocks of this corridor. Sharif will surely request the Chinese to expedite these proposals, and will attend a China-Pakistan Energy Forum in Shanghai. Pakistan's National Economic Council has already approved four energy projects including the construction of two nuclear power plants in Karachi to be built with the Chinese assistance.[2]
For the Chinese leadership however, the priority will be the security situation in Pakistan and Afghanistan. China has approximately $3.5 billion in investments in Afghanistan, and expects the Pakistanis to keep the terrorists at bay there.[3] The come-back of the Taliban and its spillover effect on Xinjiang province, which is already witnessing renewed violence, is worrying Beijing, as are the continuing attacks on Chinese nationals in Pakistan. Whether Beijing will peg its further assistance to Nawaz Sharif's ability to rein in the anti-China activities from Pakistani soil, is yet to be seen.
For now, all eyes are on China as it deftly manages its converging and diverging security and economic interests in the sub-continent.
Sameer Patil is Associate Fellow, National Security, Ethnic Conflict and Terrorism, at Gateway House.
This article was exclusively written for Gateway House: Indian Council on Global Relations. You can read more exclusive content here.
For interview requests with the author, or for permission to republish, please contact outreach@gatewayhouse.in.
© Copyright 2013 Gateway House: Indian Council on Global Relations. All rights reserved. Any unauthorized copying or reproduction is strictly prohibited.
References
1. State Bank of Pakistan, (2013). Economy continues to face fiscal and external challenges in q3-fy13: SBP quarterly report. Retrieved from website: http://www.sbp.org.pk/press/2013/3QPR-13-Jun-2013.pdf and State Bank of Pakistan, (2013). Liquid foreign exchange reserves. Retrieved from website: http://www.sbp.org.pk/ecodata/FER/2013/Forex-21-June-13.pdf
2. Rana, S. (2013, July 5). Setting the game plan: Govt. okays power projects totalling 3,511MW. The Express Tribune. Retrieved from http://tribune.com.pk/story/572631/setting-the-game-plan-govt-okays-power-projects-totalling-3511mw/
3. Behbud, F. (2012, January 11). China's investment in afghan oil field a step towards self-sufficiency: Afghan official. Xinhua. Retrieved from http://news.xinhuanet.com/english/indepth/2012-01/11/c_131355175.htm