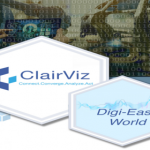 1. Introduction
Established in 2015, ClairViz is a Mumbai based technology company providing solutions for digitization of the manufacturing industry. The company focuses on providing Smart Factory solutions by leveraging technologies such as Big Data, Internet of Things (IOT) and Internet of Services (Cloud).
Global competition, increasing consumer demands, availability of choices and paucity of skilled manpower are driving manufacturing organisations to adopt digitalization across value chains. These factors are creating a huge demand on product and solution providers to convert legacy factories into modern data driven factories of the future. ClairViz provides its customers end-to-end solutions for Manufacturing Intelligence projects that are backed by expertise in project engineering, design, electricals, automation, sensors, and software development.
2. Products and Services
Products
ClairViz has a range of products targeting various problems on the factory floor or value chains. These are : –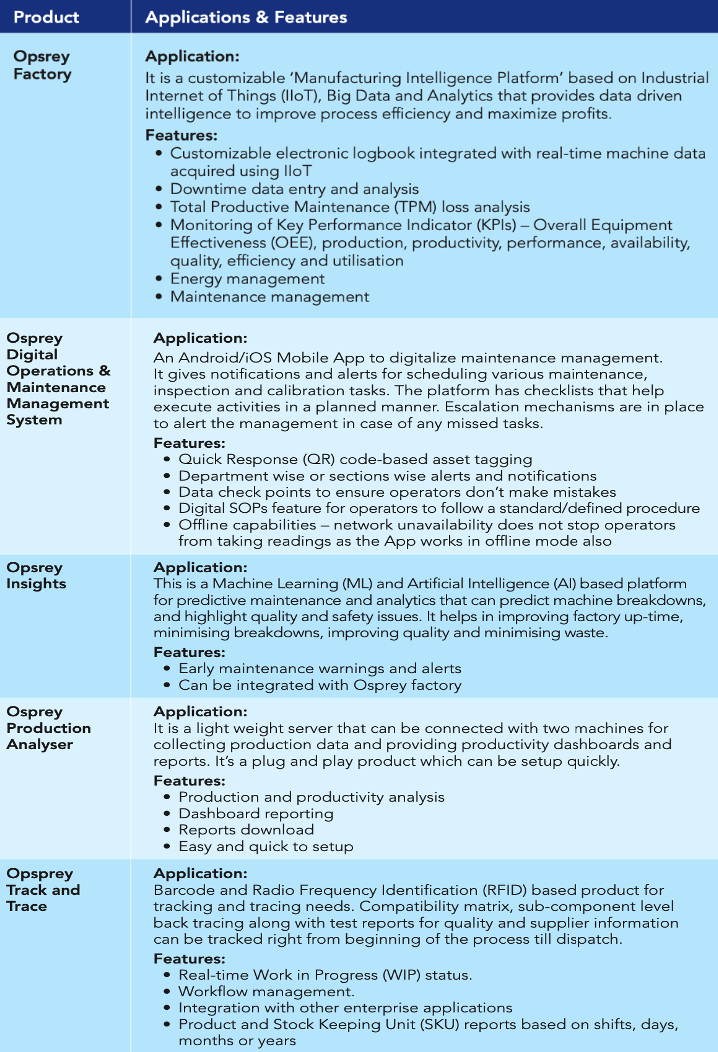 Services
Apart from providing the products for digitisation of the factory, ClairViz also offers services for: –
Manufacturing intelligence solutions
Enterprise Resource Planning (ERP) integration
Business Intelligence (BI)integration
Statistical Process Control (SPC)analysis
Online production systems
Programmable Logic Controllers (PLC)
Supervisory Control and Data Acquisition (SCADA) systems
IOT controllers
Manufacturing Execution System (MES)
Process and electrical control systems
3. Implementation Model
Factors Impacting Implementation: The following factors are taken into consideration prior to implementation: –
Maintaining integrity of existing production processes
Providing real-time capabilities
Modularity
Information Technology (IT)security
Reliability and stability
Protection of industrial know-how
Interoperability
Start Small: The ClairViz Osprey Production Analyser employs data logging of three basic parameters on a machine or a process – production count, rejection count and machine status. These parameters are logged by introducing four additional sensors into the production line. Data logged by these sensors is processed by Osprey Factory to implement real-time, digital, OEE in the production line. The OEE parameters analysed include: –
Line status (on/off)
Production
Productivity
Rejection rates
Availability
Quality
Downtime (planned and unplanned)
Production reports (according to shift, day, month, year)
Batch reports
Operator performance
TPM loss analysis
Pricing Models:
OPEX Model: This model is more suitable for the smaller entities within the MSME sector. This model is essential as a 'Pay as Use' model. At ClairViz, pricing models are available on the basis of number of machines connected to the specific digital tool.
CAPEX Model: This model is more suitable for the larger companies in the MSME sector capable of investing in up-gradation of infrastructure at the enterprise level. These models are customised to suit individual requirements of data analytics and integrate with existing systems within the factory floor such as ERP and MES.
4. Success Stories
Hindustan Petroleum Corporation Limited (HPCL)
Background: HPCL is a global energy major that operates refineries, oil terminals, LPG plants and retails outlets.
Problem Definition: With the goal of setting new standards in operation and maintenance, the company wanted to tap IoT and digitalization of assets across their businesses; to deliver sustainable benefits in terms of improved uptime, efficiencies and asset utilisation.
Solution: HPCL implemented Osprey Digital Operations and Maintenance Management System (DOMMS) at HPCL's Mumbai Refinery & Oil Depots.
Benefits: Post implementation the following benefits were accrued: –
Improved regulatory compliance to Oil Industry Safety Directorate (OISD) guidelines and
procedures
Improved audit and regulatory compliance due to automated data collection and reports
Digitalisation of manual processes leading to better coordination and management
Savings in 2.5 man-hours per day for data compilation, reporting and analysis, resulting in savings of more than $6000 per annum
Improved equipment life through preventive maintenance resulting in savings of $ 7000 per annum
Savings of over $ 20000 per location
Aditya Birla Yarn
Background: Aditya Birla Yarn (ABY) has five manufacturing plants in three countries – Indonesia, Philippines and Thailand. As part of the day to day operations, ABY's maintenance staff had to undertake and record several tasks related to preventive maintenance, inspection, testing and calibration.
Problem Definition: All reports pertaining to maintenance and inspection activities were being maintained in manual copies and in excel tables. Lack of homogeneity in data collection and storage made data analytics very difficult.
Solution: ClairViz implemented a complete digitisation of the original manual reporting and tracking system.
Benefits: Post implementation the following benefits were accrued: –
Reduced breakdown incidents
100% adherence to Standard Operating Procedures
Reduced maintenance cost
Proper planning, tracking and scheduling of tasks
Aditya Birla Insulators
Background: Aditya Birla Insulators (ABI) is India's largest and the world's fourth largest manufacturer of electrical insulators.
Problem Definition: ABI wanted to improve productivity by leveraging technology for: –
Reducing manual checkpoints and errors
Increasing productivity and efficiency
Improving machine utilisation
Achieving real-time monitoring of assets
Timely information of faults
Correlating the process parameters with quality
Solution: ABI implemented Osprey Manufacturing Intelligence System at their Halol plant in Gujarat.
Benefits: Post implementation the following benefits were accrued: –
360-degree view of operations
25% increase in capacity utilisation
Reduction in defects by 15%
Real-time monitoring of Critical to Quality (CTQ), to facilitate zero defects and subsequent improvements in productivity
Autofits Packaging
Background: Autofits Packaging is one of the biggest manufacturers of primary and secondary packaging materials for pharmaceuticals, beverages and food processing industries. Operating since 1985, it has three manufacturing plants in Nasik.
Problem Definition: Autofits Packaging wanted to utilise digital tools on their manufacturing lines to improve productivity.
Solution: ClairViz implemented the Osprey dash-board and reporting platform, which is a module under the Osprey Factory product line.
Benefits: Post implementation the following benefits were accrued: –
Real-time visibility of plant operations
Paperless production
40% improvement in productivity
24% increase in asset utilisation
5. Start-Up Enablers
Technology stacks developed by Google, Microsoft and Amazon have helped democratise technology thereby aiding competitive product development by the start-up ecosystem.
Cloud storage and cloud computing have eliminated the requirement to maintain a robust IT infrastructure and associated cyber-security aspects.
Till 2015, the cost of uploading a large volume of data to the cloud was very high. Competitive data bandwidth prices offered by companies such as Reliance Jio, etc. have helped reduce the cost of high-speed connectivity substantially, thereby providing a much-needed cost benefit for start-ups.
The 'Start-Up India' programme in partnership with the Department of Science and Technology has rolled out on-campus, incubation centres at various academic institutions. These incubation centres not only provide common office infrastructure at affordable rates, but also aid crucial student and start-up interaction.
6. Challenges for Start-Ups
Business to Consumer (B2C).
The start-ups in the B2C segment, have to reach a large number of customers. In order to be competitive, B2C start-ups need to spend substantial capital on advertising to improve their reach and customer base.
Business to Business (B2B).
Most of the start-ups offering Industry 4.0 solutions to manufacturers operate in the B2B segment. Start-ups in this segment often have to work against the client's hesitancy, which is usually centred around the quality of product or service, post-sale service and the sustainability of the start-up on a long- term basis as compared to already established players.
Skilling of Workforce.
Aditya Vermani, Business Head at ClairViz laments the unavailability of a certified and tested talent pool capable of product development and utilising programming skills in data analytics, Internet of Things (IOT) and Artificial Intelligence (AI). Typically, start-ups cannot hire already experienced workers and have to rely on fresh gradates. Unlike larger MNCs which run their own training and certification courses at in-house centres, the training of workforce skills for start-ups pose a significant challenge.
7. Key Findings
MSMEs Centric
MSMEs are not aware of the inefficiencies in their factory systems. In addition, many are not digitised enough to generate data that can be used to develop actionable process insights. Deployment of even the most basic digital tools can help significantly improve productivity for such companies.
Adoption of technology at an enterprise level will aid efficient integration of products and value chains with global standards and customer demands. Export oriented MSMEs will therefore be early drivers of Industry 4.0.
MSMEs will need to adopt a middle path between automation and employment generation.
Start-ups Centric
Start-ups need to limit their focus on specific technologies, products, and services under the wide ambit of Industry 4.0, in order to develop expertise and build reliability in their product.
The products developed by start-ups need to be generalised and not customised to attract a larger customer base.
Democratisation of technology has helped start-ups build quality products and services at competitive costs.
The agile structure of a start-up as compared to the relatively rigid structure of larger players offering similar products and services provides additional flexibility for the customer and also aids in compression of project execution timelines.
Commander Amrut Godbole is Fellow, Indian Navy Studies Programme, Gateway House.
Manjeet Kripalani is Executive Director and co-founder, Gateway House.
Sagnik Chakraborty is Former Researcher, Cybersecurity Studies Programme, Gateway House.
This study was conducted by Gateway House, in partnership with India EXIM Bank. Read the full study here.
For interview requests with the authors, or for permission to republish, please contact outreach@gatewayhouse.in.
Disclaimer: The contents of the paper are personal views of the author and do not reflect the official position of the Indian Navy or Government of India.
© Copyright 2021 Gateway House: Indian Council on Global Relations. All rights reserved. Any unauthorized copying or reproduction is strictly prohibited.