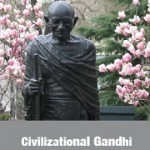 Abstract
From the central hall of the Indian Parliament in New Delhi to a statue at Union Square Park in New York, and across far flung corners of the world, M.K. Gandhi is loved and celebrated as an apostle of non-violence. Yet it is Gandhi's little-known work on what it means to be truly civilized that might be far more crucial to the future of our species.
The multiple global crises – social inequity, financial turmoil and ecological imbalance – have made it imperative to revisit and pay close attention to Gandhi's radical but more sustainable civilizational vision. Within India, both the economy and polity are in a state of distress. More than six decades after independence, India remains at the bottom of the United Nations' Human Development Index. Twenty years of economic liberalisation have expanded the size of India's middle class, but not raised the standard of living for the overwhelming majority of Indians. Globally, people are slowly acknowledging that the global financial system is fundamentally flawed and not just going through a cyclical low. We are also more sceptical now about the ability of the prevailing market culture to ensure even basic well-being for the seven billion people who inhabit the earth. At the same time, the human economy and nature's eco-systems appear to be critically out of sync. Despite an increasing urgency for trans-national cooperation, there are persistent fears about a clash of civilizations – primarily between the West and the Islamic world, but also within multi-ethnic societies in large parts of the contemporary world.
This paper explores how the Mahatma's civilizational vision can serve as a new lens to understand contemporary global crises – identity-based conflicts, the failed promise of universal prosperity and the threat of ecological collapse. What we have here are not ready solutions but a framework which might help us to forge solutions.
Related reading:
1. You can read a precis of this paper, here.
2. Mahatma Gandhi, unlike Keynes opposed an economic system where materialism mattered
The Economic Times, a leading newspaper in India, republished an edited version of this Op-Ed, by Rajni Bakshi, on 2 October, 2012. She explains why the Mahatma's little-known theory of a universal moral framework is relevant today, and assesses how it can guide us through contemporary economic and identity-related conflicts.
Gateway House launched this paper on 23 October 2012. You can view the details of the event here.
You can download the PDF version of this paper, here.
Rajni Bakshi is Gandhi Peace Fellow, Gateway House.
This paper was exclusively written for Gateway House: Indian Council on Global Relations. You can read more exclusive content here.
For interview requests with the author, or for permission to republish, please contact outreach@gatewayhouse.in.
©Copyright 2012 Gateway House: Indian Council on Global Relations. All rights reserved. Any unauthorized copying or reproduction is strictly prohibited.