---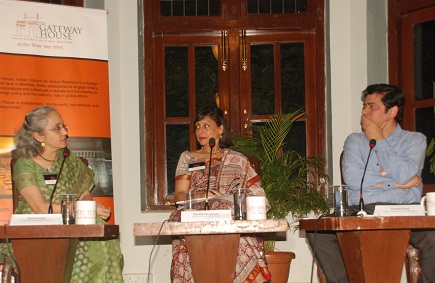 ---
On October 23, Gateway House launched 'Civilizational Gandhi,' a research paper by our Gandhi Peace Fellow, Rajni Bakshi. In this paper, she analyses the Mahatma's civilizational vision, and explains how it can guide us through contemporary economic and identity-related conflicts. This paper provides a framework which can help forge solutions for the aforementioned issues.
The launch was followed by a discussion between the author and Santosh Desai, Managing Director and CEO of Future Brands.
The multiple global crises – social inequity, financial turmoil and ecological imbalance – have made it imperative to revisit and pay close attention to Gandhi's radical but more sustainable civilizational vision. Within India, both the economy and polity are in a state of distress. More than six decades after independence, India remains at the bottom of the United Nations' Human Development Index. Twenty years of economic liberalisation have expanded the size of India's middle class, but not raised the standard of living for the overwhelming majority of Indians. Globally, people are slowly acknowledging that the global financial system is fundamentally flawed and not just going through a cyclical low.
Gateway House's Gandhi Peace Fellow, Rajni Bakshi, is a Mumbai-based journalist with 25 years of experience in the field. Apart from having authored six books, she is a prominent Gandhian, and also serves on the boards of Child Rights and You (CRY) and Citizens for Peace. She is also a long term associate of Centre of Education and Documentation (Mumbai & Bangalore).
Santosh Desai, apart from being an author, columnist and media critic, is the Managing Director and CEO of Future Brands. His principal area of interest lies in examining the evolving nature of consumer culture in India. He is a regular columnist for the Times of India, Outlook, Tehelka, Mint & Media International. He writes on a variety of subjects, ranging from everyday Indian life, popular culture, Cinema, advertising & marketing, and media criticism.