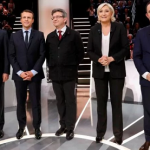 The first round of the presidential elections in France is scheduled for April 23, with opinion polls and surveys showing that the two front-runners are the extreme right candidate, Marine Le Pen of the Front Nationale (FN), and Emmanuel Macron of En Marche, a centrist candidate who was a former economy minister in President Hollande's government.
The other contenders (out of a total 11) are Republican: Francois Fillon, former prime minister in the Sarkozy government, a centre right candidate belonging to the Les Republicains (LR) party, Jean Luc Melenchon of the Left Party Unsubmissive France (FI), and Benoit Hammon, a hard leftist of the Socialist Party.
Elections are held in two rounds under the French presidential system, with the second round being held only if no candidate gets more than 50% of the vote in the first. The two leading in the first round then go on to the run-off, second round of voting: the one with more than 50% of the vote is declared the winner.
Poll predictions suggest that no candidate will get more than 50% of the vote in the first round, but Marine Le Pen is expected to make it to the run-off, second round of voting, scheduled for 7 May 2017, against either Emmanuel Macron, or Francois Fillon: Fillon's support base has dwindled after investigations were initiated into the allegations of corruption against him. Le Pen is allegedly embroiled in a fake jobs scandal, but at the European parliament.
Most presidents in the past have been either Republican or Socialist. Far right Front Nationale (FN) candidate, Jean-Marie Le Pen (father of Marine Le Pen), had made it to the second round in 2002 along with Republican Jacques Chirac, but lost. Analysts expect a similar result this time, with the French not allowing the country to move to the far right even as past trends indicate that the popular and young Macron is likely to win the second round.
The past may or may not be applicable in a world that has changed a great deal since 2002. Muslim immigrants were a low-key, moderate presence 15 years ago; Jean-Marie Le Pen's supporters alone attributed to them the increase in criminality and unemployment in France. His surprise appearance in the second round galvanised the majority of the 'liberal' and secular French, who did not support an anti-Semitic, anti-Muslim, anti-immigrant candidate whom they saw as a Fascist, to rally behind Chirac and ensure that Le Pen was kept out.
Today, the rise of Islamic terrorism has led to large-scale migration and a refugee influx into Europe, mainly from West Asia and Africa, the worst affected areas, more so since 2011, after civil war broke out in Syria. France is estimated to have the largest or second largest population of Muslims in Europe (after Germany).[1]  As their numbers grow, they want to assert their identity, unwilling to adapt to the 'French way of life': many young women wear the burqa in public places in defiance of French law while clerics have begun trying to enforce the Shariah within the community. The feeling of marginalisation and resentment among the Muslims harks back also to the time when their forefathers, whose countries of origin were erstwhile colonies of France, were regarded fit only for menial jobs. The French policy of integration and assimilation has, to some extent, led to a feeling of rootlessness, even among some of the well educated Muslim youth: many among them, who have been radicalised, were responsible for the terrorist incidents in France in recent years.
The French, meanwhile, are increasingly uneasy about immigrants soon outnumbering them and obliterating their culture. Marine Le Pen, who is seen to be voicing the French people's worst fears and has promised to find solutions, like limiting migrants into France to 10,000, levying a tax on companies employing foreigners and other such measures, has, therefore, been garnering more support. She has blamed previous presidents for ignoring the interests of the French people and predicted that France will exit the European Union (EU). Le Pen has rebranded the FN party and softened her stand on some of its more extreme positions.
The rise of the far right in Europe and its anti-immigration, nationalist and Eurosceptic policies have resonated with the French in the same manner as President Trump's election campaign did in the U.S. There is, thus, a very real possibility of Le Pen becoming the next president of France.
A look at the support base of the different candidates suggests that it is unlikely that those for Fillon and the other candidates will all move their allegiances to Macron, the one expected to be in the run-off with Le Pen: Macron is batting for an open France and is pro-Europe while Le Pen is diametrically opposed to these views.
There is a strong likelihood, though, of the conservative vote shifting to Le Pen along with the undecided cohort. The well-off French, traditionally centrist or socialist, are also beginning to concur that France has to stop Muslim immigration, boost its economy and find jobs for its own people first. This is a departure from the earlier, more liberal French attitude, and may well influence the election outcome.
As per the latest opinion polls, an emerging trend seems to be that many French voters will be giving in blank 'protest' votes or not voting at all in the second round. According to analysts, this is likely to strengthen Le Pen's prospects.  Some polls indicate that Macron will most likely win in the second round,  but Le Pen's strategists believe that his privileged background and disconnect with the masses will go against him.
If the country does move to the right, the markets will register an impact, and there will be implications for Europe. Some analysts have predicted an unravelling of the EU: Le Pen wants to leave the Eurozone and the Schengen visa scheme and hold a referendum on exiting the EU. If these measures are pushed through, chaos can be expected.
To offer a sense of perspective to these somewhat exaggerated doomsday predictions, 'Frexit' appears improbable as Le Pen, were she to win the presidential elections, is unlikely to get a majority in the parliamentary elections [2] slated for June, to be able to push the requisite legislation through: the French are in support of Le Pen's anti-immigrant, Francocentric policies, but  not of exiting the EU or abandoning the Euro, for its benefits—mobility, travel, employment–especially for the young, are several.
In case of a Le Pen win, there is a possibility of France withdrawing from its lead role in the EU, and from the North Atlantic Treaty Organisation too and shifting focus to domestic issues, including defence spending, the very high public debt of over 95% of GDP (2015),[3] creating employment, and making French products more competitive. France can thus be expected to move from its Eurocentric and global leadership role to a more inward-looking and nationalistic agenda.[4]
Manju Seth is a former Indian Ambassador to Madagascar and Comoros, she served at the Indian Embassy in Paris. She currently is an advisor for International Collaboration with Organisation for Diaspora Initiatives (ODI) in New Delhi and an Advisor with Aambra Foundation, which works for women empowerment.
This blog was exclusively written for Gateway House: Indian Council on Global Relations. You can read more exclusive features here.
For interview requests with the author, or for permission to republish, please contact outreach@gatewayhouse.in.
© Copyright 2017 Gateway House: Indian Council on Global Relations. All rights reserved. Any unauthorized copying or reproduction is strictly prohibited.
References
[1] Around 6.5 million in 2016 or 10% of the overall population of 66 million
Kern, Soeren, "The Islamization of France in 2016: France has a problem with Islam", Gatestone Institute, 17 January 2017, <https://www.gatestoneinstitute.org/9791/france-islamization>
; or 5-6 million or 7-9%
Central Intelligence Agency, United States Government, CIA World Factbook: France, <https://www.cia.gov/library/publications/the-world-factbook/geos/print_fr.html>
The compilation of official statistics based on religious beliefs is not permitted by French law.
[2] The FN currently has only two seats in spite of Le Pen polling the third highest votes in the 2012 elections. The French are likely to want some checks and balances on Le Pen in parliament.  Candidates of different political parties usually retain at least part of their support base in these elections.
[3]  Agence France Tr é sor, Government of France, General government debt, March 2017, <http://aft.gouv.fr/articles/dette-des-administrations-publiques_171.html>
[4] Le Pen, Marine, < https://www.marine2017.fr/> Date accessed 18 March 2017.