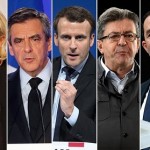 François Fillon (Republican Party) was the candidate that voters from the Right chose overwhelmingly in a primary election in November 2016 to run for president of France this April. According to polls published at the time, he seemed all set to crush the far Right candidate Marine Le Pen in the second round of the presidential election.[1] As opposed to the one-round English system ("first past the post"), in the French electoral system, the two candidates with the maximum votes in the first round compete in a second, held two weeks later, which is more like an elimination round.
It was only two months ago that Fillon was considered to be the sure winner. Until now, extremist candidates stood no chance of winning, no matter how many votes they got in the first round because France has always had an overall majority bent on denying them access to power. In 2002, when Jean-Marie Le Pen managed unexpectedly to be present at the second round, Jacques Chirac defeated him with 82% of the votes and the support of his opponents from the Left against the "fascist danger".
It's debatable whether this is really so any more as Fillon's electoral prospects have changed considerably since last November. A satirical paper revealed that he had employed his wife as his parliamentary assistant for 20 years.[2] But whether she actually did any work in this capacity is doubtful, with magistrates having summoned Fillon on March 15 to formally indict him for embezzlement of public funds.
Ever since the scandal erupted, Fillon, who, until then, had the reputation of being correct and soft-spoken, denounced the media, the government and magistrates alike as being part of a conspiracy bent on orchestrating an "institutional coup d'état", a "political assassination" and a "near civil war". The last few days have seen many heavyweights of his party desert him, including his campaign director and chief spokesman, while others want the more liberal former Prime minister and Foreign Affairs minister Alain Juppé to replace him. Fillon has displayed a "suicidal stubbornness" in the face of adversity, according to many commentators, including the Libération newspaper (left-of-centre), Le Point (right of centre) and even top members of his own party, speaking off-the-record. Juppé, while stating formally that he will not run, called the whole episode a "waste" and denounced the radicalisation of the Fillon campaign, which had led many moderate politicians to withdraw their earlier support. According to the polls, Fillon cannot hope to pass the first round.
Meanwhile, centrist candidate Emmanuel Macron has seen his ratings soar, having managed to rally around his candidacy figureheads from the Right and socialist MPs, who find their candidate, Benoît Hamon, too leftist for their taste. The ability to unite leftist and rightist supporters is Macron's strength, but a liability too: once he spells out the specifics of his proposals his support base may come undone, with people finding his plans either too conservative or progressive. In France's past elections that have been marked by such bipolarisation, "third way" candidates have consistently failed to convince voters.
Benoit Hamon has the support of the Green Party (environmentalists), but may not reach the second round due to competition from Jean-Luc Mélenchon, a populist former socialist. Neither wants to withdraw from the race, which has resulted in a divided leftist electorate.
An obvious beneficiary of the incredible developments affecting the Republican campaign is Marine Le Pen (Front National), whose ratings in the polls currently near 30%. Nobody expected her to cross the 50% glass ceiling in the second round. But after the Brexit vote and the American presidential election, both of which trumped most forecasts, analysts are not so sure any more. As Sudhir Hazareesingh, one of the finest analysts of the French public mood, puts it, "If French political elites do not get their act together soon, a 'Frexiter' and admirer of Mr Trump could well find herself in the Elysée Palace in May."[3]
Marine Le Pen too faces indictment by investigating judges for having party functionaries on the payroll of the European parliament, which voted last week to suspend her parliamentary immunity. The conservative electorate, devastated by the Fillon scandal, sees this as confirmation that the "establishment" will do all it can to prevent her becoming president. Yet, this may just serve to boost her already high ratings.
If Le Pen becomes the next French President, it might very well spell the end of the European |Union (EU) as she has already made clear her intention of organising a referendum to leave it (Frexit). The departure of France, the only country of the EU to be a permanent member of the UN Security Council after Brexit,[4] a key actor and a founding member of this European project which was launched in Rome, on 25 March 1957, will deal it a fatal blow.
This promises to be a definitive election in more ways than one. When they go to the polls on April 23 and May 7, French voters will end up deciding not only their own future, but that of Europe itself—and, in effect, those beyond the European continent too.
Olivier Da Lage is editor-in-chief at Radio France International. He contributes to Gateway House in his personal capacity.
This article was exclusively written for Gateway House: Indian Council on Global Relations. You can read more exclusive content here.
For interview requests with the author, or for permission to republish, please contact outreach@gatewayhouse.in.
© Copyright 2017 Gateway House: Indian Council on Global Relations. All rights reserved. Any unauthorized copying or reproduction is strictly prohibited
References
[1] Da Lage, Olivier, 'French polls: a foregone conclusion?', Gateway House, 23 November 2016, <https://www.gatewayhouse.in/french-polls-foregone-conclusion/>.
[2] Le Canard Enchaîné, 25 January, 2017 <http://www.lecanardenchaine.fr/la-une-du-25-janvier-2017/>
[3] Hazareesingh, Sudhir, 'Marine Le Pen has a better chance in France than you think', Financial Times, 22 February 2017, <https://www.ft.com/content/f9390234-f865-11e6-bd4e-68d53499ed71
[4] Inaugural Keynote by Yves Leterme, Yves Leterme, 2017, Mumbai: Gateway House: Indian Council on Global Relations, 2017, Online Video. <https://www.youtube.com/watch?v=Xym37Qn162k>