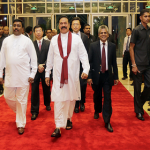 Mahinda Rajapaksa, former president of Sri Lanka, is looking to re-enter politics in a big way with the country's parliamentary elections on August 17.
Rajapaksa lost power in Colombo in January to his former aide Maithripala Sirisena, who defected to the opposition and is now the president of the country. After moving aside peacefully, Rajapaksa has had plenty of time to plot a comeback. Sirisena has chosen to counter Rajapaksa's return, which the new president realises could endanger his own position or challenge his political supremacy.
However, Rajapaksa has not exactly been in the political wilderness after losing the presidency. He, as well as his family and supporters, who too had gained powers under his rule, continue to have the approval of significant  sections of Sri Lankans. The country's majority Sinhalese population largely supports Rajapaksa for his brutal and bloody crackdown on the two-decade old Tamil insurgency, which came to an end in 2009 under his watch.
But most of the non-Sinhalese population, data shows, including Tamils and Muslims, prefer current prime minister Ranil Wickremesinghe, who is Rajapaksa's opponent in next week's elections,. Both Sirisena and Wickremesinghe had promised an end to Rajapaksa's rule, which allegedly was rife with organised crime, murder, and large-scale corruption.
With just a few days to go before polling, efforts to publicly discredit Rajapaksa's are underway. Unsavoury stories are emerging of Rajapaksa and his family, including about his brothers—Gotabhaya Rajapaksa, who was the powerful defence secretary, and Basil Rajapaksa, who was the economic affairs minister.
The former president's son, Namal Rajapaksa, is being scrutinised by the Financial Crimes Investigation Division's (FCID). The FCID is also looking closely into all the people in the Rajapaksa family's immediate circles who were known to be involved in corruption, money-laundering, and other illegal activities.
But it is the death in May 2012 of star rugby player Wasim Thajudeen, and a possible connection to the former president's security team, that could derail Rajapaksa's plans to win the election or to at least shake up the Sirisena power structure. On August 10, a court in Colombo ordered the exhumation of Thajudeen's body in an attempt to further strengthen the case—that the former president's Presidential Security Division allegedly tortured the sportsman to death three years ago.
Rajapaksa's sympathisers were also allegedly involved in the murder of journalists such as Lasantha Wickramatunga, who was the editor-in-chief of the weekly The Sunday Leader and a known critic of the Rajapaksa government, in 2009, and the killings Subash Chandraboas of Nilam and Selvarajah Rajeewarnam of Uthayan in 2007.
For India, a possible return of Rajapaksa as prime minister may not be good news, for two reasons. One, it will immensely destabilise Sri Lankan politics, because Rajapaksa will not allow Sirisena much room to manoeuvre in his duties as president. With his defection from Rajapaksa's camp and subsequent attempts to derail the former president's political return, Sirisena may find himself isolated at the top. Rajapaksa will try to bring all his political aces back into Sri Lankan politics—and this will also offer safety to many of his aides who have been fearful of investigation and arrests under Sirisena's government.
Two, under Rajapaksa the India-Sri Lanka dynamic had dithered. This was not just due to the armed conflict and Tamil insurgency, but also because of other reasons—for example, Sri Lanka allowed a greater Chinese presence in its infrastructure development, and, knowingly or unknowingly, let Pakistan's Inter Services Intelligence set up a presence in Colombo.
It now remains to be seen if Rakapaksa can turn his candidacy into a success. The future of Sri Lanka's politics—and its impact on India—will become clearer in the coming days.
Kabir Taneja is a journalist and researcher who specialises in foreign affairs and energy security. His columns have been published in the New York Times, The Diplomat and Huffington Post. 
This article was exclusively written for Gateway House: Indian Council on Global Relations. You can read more exclusive content here.
For interview requests with the author, or for permission to republish, please contact outreach@gatewayhouse.in.
© Copyright 2015 Gateway House: Indian Council on Global Relations. All rights reserved. Any unauthorized copying or reproduction is strictly prohibited