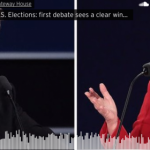 In the eighth episode of this podcast mini-series on the upcoming U.S. presidential elections, Ambassador Neelam Deo, Director at Gateway House, analyses the first presidential debate. Listen in to learn more about the positions adopted by the candidates.
Highlights:
(0:40) Why the presidential debates are important
(2:20) The proposed tax plans
(4:25) Trump's defensive response to controversial allegations
(5:45) Differing positions on gun control
(7:10) Trump's personal attack on Clinton followed by her response
(8:30) Positions adopted by candidates on the U.S.'s commitment to its allies
(9:10) The importance of the Iran issue and the shift in American opinion on the issue
In the next episode, Ambassador Deo will be discussing the 1st Vice Presidential Debate, listen to it now! (http://bit.ly/2dMrrcS)
Subscribe to The Gateway House Podcast on iTunes and Soundcloud and get notified when the next episode releases.
Hosted by Virpratap Vikram Singh, Website Content Manager, Gateway House
Produced by Arjun Chawla, Researcher, Gateway House and Virpratap Vikram Singh, Website Content Manager, Gateway House

Podcast: Play in new window | Download
Subscribe: Apple Podcasts | Android | Email | RSS