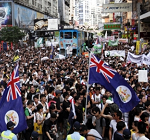 Hong Kong, and its movement towards democratic elections, made headlines around the world this week with the recent decision by the National People's Congress in Beijing concerning the nomination process for elections. The decision was light on details, but essentially affirmed Beijing's proposal that candidates for Hong Kong's Chief Executive would need to be approved by a "Nominating Committee."
The decision ran counter to what some pan-democrats in Hong Kong had been demanding  – that anyone could be a candidate for chief executive. One particular pro-democracy movement—"Occupy Central"—had been threatening "an era of civil disobedience" if the NPC rejected fully open nominations.
Under the Basic Law, Hong Kong's mini-constitution, the city is eventually meant to have direct elections for the chief executive; the current goal is to have democratic elections by the end of the current term in 2017. The Basic Law also states that candidates would have to go through some sort of "nominating process;" recent debate has centered on defining that mechanism.
Currently, the chief executive is chosen by a 1200-member Election Committee; candidates 'campaign' amongst the committee, who then select a candidate for a five-year term. Most members are chosen by sectors of the economy, each with their own mechanism for selecting members. Beijing also has a great deal of indirect influence on the committee, to the point where any successful candidate essentially needs to have Beijing's assent.
This does not mean that the committee is entirely divorced from public opinion. The last "election" in 2012 saw the downfall of Henry Tang, the establishment candidate and Beijing's favorite, after a series of scandals made him politically toxic. The committee reluctantly chose his opponent, C.Y. Leung, to be chief executive instead.
The decision by the NPC does not settle the debate between the "pro-Beijing" and "pan-democrat" camps. Whatever package of electoral reforms is devised would still need to pass the Legislative Council, Hong Kong's legislative body. Enough legislators have pledged to veto the electoral changes that the package could fail to pass. If this happens, Hong Kong will return to the status quo of choosing its chief executive—a process that is decidedly not democratic. Thus, pan-democrats are currently split between those that want to accept the decision as, at the very least, a small step forward, and those that want to reject the package on principle.
The context for this discussion is the "One Country, Two Systems" political structure. Under this, almost all of the powers and responsibilities of governing are exercised by local institutions, not Beijing. Hong Kong has its own currency, its own constitution, its own set of laws and regulations, its own court system, and its own set of political and civil rights. It is is excluded from national Chinese legislation, and can independently take part in international agreements and organisations.
It is important to note that Beijing cannot impose an electoral solution on Hong Kong; any package still needs to be accepted by the Legislative Council, that is controlled, at least in part, by parties that disagree with Beijing.
"One Country, Two Systems" means that several of the terms we would normally use to describe this situation don't really apply. Hong Kong is much more than just a city or municipality – its powers even exceed what is allotted to federal states and provinces. The closest analogy one can draw is a "city-state," albeit one that's nominally part of another country.
Debates like this one are an effort to figure out where the lines between Hong Kong and China actually lie. It's not like there are many – if any – previous models to provide guidance. "One Country, Two Systems" is unique in the level of autonomy it provides.
This is why people should watch how this situation develops. The various parties involved in these discussions—the general public, the Hong Kong government, Beijing, and others—are trying to figure out how a fully-autonomous city will work with the larger national unit. "One Country, Two Systems" can be a model for other political structures around the world – how it actually operates in practice is thus of paramount importance.
Nicholas Gordon is an intern at Gateway House. Nicholas is a graduate student at Oxford University, undertaking a Masters of Philosophy in International Relations. He attended college in the United States, where he focused on East Asian affairs, international economics and new forms of sovereignty.
This blog was exclusively written for Gateway House: Indian Council on Global Relations. You can read more exclusive content here.
For interview requests with the author, or for permission to republish, please contact outreach@gatewayhouse.in.
© Copyright 2014 Gateway House: Indian Council on Global Relations. All rights reserved. Any unauthorized copying or reproduction is strictly prohibited