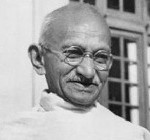 On March 13, Gateway House hosted Shang Quanyu, a professor at South China Normal University's School of Foreign Studies, in conversation with Rajni Bakshi, Gandhi Peace Fellow at Gateway House. The exchange explored the role of Gandhian philosophy in China.
Shang's talk focused on his ongoing research on Gandhi studies in China today and the relevance of Gandhi's philosophy of non-violence, social harmony, and environmental protection to today's China. He made specific comments on Gandhi's impact on Chinese youth. Quanyu said that books on Gandhi are being translated and printed by the state-owned press in China, for an audience of children and youth.
In China the promotion of Gandhi is now a part of a carefully-planned long-term strategy. Although Gandhi's ideas of non-violence have been adapted in the past by leaders and countries – most notably, by Nelson Mandela in South Africa – grappling with violent politics, nation-building in the context of communities with an antagonistic history, and the social and economic problems of a nascent state, it is noteworthy that China is now actively promoting Gandhism.
China has undergone gradual but dramatic changes in the last few decades. The hukou system or the household registration system, borrowed from the then USSR and started in 1958, is not so effective now; this allows people to migrate to urban centres in search of economic opportunities as well as to meet the requirements of a rapidly-developing economy. This large-scale movement of people ensures a supply of labour for the booming economy of cities like Shanghai and Beijing.
At the same time, growing economic aspirations and a greater awareness of human rights because of new information and communication technologies has challenged the authority of the state. As a result, the coercive dimension of the Chinese state is on the decline. Instead, the government in China is now more aware of the social and human costs of high-speed development. Forces such as academicians, non-governmental organisations, petitions, demonstrations by the people, reports about the discontent in the Chinese media, and criticism from abroad, have all fed into the political debate about issues of human rights, social inequities and freedom of expression.
These factors have also influenced decisions about how the Chinese government at the level of the central authority addresses the challenge of maintaining social cohesion and contain popular discontent.  The government now recognises that a big threat to China is "social instability." Building a "harmonious society" is therefore of high priority for the government; this has been the guiding principle of the leadership of Wen Jiabao and Hu Jintao since they assumed power in 2005.
Although China continues to grapple with issues of corruption, social inequity, popular demands for freedom of the press and human rights, its achievements in poverty alleviation and agricultural development cannot be underestimated. A decade ago, China resolved to pull "about 1.3 billion people out of poverty and [deal] with problems of corruption, pollution, mistrust of the government, social instability and unemployment" [1].  The proportion of people categorised as "poor" (measured at $1.25/ day) in China is now 10.2%; this is a drop of 2.5%  from 2011 [2]. China's gross domestic product per capita has grown from $1,038 in 2001 to over $5,800 today [3].
China is aware of the need to transform its international image and to align it, even if partly, with prevailing global norms of liberalism, pluralism and autonomy. Accordingly, China has made changes in its national and international policies and is now an active participant at the United Nations and the World Trade Organisation. In 2005, China renamed its strategy of "peaceful rise" (adopted in 2003) to "peaceful development" and included within its scope the concept of a "harmonious world." The change is terminology is significant because it "indicates China's decision to officially postpone its declaration that it will 'rise'." According to a Chinese scholar, "Rise designates a shift in the balance of power between states; development does not." [4]
To meet this goal of peaceful development, China has imported India's soft power; the adaptation of yoga and Gandhian ideology are part of this narrative. China is now using Gandhian principles to deal with the spike in major social and economic challenges, especially the growing inequalities between rural and urban households and the consequent social tensions.
A culture of consumerism, a concomitant of the rising affluence among the burgeoning urban middle class in China, is growing. Gandhi's social philosophy of renunciation and simple living may well be a part of China's strategy to promote a minimalist society, one in which problems of consumption and over-consumption can be effectively addressed.  China's present and future objectives in the domestic arena are aligned with Gandhi's ideas of pacifism, the preservation of ecology, protection of civil liberties and non-consumerism. The Mahatma's ideals of peace, social harmony and a people-oriented government are also objectives of the central government in China.
Renu Modi is the Africa Studies Fellow at Gateway House: Indian Council on Global Relations. She is the former Director of the Centre for African Studies, University of Mumbai. 
This article was exclusively written for Gateway House: Indian Council on Global Relations. You can read more exclusive content here.
For interview requests with the author, or for permission to republish, please contact outreach@gatewayhouse.in.
© Copyright 2013 Gateway House: Indian Council on Global Relations. All rights reserved. Any unauthorized copying or reproduction is strictly prohibited
---
References
1. Ramo, Joshua Cooper (2004) The Beijing Consensus, London: The Foreign Policy Centre.
2. China Daily (28 February 2013) '23 million lifted from poverty' http://www.chinadaily.com.cn/business/2013-02/28/content_16262873.htm
3. IMF (2012) World Economic Outlook Database, April 2012. International Monetary Fund (IMF). www.imf.org/external/ns/cs.aspx?id=28 [accessed 31 January 2013]
4. Cho, Young Nam and Jeong, Jong Ho (2008) "China's Soft Power: Discussions, Resources, and Prospects," Asian Survey, 48(3): 453–472.