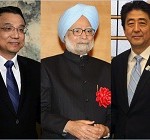 A more assertive phase in the rise of China, the perceived economic stagnation of the U.S. and the ripples flowing out of the vacuum that has begun to appear with the American-led drawdown from Afghanistan, are all creating a new dynamic around India. The opening up of Myanmar, the Shinzo Abe-led awakening in Japan and the recent elections in Pakistan won by Nawaz Sharif, are other elements in the mix.
A flurry of visits between capitals is the usual first response of countries fine-tuning their adjustment to emerging realities. So while we look forward to the visit of the new U.S. Secretary of State, John Kerry, next month, our prime minister was in Japan barely three weeks after we received the Japanese deputy prime minister, who is also their finance minister, in New Delhi.
Vice President Hamid Ansari has visited Vietnam, Tajikistan and Uzbekistan in the preceding five months and in June Defence Minister A. K. Antony will go to Australia. We have just seen off Chinese Premier Li Keqiang to Pakistan and hosted Afghan President Karzai carrying a wish-list of weapons, apprehensive of the International Security Assistance Force, with its air capability and weapons, leaving Afghanistan next year.
External Affairs Minister Salman Khurshid has visited both Russia and Iran recently. Emissaries from other countries are also crisscrossing Asia and assessing the new dispensations in China, Japan and Pakistan, and the views of the Russians, Iranians and Central Asian leaders.
Obviously, some countries carry more weight than others. Chinese Premier Li making India his first foreign destination after taking office was an important signal of wanting to intensify exchanges. He made a big impression during his visit here from May 20-23, but left little clarity. While it was obvious that his first purpose was promoting economic exchanges, his confident bearing and occasional lapses into English and philosophical musings did little to win Indian public opinion baffled by the prolonged Chinese military intrusion into Ladakh barely two weeks earlier.
Leaders have of necessity to be careful about what they say publicly during visits, so they usually make friendly anodyne statements. But at the joint press conference with the Chinese, our Prime Minister set aside our habitual softly-softly approach to China and referred to the "lessons learnt from the recent incident in the Western sector," emphasising that "the basis for continued growth and expansion of our ties is peace and tranquillity on our border."
On the same occasion Premier Li, admitted that "there are some problems between the two sides" while claiming that on the boundary question the two have "established the principles for settling this question." He preferred to speak mostly about "handshakes across the Himalayas" and asserted that "China and India have reached extensive strategic consensus and increased strategic trust."
The real quality of a relationship is more accurately reflected in the formulations used to state commonalities and understandings in the Joint Statements that are issued at the conclusion of high level visits. In the India-China case, the gap in our perceptions of each other and understanding of the problems between us is so great, that the issues of greatest concern to us – the border, the massive trade deficit and trans-border rivers (Chinese dam-building on the Brahmaputra) – found only passing and unspecific mention in the Joint Statement.
Other issues which impinge negatively on our security, such as the nuclear and missile relationship between China and Pakistan, its increased presence and infrastructure-building activities in Pakistan-Occupied-Kashmir, its opposition to India's membership of the UN Security Council, and even regimes like the Nuclear Suppliers Group, do not figure at all in the Joint Statement. Nor did China get everything it would have liked to see, such as habitual references usually made by us to the 'One China' policy (which refers to Taiwan) and Tibet as an autonomous region within China.
It is obvious that the gap of 50 years after the 1962 India-China war has not been enough to infuse trust or warmth in a relationship that holds increasing economic importance for us and the world. A quick comparison with the Joint Statement issued by the "iron brothers," China and Pakistan, reveals more about the absence of warmth or trust between India and China than all of Premier Li's protestations while in India.
On the Pakistan leg of Premier Li's visit, China extended and received solid support on all the issues that concern the two countries and forward movement in their collaboration in Pakistan-Occupied-Kashmir, Gwadar port, and assurances to oppose terrorist activities by the East Turkestan Islamic Movement (ETIM) in China's restive Xinjiang province.
The rise of China and the lack of explanation about its latest forceful assertion on our border has provided ammunition to those who feel that India should seek closer relations, especially military and strategic, with the U.S. as well as with countries like Japan and Vietnam, which are also targets of Chinese aggressiveness.
This line of thinking has gained probability with Prime Minister Abe's stronger articulation of an identity of democratic values between India and Japan, and common concerns such as freedom of navigation in the Indo-Pacific waters, though which a large percentage of India-Japan trade passes. The timing of our Prime Minister's 27-30 May visit to Japan so soon after the ambiguous encounter with the Chinese prime minister less than a week earlier, also underlines this articulation.
Although the Joint Statement is heavy with details on such issues as aid for infrastructure and trade, it contains significant breakthroughs in the strategic, nuclear and defence cooperation areas with Japan. The breakthroughs include a visit of the Emperor and Empress of Japan, who rarely travel abroad, to India later this year.
A decision has been taken to "accelerate the negotiations of an Agreement for cooperation in the Peaceful Uses of Nuclear Energy" and a commitment to continue efforts for India to become a full member of international technology control regimes such as the Nuclear Suppliers Group, the Missile Technology Control Regime, the Australia group and the Wassenaar Arrangement – groups that have in the past denied India high technology.
Along with consolidating defence agreements and joint military exercises, the decision to establish a "Joint Working Group to explore modalities for cooperation on the US-2 amphibian aircraft" takes the security relationship to a much higher level, including sales to India. This surely signals to all countries that a balanced, collaborative multi-polarity will be the name of the game in an Asia that must manage tectonic shifts.
Ambassador Neelam Deo is Director of Gateway House: Indian Council on Global Relations and former Ambassador to Denmark and former Joint Secretary for Myanmar, Sri Lanka, Nepal and Bangladesh.
This article was exclusively written for Gateway House: Indian Council on Global Relations. You can read more exclusive content here.
For interview requests with the author, or for permission to republish, please contact outreach@gatewayhouse.in.
© Copyright 2013 Gateway House: Indian Council on Global Relations. All rights reserved. Any unauthorized copying or reproduction is strictly prohibited.